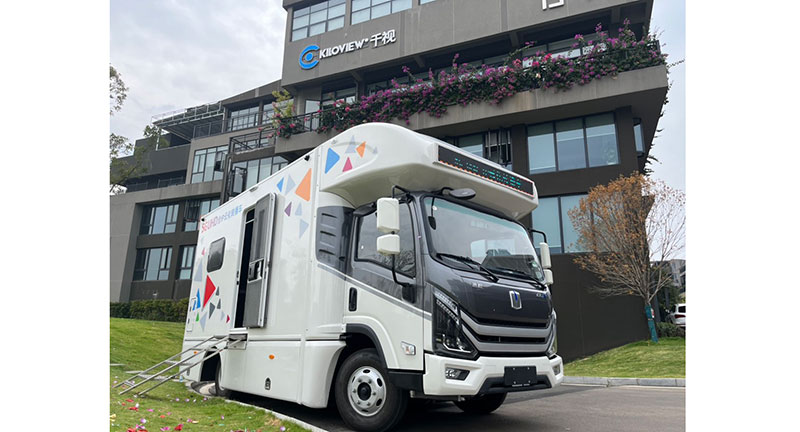 NDI OBV vehicle
KILOVIEW and YouKu, an Alibaba online video and streaming service, completed work on the first outside broadcast vehicle to be based entirely on NDI workflows. An electric-powered truck named NDI OBV, the vehicle is the result of four years of cooperation between the two companies, and has so far been used to launch live video caster and remote production systems.

The NDI OBV takes advantage of KILOVIEW's wide-ranging experience in NDI-based systems, which cover video encoding/decoding, transmission, routing, monitoring, recording and content management. As a result, the truck's physical design is unusual in terms of cable optimisation, made possible due to IP connectivity. This optimisation has led, for example, to considerable space and weight savings inside the truck, and to the ability to produce 20 channels of 4K video or 70 channels of HD video over a single Ethernet cable.
IP Production Potential
A major reason for designing NDI OBV was to enhance the potential to use native IP production for high-profile TV programming. Youku and KILOVIEW also wanted to demonstrate how using NDI for video transmission can save costs, bringing live productions within reach of a wider range of content creators.
KILOVIEW CUBE R1
The OBV incorporates some of the key devices that integrate KILOVIEW's production environment, such as CUBE X1 for NDI multiplexed distribution. It unifies scheduling, switching, distribution and management of NDI signals without lagging or black screen, supporting 16 NDI input channels and 32 channels of NDI outputs.
Other hardware elements are CUBE R1 for simultaneous multi-channel NDI recording, and LinkDeck for centrally linking and controlling all KILOVIEW hardware and software on the system. KILOLINK Server is a centralised platform for managing devices singly or in groups, including encoders, decoders and NDI converters. Through KILOLINK Server, users can remotely monitor the basic parameters and status of video, audio and networks. To maintain the system, users can use KILOLINK Server to restart and/or reset devices and upgrade the firmware.
Flexible and Stable
Beyond the main goals of full IP-based production and cost control, OBV's device connectivity and interaction are flexible and stable, using dual independent Ethernet links. Multiple NDI OBVs can be connected through one cable and, as an IP-based structure, remote operation is another possibility.

KILOVIEW LinkDeck

"Until now, single teams weren't able to complete an OB truck project using NDI alone to cover the whole workflow from encoding, production and recording to post, including effects like slo-mo," Zeng Wei, Senior A/V Technician at YouKu commented. "But now that we have integrated all the NDI and IP-based tech into one vehicle, we believe this is the first one of its kind in the world."

"In 2016, we built a prototype of an IP-based studio, creating the potential for IP-based video transmission and production an option across the industry," said Jacob Zuo, CEO and co-founder of KILOVIEW. I'm extremely pleased to say that our completely IP-based vehicle is now fully mobile and that we are covering all the elements and processes of video transmission within the confines of this new NDI OBV truck." www.kiloview.com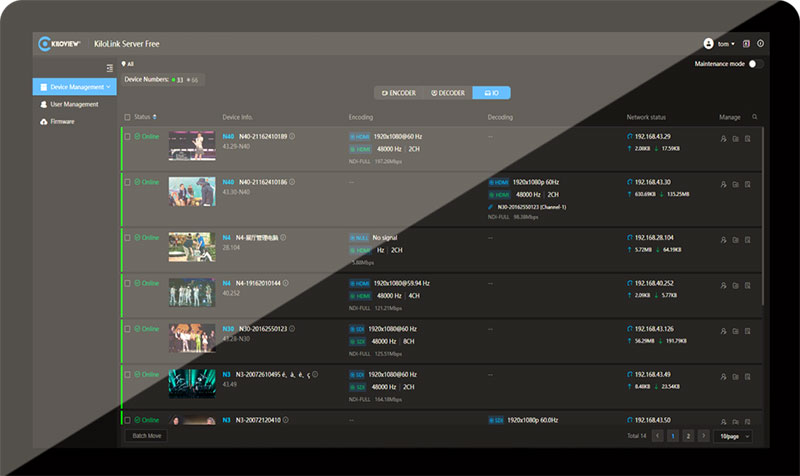 KILOLINK Server