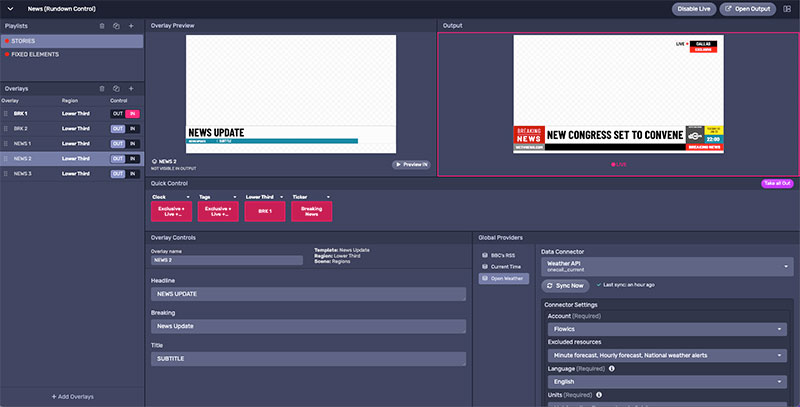 Flowics has made a major update to its HTML5-based broadcast graphics application, Flowics Graphics, that gives graphics operators more functionality and options, directly through the control interface.
The new Rundown Control is one of the key capabilities of the updated platform, which contains Flowics' cloud-native software for remote and in-studio production of live graphics and interactive content. With Rundown Control graphics operators can sort, rename, duplicate and create multiple instances of selected overlays based on the templates available, without loading all the existing overlays into a given graphics package. Ultimately it allows operators more independence as they work.
When duplicating an overlay, the design and layout remain the same, with the option to choose a different text, image or data provider. Having access to these choices simplifies the entire graphics workflow, eliminating the need for operators to go into the Graphics Editor or ask a graphics designer to do it for them, giving them greater autonomy.
Another change to the new control interface is the ability to create playlists of overlays to cover all possible operation scenarios that could arise during a show. Now, operators can build graphics playlists based on a specific rundown, and then use them to illustrate the topics that will be covered.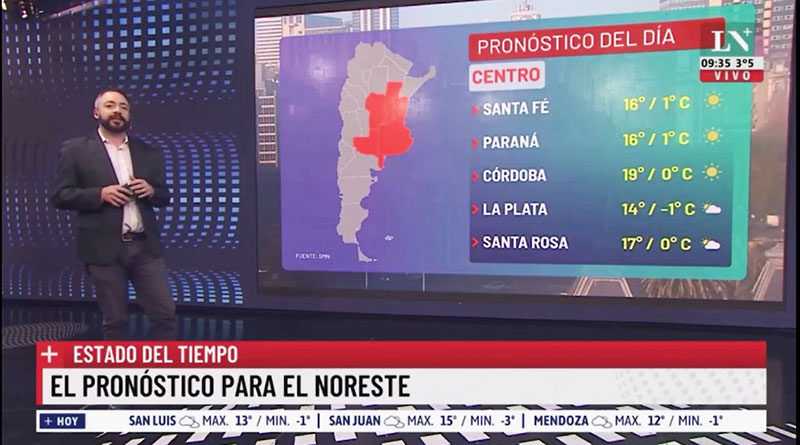 Flowics Graphics used in a weather broadcast.
With these major updates, Flowics completely separates graphics authoring and design from operation, clearly differentiating between the roles of graphics artists and those of graphics operators. It also means they can build a more efficient workflow, with minimal overlap or dependencies, between teams in a cloud-native environment. Users will be able to work and collaborate remotely without relying on local installations, local hardware or virtualised machines.
"The new graphics control interface focusses on efficiency," said Flowics by Vizrt CEO and founder Gabriel Baños. "Graphic artists and operators now have their own workspaces. Operators load only what they really use, and they have greater autonomy over the programme's graphics, like being able to copy and then revise whatever overlays they need. This drives productivity and reduces complexity."
Available now as a public beta version for all users, the final release for the updated graphics control interface is scheduled for January 2023. www.flowics.com