Spanish public broadcaster betevé and La Xarxa, a supplier of programming and services to Catalonia's local radio and TV stations and broadcasters, have completed a fully cloud-based live multi-camera production over a private, standalone 5G network. The work is part of Spain's 5G Catalonia project – one of several 5G pilot development grants awarded by Red.es looking to make 5G transmission viable in the Barcelona region.
Using TVU devices for cloud-native signal transmission, La Xarxa and betevé synchronised, edited and distributed multiple live audio and video signals for the newscast 'btv notícies migdia' over a private 5G network. The TVU system that was set up within the network gave the broadcasters the ability to transport and edit multiple HD signals remotely with a high-quality, low-latency broadcast output.
After producing the content, the two broadcasters sent the live broadcast over a 5G network made available via telecom providers Cellnex Telecom, Grupo Masmovil and Lenovo. Spanish telco consulting firm Nae handled project management for the pilot.
TVU's stable bonded cellular connections, sub-second latency and signal quality created an effective environment for multi-camera live production over 5G. For instance, the low latency over 5G made it possible to conduct live interviews for the newscast without signal delays, and to control robotic cameras remotely. Due to its high-capacity bandwidth, multiple HD signals could be delivered simultaneously.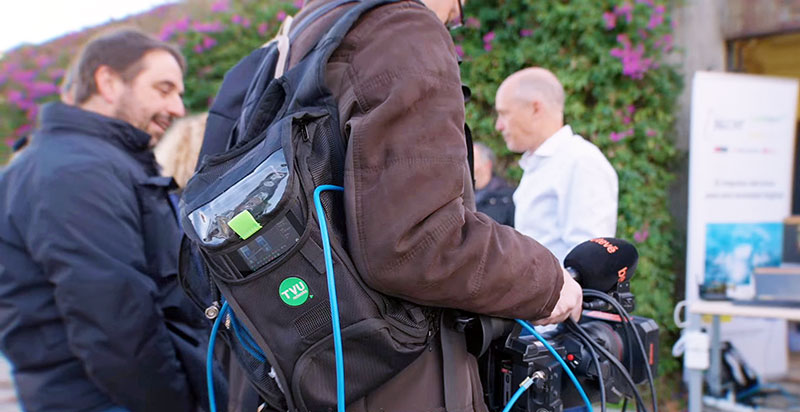 The cloud-native TVU system was based on TVU One 5G mobile transmitters, with the TVU Producer live video production platform and TVU Anywhere mobile app, set up in order to support the contribution and editing of up to five live video signals from betevé robotic, studio and cell phone cameras.
TVU Producer is used to add and switch your sources and feeds, apply graphics and transitions, mix audio and output to multiple destinations. In this case, betevé and La Xarxa used the TVU Anywhere app to synchronise the video and audio over a cloud-based server. Once in the cloud, the various camera signals were mixed using TVU Producer as a remote production system.
The news content was then distributed to the Internet, social networks and downloaded to betevé's broadcast studio. At the studio, the cloud-produced video was integrated with the rest of the content in the DTT broadcast. Overall, the content coming out of the TVU system served many purposes.
Storing and Access
The advantage of cloud-based live video production is mainly about storing and accessing the production workflow over the internet instead of locally on a PC. As a result, anyone can access it from their own location at any time. No downloads are required, and no single system is relied on exclusively.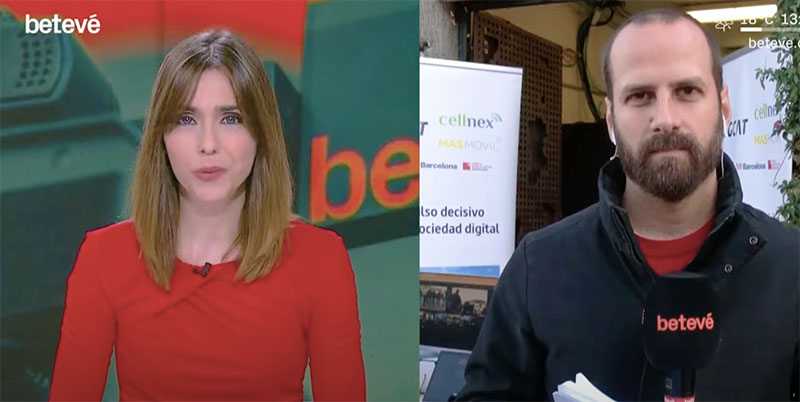 Cellnex Telecom Product Manager Xavi Redon led the pilot project. He said, "Through our partnership with TVU, we've verified that over a 5G network we can transport several camera signals in HD resolution to the cloud, remotely control multiple cameras at different locations, and finally broadcast this live content with low latency. It also showed that recording and live transmission over 5G terminals is a cheap and flexible resource with the quality needed for broadcast."
5G Networks Creating Options
betevé Director Sergi Vicente noted that because TVU's cloud-based tools combined with 5G private networks and mobile transmitters lessen concerns about bandwidth availability and signal delays during events, they increase flexibility and reliability for remote live event production.
La Xarxa CEO Marc Melillas remarked on the value of private 5G networks in congested environments and areas with less broadband coverage. "5G private networks will allow us to use portable backpacks to make contributions even in completely crowded squares or in areas where there is currently not enough coverage. Having such options will facilitate the realisation of retransmissions (such as automatic repeat requests or ARQ) that until now were far too complicated to deploy."
The same cloud-native TVU ecosystem will be used by La Xarxa and betevé for future broadcasts over a new, private 5G network to be provided by Cellnex. www.tvunetworks.com