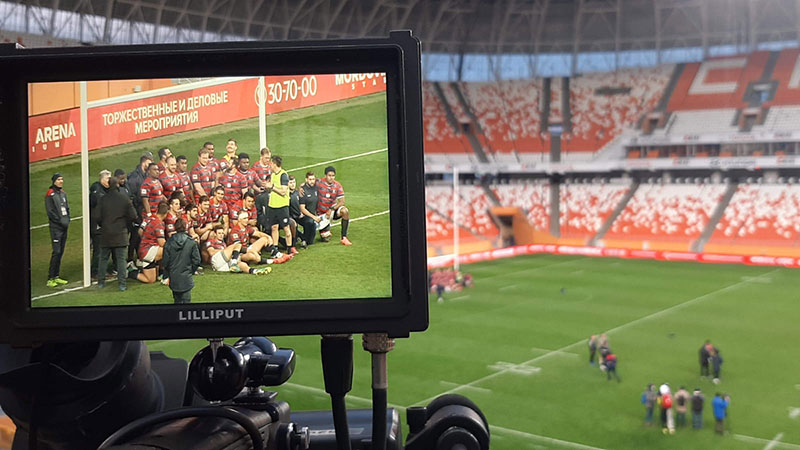 For the international broadcasting of the Rugby European Championship 2023 that took place on 19 March, production company Quality produced, delivered and distributed content to the event's 11 rights holders.
With Belgium, Germany, Netherlands, Poland, Romania and Spain out of the running for the Champion's spot, the Final was held between defending Champions Georgia and remaining Portugal at Estadio Nuevo Vivero, Badajoz, Spain. Quality, who are based in Spain, also covered the second and third, and sixth and seventh place finals in Bandajoz, as well as fourth and fifth place finals at NRCA Stadium in Amsterdam, also held on 19 March.
Eight Cities
Quality has carried six Dejero EnGo video mobile transmitters across eight European cities to each stadium throughout the tournament. The EnGos, which have glass-to-glass latency of 0.5 seconds, were used to transmit live feeds from six cameras at each match.
Two Dejero WayPoint receivers are located at Quality's production hub in Madrid where final production including graphics and commentary take place. The WayPoint devices reconstruct and decode the video feeds which are entered into a matrix to be shared with the switcher and replay systems. The packaged video is then uplinked to Quality's satellite provider via another Dejero EnGo from where the rights holders downlink the final content to air.
"The Dejero EnGos remove vulnerability to network disruptions and outages that may occur on fibre, cable and DSL services by adding resilient wireless connectivity to the stadiums' fixed-line broadband," said Santiago José Salgado, Executive Sports Producer, Quality.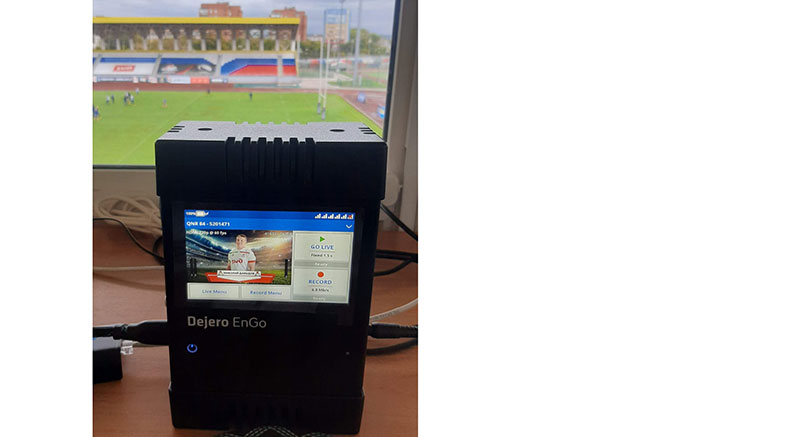 Dejero EnGo video mobile transmitter
The EnGo uses Dejero's Smart Blending Technology (SBT), which aggregates multiple network types, including cellular and fibre, from multiple network providers to create a virtual 'network of networks' that enhances reliability. For the Rugby European Championships workflow, six local SIM cards from diverse cellular network carriers were fitted into each EnGo, which feature global modems. This gives Quality's operators extra confidence in the transmission path to transport the live feeds back to its broadcast hub in Madrid for final production and distribution.
The packaged content is then uplinked via satellite for distribution to the rights holders and inserted into the ingest system for logging and clipping.
Leaner Production Model
"Just two years ago, at the last Rugby European Championships, we used Outside Broadcast vans to cover key matches, which meant sending a full production crew on site and relying on satellite connectivity," Santiago said. "Since then, we have developed a leaner remote production model, which means only the camera operators, a single producer and a single technician are required at the stadiums. Dejero devices have played a key role in the success of this remote model.
"The new workflow with Dejero EnGo backpacks not only saves money, but also affords greater flexibility to meet the more complex broadcasting demands that many productions now require."
Quality also uses the Dejero Control cloud-based management system to view and monitor device performance. It gives the operations team more options by allowing them to centrally manage their Dejero equipment on the field from web browsers. They can view their workflow data, preview low-latency feeds, and route live or recorded content to playout and online delivery workflows. www.dejero.com