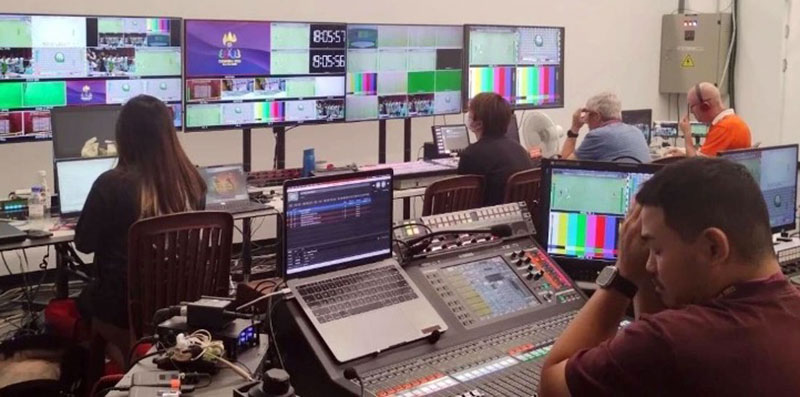 TVU One and TVU Anywhere capture and feed live scenes back to the International Broadcast Center for live broadcast and commentary production.
One of Singapore's two main national media networks and content creators, Mediacorp, covered the 32nd Southeast Asian Games, held in the Cambodian capital Phnom Penh from 5 to 17 May 2023. The Games attracted more than 7,000 athletes from 11 countries within the region to compete for 5,151 medals in 37 competitive events. Mediacorp's coverage of the Games follows its recent push into multi-platform delivery of other major sporting events, contributing to its wider support for fans and audiences that follow Team Singapore.
Mediacorp was working with TVU equipment to help broadcast the 2023 SEA Games across its line-up of TV channels, radio stations and digital platforms, as it has for previous events, especially for the remote production elements of their workflow. Based on this experience, TVU Remote Commentator cloud-based service was used for a remote commentary set-up, similar to the one they had configured for earlier SEA Games.
Live Commentary and Broadcasts
Users operate Remote Commentator through a browser-based interface on a laptop or smart device. As each participant logs in, they see a low-latency preview of the event and can add commentary that stays precisely synchronised with the program, due to TVU's auto-sync system. The talent can hear each other, with mix-minus capabilities, and also see each other on a private back channel. This environment allows them to react to each other's dialogue, gestures and expressions in real time.
Mediacorp expanded their use of TVU gear in 2023 to include the capture and feedback of live scenes, which involved using the TVU One cellular mobile transmitter and TVU Anywhere live streaming app.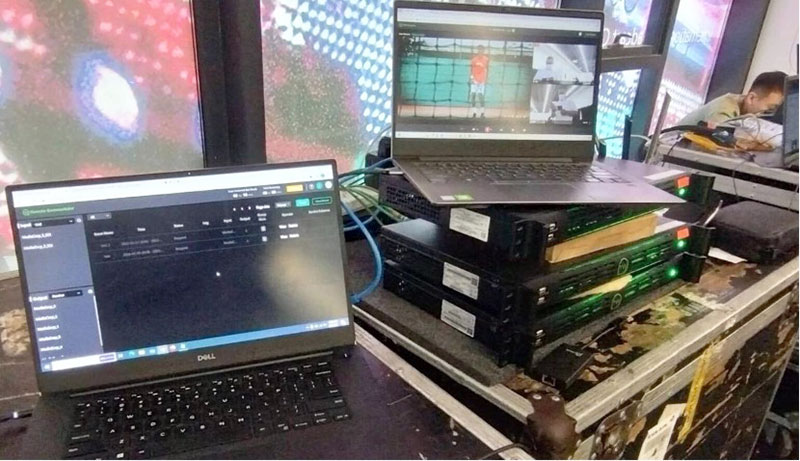 Through this combination of TVU systems and services during the 2023 SEA Games, Mediacorp successfully conducted and produced remote live broadcasts and live commentary of football matches, aquatic sports, track and field, martial arts and many other events. TVU One and TVU Anywhere were deployed at multiple event sites to capture real-time images, which were then fed back to the IBC (International Broadcast Centre) for live broadcast and commentary production.
Connection Aggregation
Commentators in Ireland and Singapore watched the live event video through TVU Remote Commentator, simultaneously conducting remote single-person commentary or multi-commentator, interactive commentary. The TVU Anywhere streaming app and TVU One mobile transmitter aggregated 3G/4G/LTE /5G connections and available Wi-Fi for high-definition wireless video transmission. The transmitter uses TVU's IS+ algorithm, as well as FEC (forward error correction) and HEVC intelligent VBR encoding, to achieve stable feedback of audio and video signals for the live broadcast.
IS+ intelligently splits the encoders' packet streams across multiple aggregated wireless channels to make more effective use of available bandwidth and make the more efficient FEC possible. As a result, with the TVU One 4K transmitter, Mediacorp uses less data and avoids packet loss to achieve transmissions with virtually zero latency, down to 0.8 seconds even in a moving vehicle, in challenged environments or when going live in 4K HDR/HLG.
TimeLock Synchronisation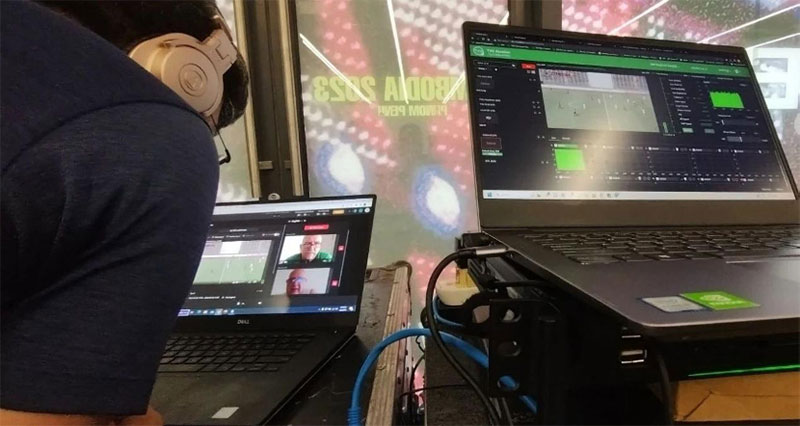 Commentators from various locations use TVU Remote Commentator for remote interactive commentary production.
Using TVU's TimeLock functionality, TVU Remote Commentator precisely synchronised the audio and video signals from different locations, allowing accurate live commentary and interaction between on-air talent. TimeLock wireless synchronisation of multiple live video sources includes an IP tunnel for video return, intercom, tally and remote control management.
TVU's flexible microservices gave other types of support, for instance, the TVU cloud-based tuning microservice made audio operations simpler for Mediacorp. Others supported the use of multiple languages, commentators and viewer distribution platforms. Overall, the TVU system helped achieve their main goal of reaching broadcast TV, streaming and social media platforms, as well as expand their international commentary talent pool. www.tvunetworks.com