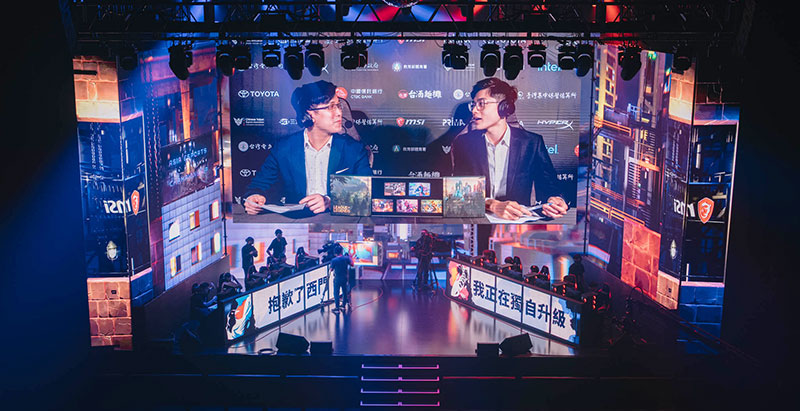 The work of Carry Live, a planner and producer of esports tournaments and content in Tapei, is watched across Twitch, YouTube and other platforms, and reaches audiences in Taiwan, Hong Kong, Macau and other Southeast Asian countries.
Recent productions include the League of Legends Pacific Championship Series (PFC) Tournament, Valorant Champions Tour, Asia Esports Championship, Team Fight Tactics by Riot Games, and the Pokemon Scarlet and Violet Tournament. The company also produces original content including Put Up or Shut Up, a talent-scouting show to find new casters with potential for eSports.
High-Density 3G-SDI/NDI Conversion
To stay competitive among other live event producers who continue to deliver an increasing amount of esports content, Carry Live recently extended its esports production workflow with AJA BRIDGE NDI 3G, a high-density gateway device for 3G-SDI/NDI conversion. The team can now deliver more SDI and NDI sources – not for only tournaments and games, but to capture the strategy, reactions and personalities of the pros competing.
Carry Live normally uses a NewTek TriCaster (TC1) as its primary video switcher, but quickly found it had extended its four physical SDI inputs with I/O expansion taking it to 16 input sources. Advances in broadcast systems and viewer demand were stretching that capacity. The team started using the NDI low-latency, high-performance transport layer, designed for real-time applications, to overcome space limitations, extend workflows beyond traditional broadcasting setups, and support remote work.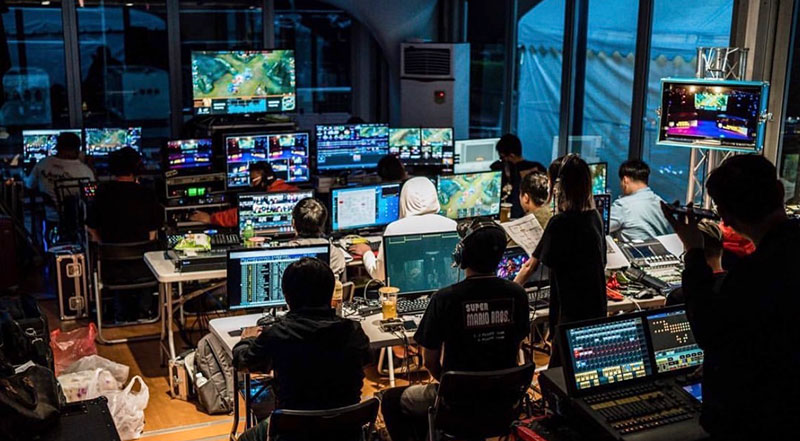 Not Enough
Tim Liu, Program Directorat Carry Live, said, "In the past, only one or two machines were needed to cover the battle rooms, but it's not enough today. We may need to capture the reactions of the coaching team during breaks or the individual reactions of each player, which requires an increase in the numbers of cameras and input sources."
AJA BRIDGE NDI 3G proved to be a practical way out of Tim's challenge. BRIDGE NDI 3G is a 1RU gateway that achieves high density conversion from 3G-SDI to NDI and NDI to 3G-SDI for multi-channel HD and 4K/UltraHD. It is designed to plug into existing NDI or SDI workflows as an appliance that is easy to deploy and operate. For more flexibility, it can be controlled entirely remotely for AV use, broadcast, esports and entertainment venues that need high quality, efficient NDI encode and decode.
Using BRIDGE NDI 3G, the team can now separate its CG processing, previously done on a single machine, onto two machines. It has enabled simultaneous content production and real-time processing. As BRIDGE NDI 3G has a channel specifically for CG with keying and video sources, the Carry Live team can directly output the combined result.
Live Game Plus Player Reactions
With Carry Live's setup, two subtitle machines are connected directly to the BRIDGE NDI 3G, going through physical SDI first and then converting to NDI signals before being sent to the switcher. This process enables them to incorporate both the live game and player reactions during playback, just like other live sports events.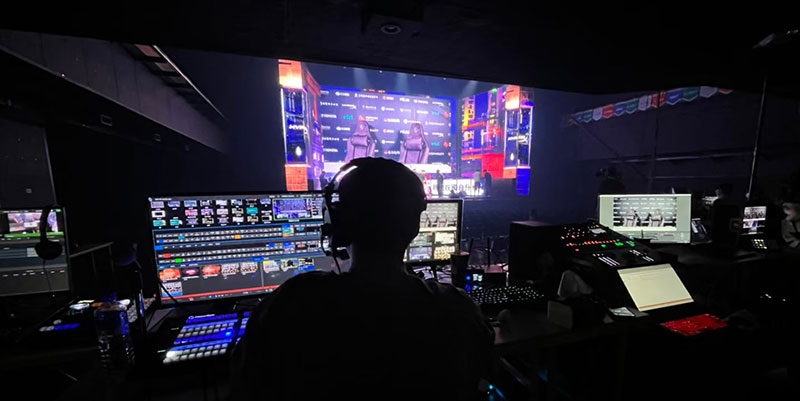 The BRIDGE NDI 3G has also helped Carry Live enhance its CG graphics and broadcasting quality. Tim said, "It was almost impossible to achieve that goal with only 16 channels, since League of Legends, for example, is a 5v5 game with five players on each team, and we have a video camera to capture each player's face. BRIDGE NDI 3G has helped us on that front."
As they focus primarily on live broadcasting, maintaining a stable signal is also critical to Carry Live's success. He said, "We chose AJA BRIDGE NDI 3G without hesitation, and it's been a solid decision. AJA's products are known for high quality and stability, and it has delivered in this respect." www.aja.com