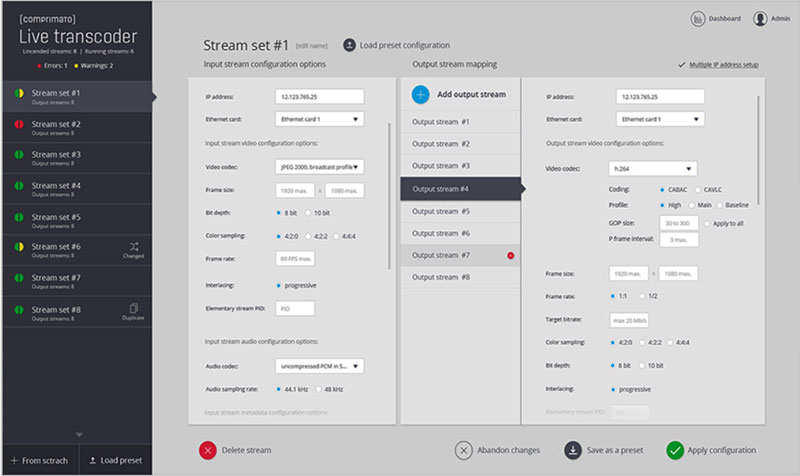 High quality motion-compensated real-time frame rate conversion has traditionally depended on specialised, expensive hardware. Comprimato is now able to carry out this process as a cloud service for live broadcasting and, if required, integrate it with the company's existing transcoding services.
Comprimato, working with motion compensated processing specialist InSync Technology – developers of FrameFormer motion-compensated standards conversion software – has developed a software system delivering industry standard, low latency, frame rate conversion in real time. Running on standard hardware, it can be launched on demand in the cloud as production companies use it.
This system means Comprimato can make frame rate conversion software available as a service, within various business models to suit the user, including charging by the hour. This makes a significant change for broadcasters and production companies that need to move live signals between clients located in 50 fps and 59.94 fps territories.
Integration with Comprimato's encoding and transcoding services means that signals from an external venue can be encoded in any format, including JPEG-XS, JPEG2000, H.264 or NDI, and then be processed and delivered as a cloud SaaS to any destination anywhere in the world, ready for broadcast.
Jiri Matela, CEO of Comprimato believes the service has the potential to transform the market. "Broadcasters and producers just need to budget modest fees for signal processing when they need it, rather than investing in specialist hardware. It means more feeds and services can be carried from major events and, perhaps even more significant, it means that sports and entertainment that earlier on could not justify the cost of live international broadcasting, now warrant productions alongside the biggest players." comprimato.com