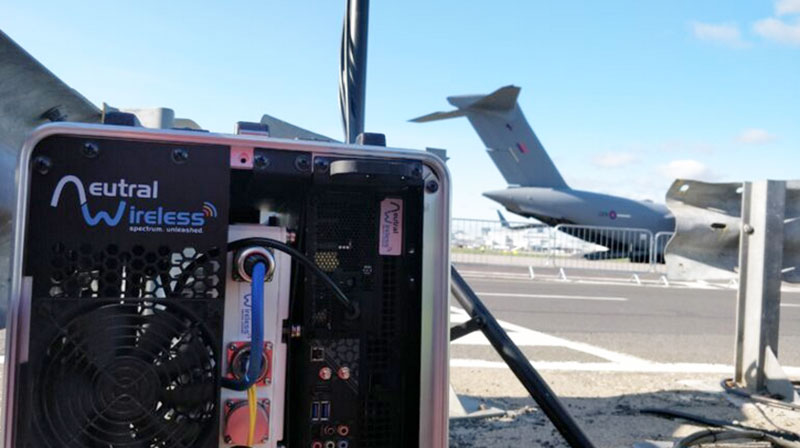 Neutral Wireless Network-in-a-Box
Sony, private 5G SA Networks developer Neutral Wireless, and the R&D arm of the BBC have successfully carried out a proof-of-concept to demonstrate the dynamic prioritisation of live media signals over 5G connectivity. The test was held during the coronation of King Charles III on 6 May 2023 in London, and used the media orchestration platform VideoIPath, which is developed by Sony Group Company Nevion.
Nevion notes the broadcast industry's growing interest in using 5G in live production to connect cameras. The almost universal availability of 5G networks, the versatility of the architecture and the bidirectional nature of the associated network systems lend themselves to this application. While 5G has the potential for fast connectivity, the best-effort nature of the 5G systems that are usually employed can make it unusable in situations where a high-level of contention exists for the available bandwidth.
Standalone Non-Public Network
Public 5G networks are especially characterised by high-level contention, where many mobile handset users might be active or even multiple broadcasters might be competing for resources. It can also be an issue for dedicated private 5G networks to which several pieces of equipment – including camaras – are connected.
Therefore, the objective of the PoC was to demonstrate that media signals could be prioritised on a standalone, non-public network (SNPN) using quality of service (QoS) control.
The configuration for this PoC was built on elements of Sony and Nevion's cloud/on-premises distributed production platform, Networked Live. For media transport, each camera was fitted with a Sony prototype transmitter box, which supplied ultra-low-latency HEVC video encoding, and was connected to the Neutral Wireless 5G SNPN via a Sony Xperia 5G smartphone.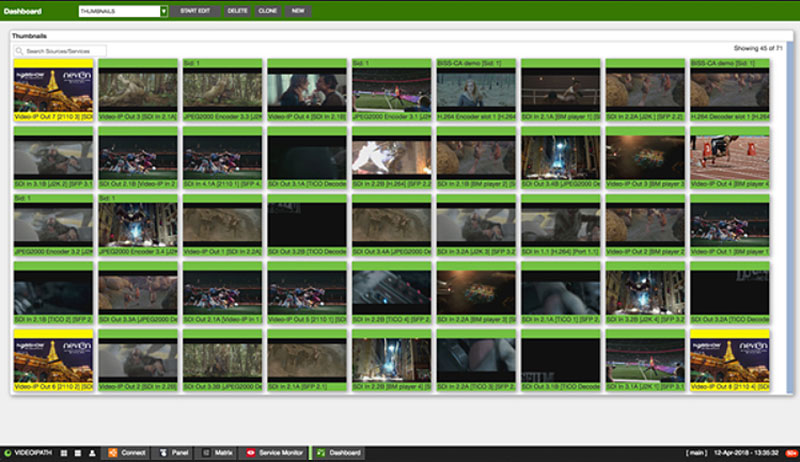 VideoIPath thumbnails
With an SNPN, many cameras can be connected over a single bi-directional IP-switched network, which can also simultaneously facilitate camera control, return video, talkback and tally and other production functions remotely. For broadcast, transmitting multiple HD video streams over the network depends on high uplink capacity and performance. This means that traditional mobile networks are usually not suitable for broadcast because they are tuned for down-link to meet consumer demand and, as mentioned, suffer from network congestion.
Network and Resource Orchestration
For network and resource orchestration, the Nevion media orchestration platform VideoIPath was used to interface with the 5G network's NEF (Network Exposure Function) to configure the QoS for individual flows based on dynamic information about the bandwidth and signal priorities. For example, the video signal from the camera transmitting at any given time was given a higher priority, compared to the signal from a non-transmitting camera.
VideoIPath combines network orchestration and broadcast control. It routes video, audio and data across networks, connecting locations, equipment and functionality, while the software manages the underlying complexity and resource capacity.
VideoIPath helps users to virtualise their media functions by pooling and sharing resources within the network, and reconfiguring or changing this functionality on software-defined media nodes. It collects monitoring data from all equipment across the network, aggregating it with other elements, and displays information about the status of network and services.
The NEF, located between the 5G core network and external third-party application functionality, is responsible for managing the external open network data. External applications that want to access the internal data of the 5G core must pass through the NEF.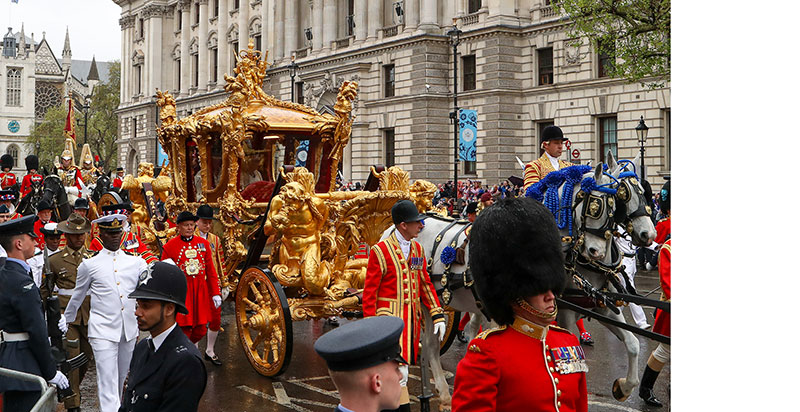 By Katie Chan - Own work, CC BY-SA 4.0
Andy Rayner, Nevion's Chief Technologist said, "Our vision of creating a unified hybrid on-prem and Cloud-distributed environment requires a network orchestration able to control the flow of signals end-to-end, across various fixed and mobile networks. In recent years we have built a solid experience in using 5G in production, most notably through the Nevion-led EU-funded 5G VIRTUOSA project. This PoC is one further step in demonstrating the viability of 5G in live production, especially in high demand environments." nevion.com