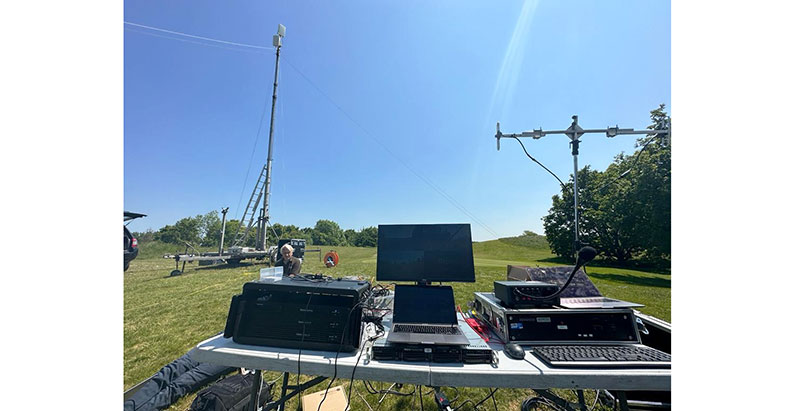 Delivering a live multi-camera event-based production to air, wired or wirelessly, presents complex logistics, wherever an event is taking place. Planning can take months and require lengthy testing times, and meanwhile, coordinating people and equipment onsite is challenging. Keeping everything connected onsite is also demanding, as well as critical to success.
Dejero's Chief Revenue Officer Kevin Fernandes shines a light on the creation of 5G private networks as an alternative way to establish backhaul connectivity in locations where public cellular networks may not be viable. When it comes to the transmitting high-resolution video back to a news station or broadcast hub, private 5G networks also support a level of reliability that hasn't been possible before, especially in remote or congested environments. Dejero's Smart Blending Technology is proving to be a cost-effective means of achieving such reliable connectivity.
Wired, Wireless and Going Remote
Kevin said, "Reliable wireless connectivity for live productions can be difficult to secure outdoors. Location is a critical factor, and large events ranging from music festivals to official occasions like presidential inaugurations may take place some distance from cellular towers. Meanwhile, thousands of visitors competing for the same bandwidth can put any of the available cellular networks under pressure, and wireless bandwidth that seemed sufficient during set-up can become oversubscribed.
"On the other hand, long cable runs in a wired set-up pose health and safety risks and also involve unpredictable natural hazards, such as weather conditions or squirrels and other pests, which means each cable must be manually checked every day. Combined with the transportation of cabling, generators, hoists and buggies, wired connectivity across open spaces is labour and cost intensive. Consequently, nowadays only the biggest events can justify such high levels of resources."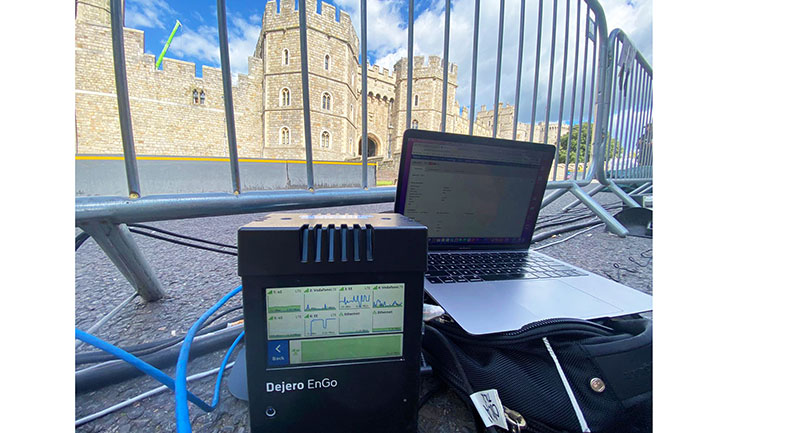 Like the EnGo transmitters, all Dejero devices are built on the company's Smart Blending Technology.
Other variables, peculiar to each project, add further complications. Distance, multiple roving cameras, quick turnaround times for content, uneven terrain and hundreds or thousands of spectators must be factored in.
These scenarios are well-documented and broadcasters have developed many ways to work around them, cost and complications notwithstanding. Today, scalable private 5G networks are gaining momentum as a robust wireless backbone at a much lower cost.
Golf Tournament
As an example of how these networks can be used, earlier in 2023, broadcast facilities supplier Prolink TV partnered with Dejero to live-stream a golf tournament from a golf course in Scotland with an alternative to traditional event rigging. Rather than laying a physical infrastructure, they blended private 5G networks with a range of network paths for dependable, low-latency connectivity.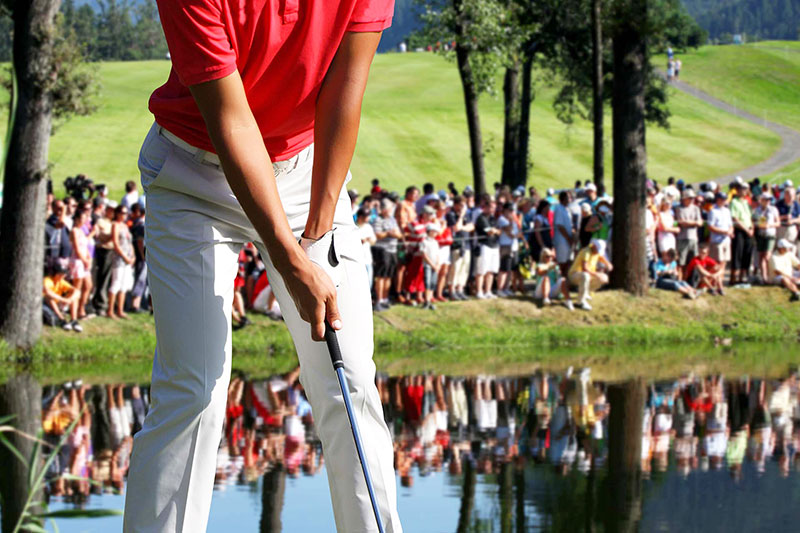 "When streaming a tournament from a venue of this nature, the geography can cover up to 200 acres (80.9 hectares) of land, which amounts to substantial cabling and rigging costs," said Kevin. "Using up to 30km of cabling, Prolink faced seven days' setup time plus four days to de-rig."
As a foundation, Dejero's devices, which are built on the company's proprietary Smart Blending Technology, served to establish and maintain reliable wireless connectivity. Smart Blending Technology is developed to assure broadcasters of dependable onsite backhaul by aggregating multiple IP networks across cellular, satellite and fibre connections, and dynamically managing bandwidth, packet loss and latency differences in real-time. It creates a 'network of networks' that gives content producers a more robust bandwidth than a single provider can deliver.
From there, blending private 5G mesh networks with public 5G networks creates an extra, guaranteed layer of connectivity. Kevin said, "While access to private frequency bands must be applied for from the relevant communications regulator in advance, Dejero has been working with private data networks for many years, and already has relationships with multiple international licensing partners. This advantage makes a local 5G mast faster and easier to set up for multi-camera streaming."
A Broader Spectrum
4G LTE private networks may have existed for some time, but they are recognised as difficult to manage due to the multiple international standards and non-standard technologies that are used with them. In contrast, 5G has a broader common spectrum for international use as well as an agreed hardware infrastructure.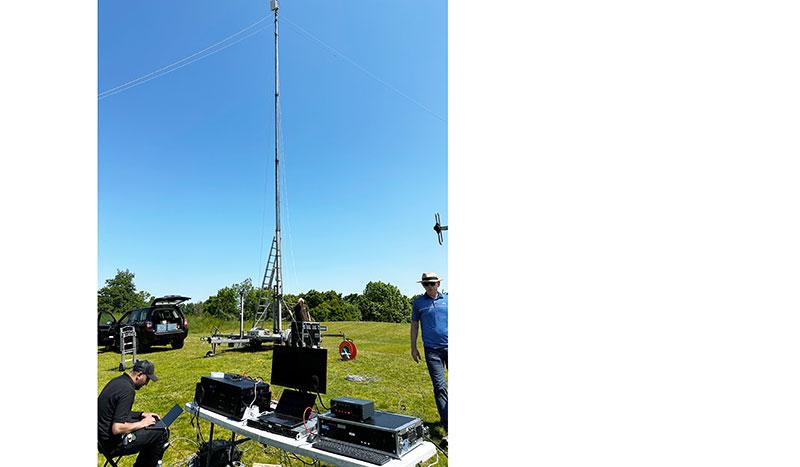 Portable 12ft mast.
"A single portable mast operating at 12 feet can cover a wide range ─ in the tournament example, it can easily cover an entire golf course," said Kevin. "Using point-to-point access (connecting two locations together via a private, dedicated closed line) to create a secure LAN, Dejero can also create private point-to-point networks that are independent of regulatory approval.
"The single mast will support site-wide connectivity for 12 simultaneous 10Mbps cameras at latency as low as 500 ms, with no dropouts. With this in place, scalability becomes a mathematical exercise, and this same model can be applied to other broadcast models that operate over a wide area and feature hostile geographical elements, such as motor cross, inaugurations and press scrums, and cultural festivals."
The 4x4 MIMO antenna architecture (multiple input, multiple output) on connected Dejero EnGo mobile video transmitters are able to achieve guaranteed connectivity for such a system, independent of public networks. A 4x4 MIMO device has four antennas for four simultaneous data streams. The ability of Smart Blending Technology to combine public and private connections guards against unexpected surges in traffic, delivering camera feeds in real time to an onsite Dejero GateWay network aggregation device for backhaul.
More 5G Potential
Meanwhile, offsite delivery can use these same techniques, directly blending networks across cellular, LEO, GEO and MEO satellite connections, and fibre lines, into one data pipe. "Dejero's partnership with Starlink helps deliver low latency streaming of around 25ms. Starlink operates a very large satellite constellation with over 1,000 satellites in low Earth orbit to establish low latency coverage even from extremely remote venues," Kevin said.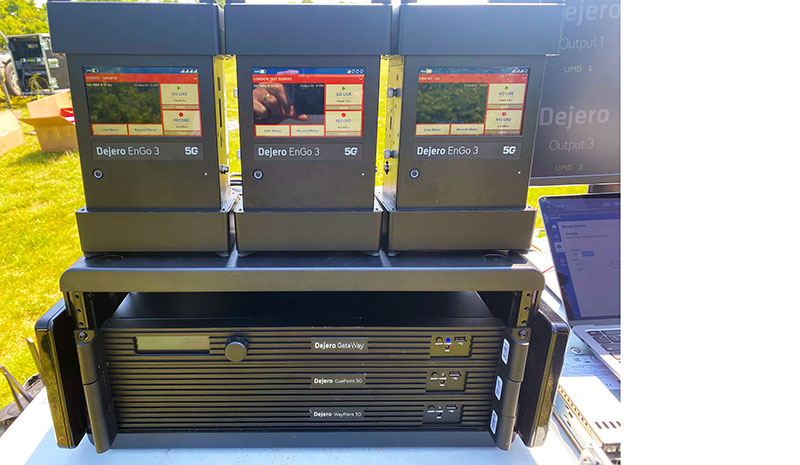 Dejero Gateway with EnGo configuration.
"As outlined here, blending public connectivity with private 5G networks can lower production costs. It controls installation outlay, reducing setup and derigging times, and minimises the number of staff onsite and their associated travel and accommodation costs. It avoids excessive cabling, and speeds up the production process for the creation of onsite highlight packages."
Most interesting of all, it gives smaller, more niche events such as second tier sports or specialist festivals, community events or small music concerts the opportunity to produce and maintain the same professional coverage as top tier events, thereby opening new monetisation options. www.dejero.com