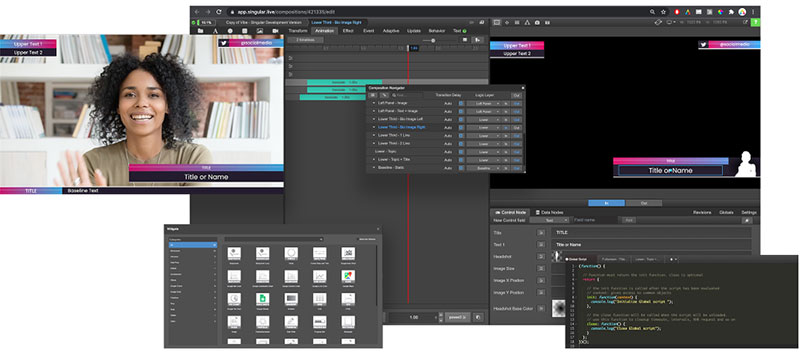 The Zixi protocol is now integrated into Singular.live, a graphics system for creating and controlling cloud-based, live graphic overlays. Because the tools are accessed entirely through a web-based platform that requires no software downloads, specialised hardware or knowledge of coding, Singular users can integrate live, customizable graphic overlays into their content as part of their regular workflow. These features make it an accessible option for a wide range of users, applications and enterprises.
Singular.live is made up of a creative authoring environment called Composer where users create and edit custom HTML overlays, and control interfaces within Studio, which is used to operate live overlays and rundowns. uno is a collection of pre-built live overlay templates for streaming applications. Singular.live also has open, documented APIs and SDKs for developers to use.
A SaaS pricing model and cloud-native architecture, constructed on cloud services, make Singular.live scalable and reliable, with features focussed on engagement and monetisation, particularly through the use of localisation and interactivity.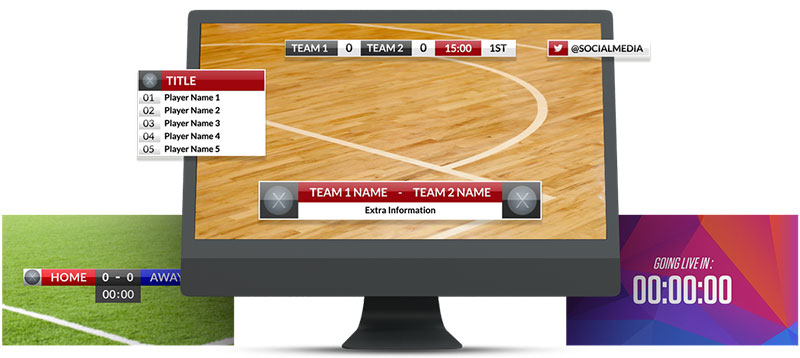 Singular-live graphics templates
Typical use cases include rights owners delivering content at scale through alternative feeds, localisation and personalisation. It can serve as an affordable, low footprint disaster recovery set-up, with minimal infrastructure requirements. It also supports remote productions by allowing operators to work from any location, and digital only productions for which traditional galleries and resources would be too expensive.
A new integration within the Singular system is a collaboration with Zixi, which operators use to incorporate Singular.live's graphic overlays into their video content during the transport and transcoding phase – through the Zixi infrastructure. Involving no delays or extra hardware investments, it's a convenient way to localise or enhance content for certain times and places.
Zixi's Live Transcoding platform opens different control and management options, including Web Interface, REST API or via the ZEN Master orchestration, management and monitoring control plane. ZEN Master users can manage inputs and outputs for hundreds of live video streams at scale and, by applying automatic configuration details for network resources and distribution targets, create new live channels and launch streams on the fly.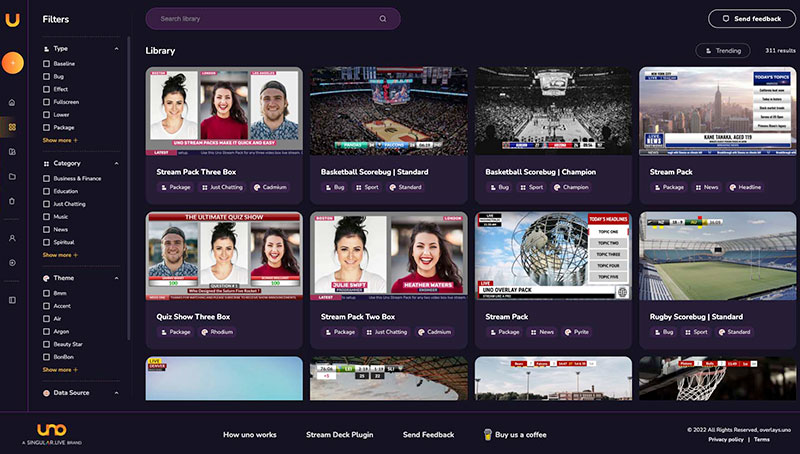 uno Overlay Library
Zixi's Live Transcoding and video processing in IP have been developed to deliver live events to viewers across various devices and network conditions, securely and with minimal delay. Integration of Zixi into the Singular.live platform means content creators and distributors can use Zixi's video over IP systems to deliver and contribute video to and from global markets via the cloud.
"Integrating Zixi gives us greater scope to deliver broadcast quality graphic overlays with ultra-low latency," said Mike Ward, Head of Marketing, Singular. "With no downloads or dedicated graphics hardware required, our joint customers have the flexibility to scale with minimal cost." John Wastcoat, SVP BD and Marketing at Zixi commented, "Some of Zixi's biggest customers are deploying modern workflows that require adaptive and interactive overlays. With the Singular.live integration they are able to do it remotely and with ultra-low latency." www.zixi.com