pearl.tv in Germany installed a 12G-SDI multi-camera workflow and is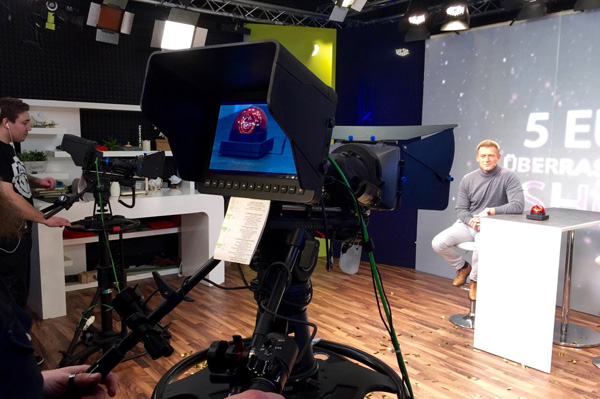 now among the first European direct response TV channels to transmit
24 hours a day to ASTRA digital satellite TV.
---
pearl.tv Broadcasts 24/7 in UHD with ToolsOnAir & Blackmagic
Based at the EnStyle Studios in Buggingen Germany,pearl.tvlaunched in 2012 as one of the first European direct response TV channels to transmit 24 hours a day in HD quality to theASTRA digital satellite TVbroadcaster. Specializing in computers, consumer audio/visual equipment and electronic gadgetry, the channel shifted its transmission quality up to continuous UHD in September 2015 - again, one of the first telemarketing companies in Europe to do so.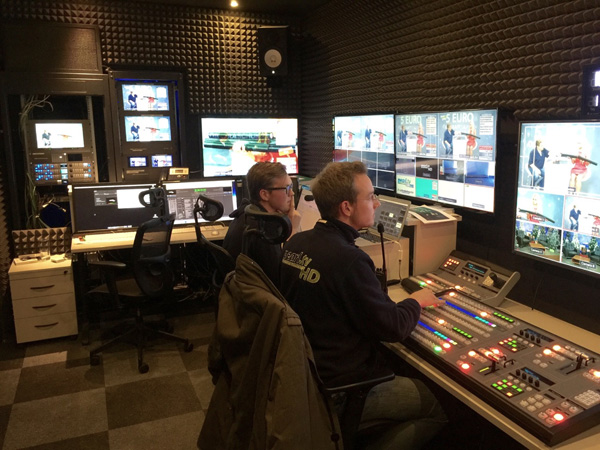 With availability over ASTRA, the Unitymedia, KabelBW and Primacom cable networks, as well the Zattoo App and online atwww.pearl.de/tv, the channel covers the entire German speaking world, reaching potential customers in 27 million households. pearl.tv targets men above 40, while the German teleshopping market is, in fact, geared toward female customers, dominated by two major networks, QVC and HSE24, plus some other smaller stations.
12G-SDI Multi-Camera Workflow
General manager at pearl.tv DrMichael Sichler, "It didn't make sense for us to try to compete in an already saturated market. Moreover, the Pearl Group already had a large range of products that appeal to men, which made targeting this particular audience a logical decision for us. We focus on this group not only in product selection but also in studio design, presenters and overall look of the programming." It has been a success for them - since launching, the channel has introduced over 10,000 products to viewers.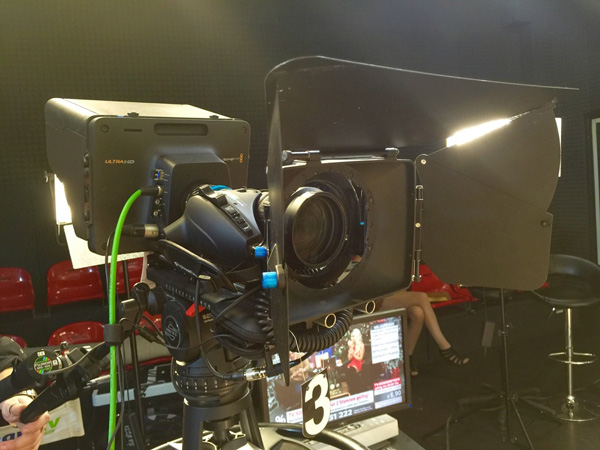 pearl.tv installed a12G-SDI multiple camera workflow. At their studios in Buggingen, sixBlackmagicStudio Cameras 4Kare in use, and two film crews go out on location every day to film product presentations with three35mm Blackmagic URSA 4K cameras. In total, pearl.tv produces two hours or more of cinema-style 4K content and over six hours of studio productions per day.
Deciding on a unified 4K production environment required the channel to install about 800m of coaxial cable to connect the facility's two studios and the central production gallery. "Any of our existing SDI cables that were longer than two meters had to go and were replaced with premium12G-SDI single link coaxial cable. This assured us of full signal integrity throughout the 4K production chain," Michael said.
UHD Switching for Live Production
Controlling the flow of content is Blackmagic's ATEM 2 M/E Broadcast Studio 4K switcher with 12G-SDI connectivity, handling Ultra HD at frame rates up to 60fps and producing a smooth live production for broadcast. The ability to work with 4K in higher frame rates was essential to the channel's move to UHD transmission.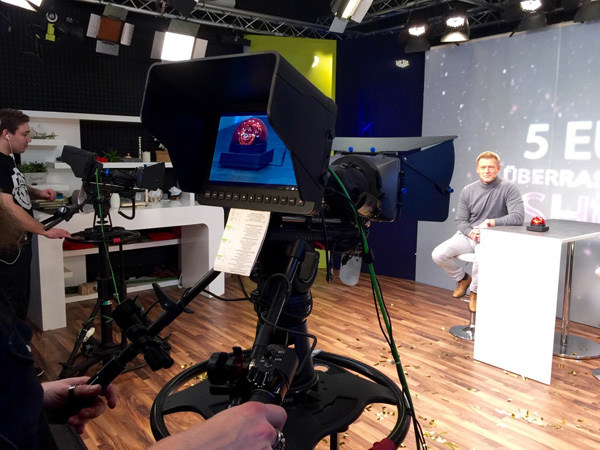 Dynamiclower thirdsdisplaying pricing, product details and contact information for purchasing are added, and thejust: playplayout system from Blackmagic's OEM,ToolsOnAir, running on a MacPro 8-core computer and paired with an UltraStudio Extreme 4K, outputs an H.265 encoded file for transmission.
To make sure viewers across the pearl.tv network can still access the channel's programming on any television, the ATEM switcher also manages simultaneous multi format transmission by generating an HD output, and a down converted SD signal is produced through an encoder.
just: play Engine
The just: play engine has a realtime scaler allowing the HD productions from their previous workflow to be scheduled side-by-side with new 4K content. This functionality was used frequently during the transition to 4K, of course, until now when pearl.tv is broadcasting exclusively in UHD.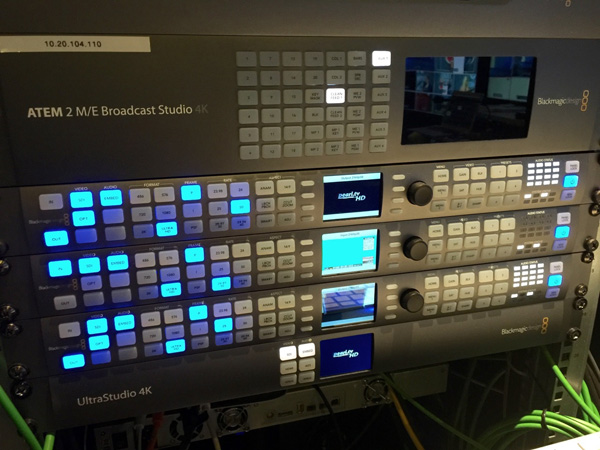 In 2015, as development progressed on the upcoming version 2.0 of the just: play software, due for release in early 2016, ToolsOnAir began looking for beta testers. pearlt.tv volunteered as a test site and, after some initial hurdles, the system was functioning within a week.
Michael said, "ToolsOnAir was our choice initially because we had worked well with their HD system for three years. At first it looked as though ToolsOnAir would not have its UHD system available in time for our transmission date, but looking for alternatives made us realize ToolsOnAir's ease of use. Their system best met our expectations and is Mac based, important since our entire operation runs on Apple hardware. Fortunately, ToolsOnAir pulled out the stops and delivered the UHD version of just: play in time for our broadcast launch. It has now been in operation for three months of nearly trouble-free, continuous use.
Transition Challenges
During the first weeks of 4K broadcast, ToolsOnAir asked Michael about the experience of the upgrade. He said that initially, they didn't expect that launching a live UHD channel would be very difficult technically, although many of his industry colleagues told him it would be impossible. However, it turned out that one of the major hurdles was the limited number of useable 4K products on the market.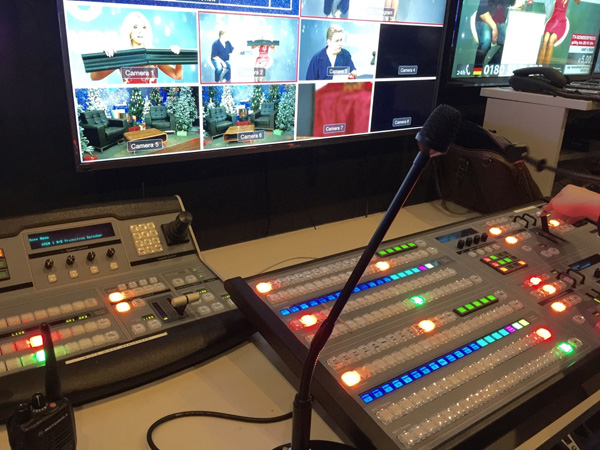 He said, "Regarding 4K, the broadcast industry to date is at best in an early stage of development. This isn't surprising given that many TV stations are still struggling with the transition from SD to HD and that HD systems are still very profitable, creating little incentive to bring a 4K generation of devices to market. After all, if newer equipment was the better option, it would place the current migration to HD in question."
Consequently, working with established system manufacturers proved difficult. With the exception ofBlackmagic Design, no supplier had market-ready devices or a unified 4K production workflow, and not all products presented on-line and in marketing material were actually available. They also faced technical and deadline barriers includingrouting the live signalover 400km from rural Südbaden, and exchanging all of the studio equipment.
The biggest challenge was ultimately ensuring asmooth transition to UHDwithout significant transmission loss. "Nevertheless, we managed to replace the entire transmission system with less than 30 minutes of off-air time and switch the studio equipment without losing a single production day. All of our hardware and software components were replaced during a two-hour live broadcast, tested and put into operation. This was a relatively easy switch, done while ToolsOnAir gave remote support via TeamViewer." www.toolsonair.com www.blackmagicdesign.com