Evertz MAGNUM simplifies broadcast facility workflow, bridging all-SDI,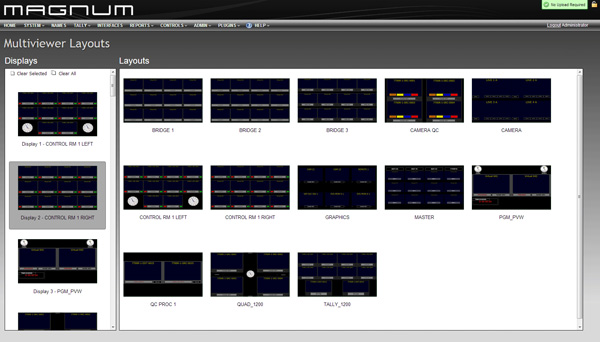 all-IP or hybrid components under one control point, supporting a transition
from SDI to an IP-centric facility.
---
Evertz MAGNUM Software-Defined Video Network Transitions SDI to IP
Evertz MAGNUMis software-defined video networking,SDVN, that works as a unified control system, bridging all of the major components, whether all-SDI, all-IP or hybrid, within the broadcast path under a single point of control. Not only does this system simplifybroadcast facility workflow, help increase efficiency and potentially lower costs, it also supports efforts to transition from SDI to anIP-centric facilitywithout compromising services.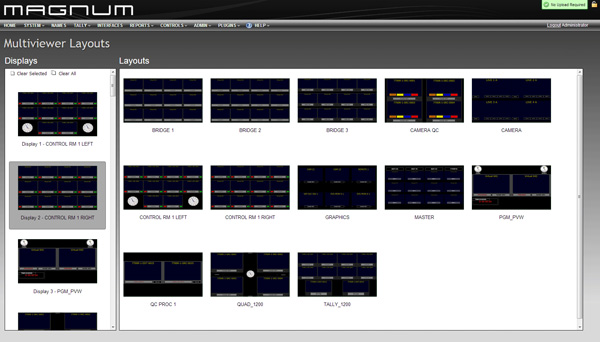 Serving as the SDVN orchestration and control, MAGNUM usesEvertz 10/100GEhigh capacity switch fabrics, media IP gateways and regular Evertz SDI products such asEQX 3G/HD/SD-SDI routers. It forms a format agnostic and scalable infrastructure for SD, HD, 3G, and 4K and 8K Ultra HD video.
MAGNUM runs on aUnix based operating system, with redundant networking and a multi-node cluster with automatic fail over, managing and controlling routers, multiviewers and terminal equipment under a single system. It can be scaled to accommodate large numbers of devices, panels and control interfaces, and integrate existing third party systems into a centralized control environment.
The system's components are familiar, using arouting coreand interfacing to all Evertz and 3rd party routers. A single hardware control surface is configurable and allows users to install apps to interface with routing systems, multiviewers, terminal equipment, logo inserters, Overture RT, keyers, ATP, XRF and clip layers.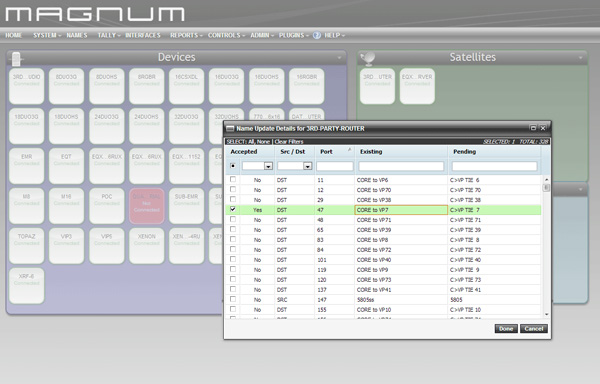 Software does not have to be installed locally. Configuration and management of MAGNUM can be handled from anywhere using a web browser on a computer or mobile device. It has one interface to monitor events and filter using web reporting tools. The same interface is used to manage and control the various systems - router control, centralized name management, multiviewers or intelligent signal pathing, ISP.
Each system is handled throughsoftware modules. For example,MAGNUM NAMESis a central location for viewing and managing naming between Evertz and supported 3rd party systems through a dashboard notification service, using protocol translators. This module is how users can keep hybrid systems in sync without export or import re-format functions to manage names between systems.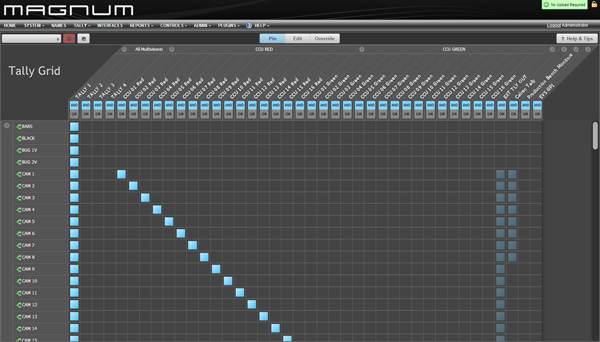 MAGNUMMULTIVIEWERunifies control, management and interfacing to Evertz multiviewers, so that users can configure and manage the various setup and monitoring parameters from a central web interface, and have central storage and recall of saved layouts. TheMaestro design clientis used to create the multiviewer layouts. Using the NAMES application, above, MAGNUM can update only the specific naming for the multiviewers, which limits the changes made to the system.
Access profilesare used to provide each panel and user interface its own customized access to resources. Meanwhile, you can make configuration changes while minimizing impact on the operation of the system. http://www.evertz.com