Multimedia news provider Reuters launched Reuters Live Online services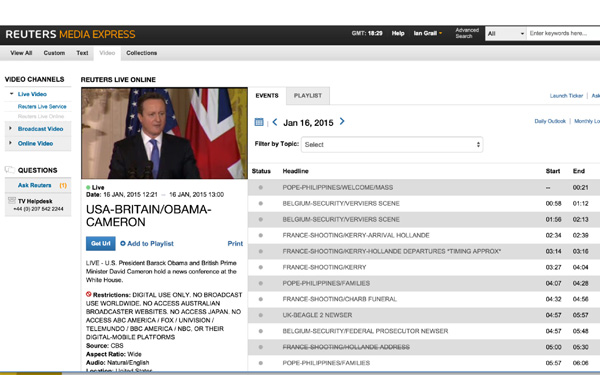 in 2014 for digital publishers based on Mirror Image's Dynamic Delivery
Network, a CDN for streaming video.
---
Reuters' Video News Service Streams Live Online with Mirror Image
Multimedia news providerReuterslaunched theirReuters Live Onlineservices in 2014 for digital publishers after noting changes in how newspaper and publishing editorial teams work. In the past, journalists working for Reuters wrote their stories for publications' print edition and then uploaded them online later, but now they more frequently take an online‐first approach, initially publishing material online and printing afterwards – in short, following a continuous, 24hr news cycle.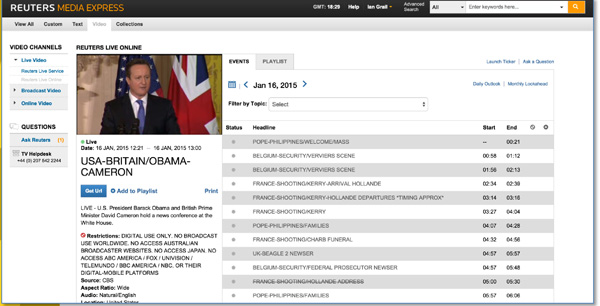 To compete and keep up in this market, digital publishers need to access live video content, but may not be equipped to handle live video as readily as broadcasters do, and need extra services to use content with speed and competence.
Multiple Channel Live-Stream
In order to develop and run those services, Reuters was interested in live‐streaming systems, distribution management and customized integration of the user's access - that is, the UI - with the system's backend. They looked for a digital distributor with streaming and customization experience to work with on these topics.
Reuters engagedMirror Imageto develop services on theirDynamic Delivery Network, a CDN for streaming video, resulting in Reuters Live Online, RLO. RLO gives online publishers licensable access to live video coverage of breaking news and scheduled events, gathered by Reuters' journalists from 200 or more locations around the world. Among the services is multiple live feeds – a publisher can stream up to three live events at once from a website for viewing on web‐enabled devices, using adaptive bitrate video streaming for smooth delivery regardless of the speed of a viewer's internet connection. Reuters expects RLO users will be able to access more simultaneous streams in the future.
Mirror Image's Dynamic Delivery Network specializes in highly customized application logic, streaming media, content delivery and reporting to support global online interactions. The company'sLive Streamingservice streams one-to-many messages and events directly to the desktop from the Dynamic Delivery Network, using the Internet to cost-effectively communicate and interact with users in real time.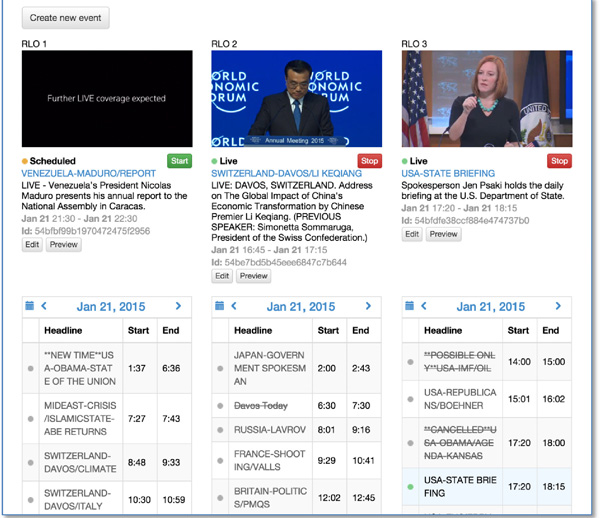 Delivery at the Edge
A basic aspect of the network is the use ofEdge Computing, a service enabling clients to execute real-time logic at the edges of the Internet. The resulting levels of performance, scalability and reliability are due to infrastructure that offloads traffic from the origin servers and sets up a presence close to each end user, increasing performance.
Typical applications for Edge Computing include, as in Reuters' case, stream and asset authentication, online data collection, and targeting and customization initiatives based on cookies, device type, geo-location and other request attributes.
Because it is tightly integrated with Mirror Image's media and content delivery services, Edge Computing supports the development and deployment of online experiences for browsers and devices in real time, and of new, customized applications. For web applications that require low latency and guaranteed availability, Edge Computing services are an alternative to internal server build-outs and traditional cloud computing services.
An advantage of using Edge services is the ability to avoid a single point of failure - supported by high capacity, strategically located datacentres around the world, all customer applications exist on all data centres. Scalability for handling traffic spikes is automatic.
Delivery Options
RLO users also have various delivery options. Small budget publishers with limited resources can have Reuters' video player delivered to the end‐user, and receive viewer analytics in return. Customers with larger budgets and video expertise can customize their own non‐hosted system and workflow, and Reuters only needs to deliver the video stream.
RLO is among the only major online video services to maintain a detailed editorial calendar of scheduled events, as well as monitoring tools that carry out real‐time and historical analytics so publishers can make coverage choices based on thematic or geographic popularity of previous events. It also has a fast initial set‐up time that only takes a few minutes.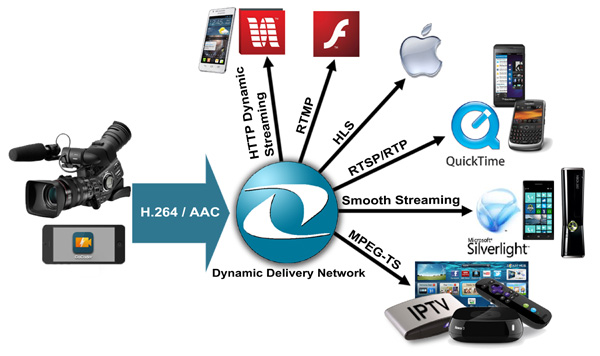 Event Creation and Transcodes
In the administrative web interface, Reuters news sources can schedule events, giving the start and stop times, the source encoder for the events, and event information used by the customer publishers' web interfaces. The creation or editing of an event will trigger various actions such as accessing the publisher's internal platform, creation of events within the media content clusters and emailing notifications to staff.
The staff can view the source feed, view the scheduled events and choose when to start or stop a scheduled event – all within the administrative web interface. Due to the dynamic nature of most client content, events are not started or stopped automatically, but triggered manually by the staff. Again, this triggers a series of actions affecting the media cluster's API, embedded players and news tickers. The source stream from the selected encoder is transcoded into multiple bitrates and frame sizes, and the streams are then transcoded into HLS, HDS and Smooth formats and packaged for adaptive groups.
Analysis and Provisioning
When the event streams have been created and are ready for distribution, Mirror Image pulls them from the media clusters and inserts customer IDs into the stream URLs allowing unique statistics to be collected on a per event and per customer basis. The event streams can also be pulled by third party CDNs or pushed viaRTMPinto third party CDNs based on a customer's configuration specified in the web interface. Using RTMP allows you to stream to multiple external channels, and import streams to incorporate for specific purposes, such as multiple camera angles.
The collected data may then be used to send out automatic emails related to billing, surpluses and usage. APIs from Mirror Image'sClearVue Control Centrealso supply the collected data back to the customer's user interface so they can understand viewing trends of the events that they have subscribed to. ClearVue's two applications,ClearVue AnalyticsandClearVue Provisioning, are used to analyze and control stream traffic through a dynamic, integrated web interface, which allows a user to provision or deprovision live, VOD and proxy video streams from anywhere at anytime.
Global Syndication and Publishing
Several of Reuters' major stories in 2014 made good editorial candidates for live streaming, for example, the Oscar Pistorius trial, the Gaza offensive, Ukraine conflicts, MH370 and others. Meanwhile storytelling, especially breaking news, continued changing from written news items to live transmissions - not only among their established broadcaster customers. To maintain its position as a primary source of breaking news, live, syndicated video news has become an efficient means of distribution for them.
Reuters feels the launch of Reuters Live Online came at the beginning of wider adoption of live streams as a regular way to consume news. But they also see potential as best practices are established and more online publishers invest in equipment and staff to support multimedia delivery.
In terms of growing its customer base,Tim Santhouse, Global Head of Video Products at Thomson Reuters said he considers that has RLO put the company ahead by making it possible to syndicate live events globally, and making a robust publishing tool available to its diverse customer base of online publishers. www.mirror-image.com