The HbbTV Association's new HbbTV 2.0 specification is released, anticipating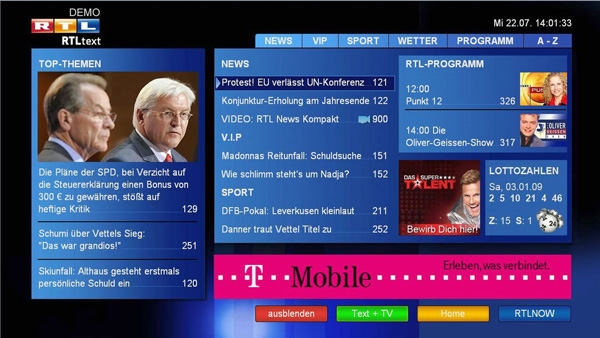 user experiences based on HTML5 and further synchronization between TV,
tablets and smartphones.
---
HbbTV 2.0 Specification Supports HTML5 & Ultra HD
The HbbTV Association, a global initiative dedicated to providing an open standard for the delivery of broadcast and broadband services through connected TVs and set-top boxes, has released their new HbbTV 2.0 specification. HbbTV 2.0 opens a potential for a new series of consumer TV services based on developments including companion device support, HTML5 user experiences and support for video delivery improvements like Ultra HD and HEVC. The HbbTV Association anticipates that manufacturers, broadcasters and operators will begin introducing new interactive broadcast and broadband TV services in 2016.
With HbbTV 2.0, new consumer services are expected to include user experiences based on HTML5 and companion applications that extend the TV experience with detailed program info, voting, play to screen and other interactions. Delivery of Ultra HD content can be standardized with HEVC, and consistent, uninterrupted viewing of video content across TV, smartphones, PCs and tablets will be available.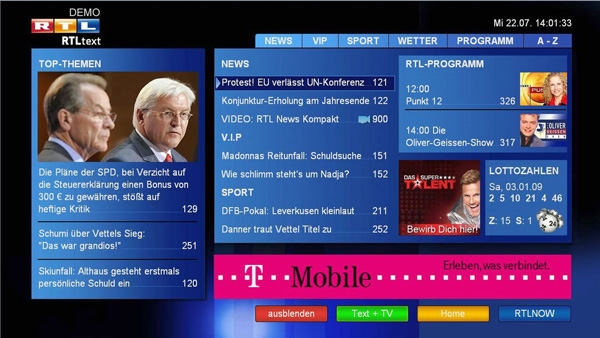 Accessibility of services will be possible with better support for subtitles in multiple languages, and users will have access to broadcast content captured to local storage in the receiver. There will also be support for consumer privacy. TheHbbTV 2.0 specificationcan be downloaded here.
New aspects and functionality in the HbbTV 2.0 specification have been made for broadcasters, pay TV operators and OTT video providers as well - including support for HTML5, DVB CI Plus 1.4, HEVC video and TTML subtitles. Synchronization of broadcast and broadband streams will make it possible to augment the broadcast stream with additional audio channels. Media and application synchronization has been established between TV, tablets and smartphones. Adaptive streaming systems will have secure playback and there will be support for various new advertising models.
Operators and providers will also find further support for existing systems such as MPEG DASH, DSM-CC object carousel, synchronisation of apps to TV and user input. The new specification is designed to ensure that HbbTV 1.0 and HbbTV 1.5 applications will continue to work on HbbTV 2.0 devices.
The HbbTV Association is also immediately launching its tender process for the supply of an HbbTV 2.0 Test Suite. It is anticipated that the test suite will become available in 2016, assisting the launch of HbbTV 2.0 compliant products and services that year.www.hbbtv.org