Harmonic Takes VOS Video Processing to the Cloud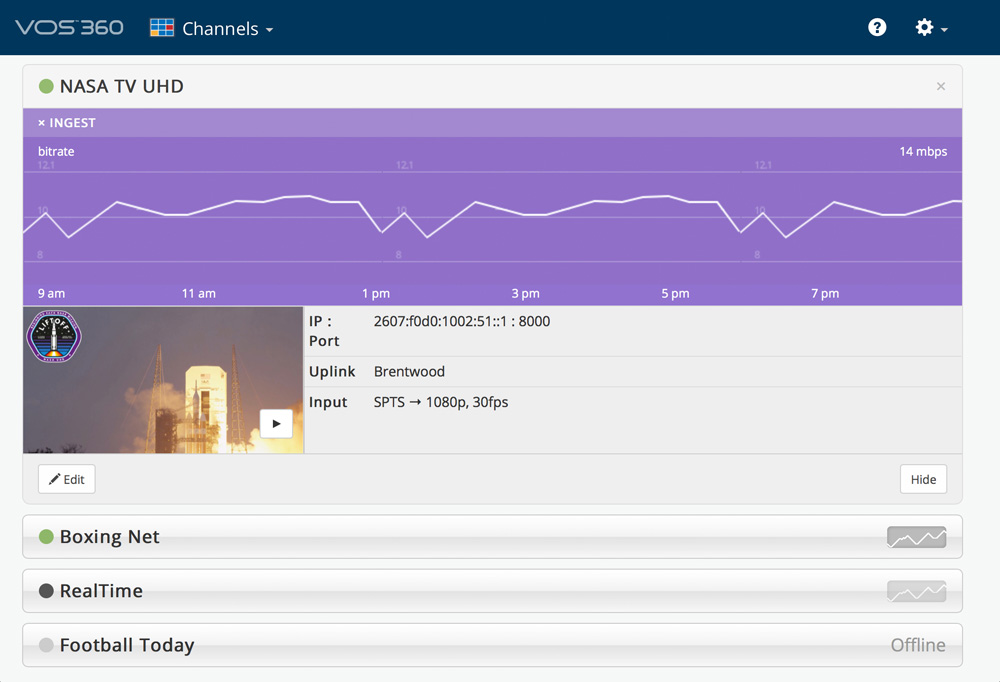 Harmonic has two new cloud-powered extensions of its VOS software-based media processing platform. By changing and shifting video preparation and delivery architectures into a hybrid cloud operation, VOS Cloud has the potential to lower CAPEX involved in building, maintaining and operating a new headend or data centre, and to shorten time to market for new broadcast and OTT.
The first, VOS Cloud, shifts media processing to the cloud, enabling content and service providers to manage their own video production and delivery workflow for broadcast and OTT applications, new or existing, via standard IT hardware, over public or private cloud infrastructure.
The second, VOS 360, is professional cloud media processing supplied as software-as-a-service. Processing is hosted in the public cloud and maintained and monitored by Harmonic, enabling operators to launch broadcast-quality OTT services very quickly, as a straightforward online operation. It can be accessed via a tablet. Harmonic is making a free 30-day trial of the VOS 360 service available to all customers.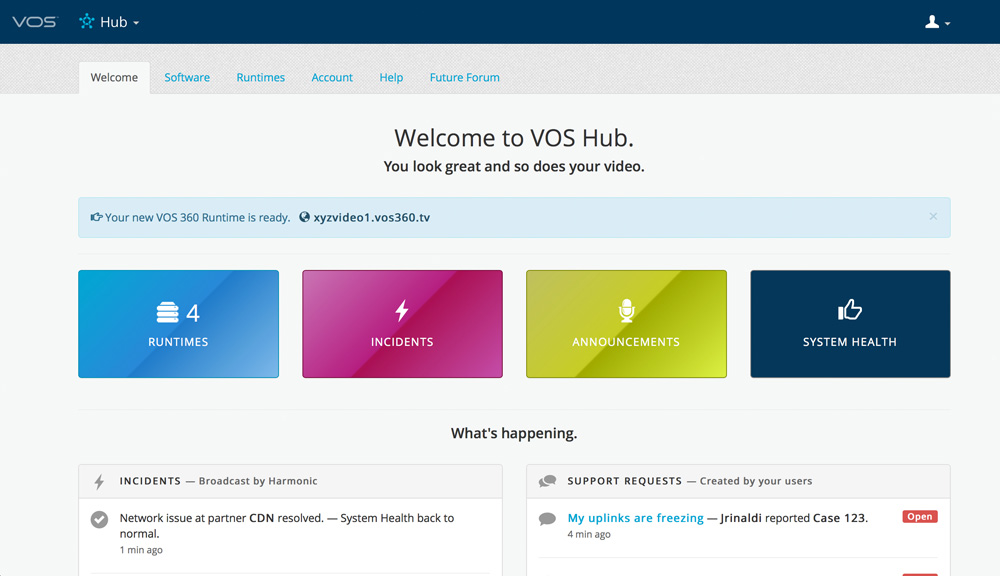 VOS software was originally developed as a platform that simplified an organisation's media processing chain, ingest to delivery, by virtualising tasks formerly done through hardware, for multiple vendors and delivery networks. Users can combine encoding, graphics and branding, and playout through software workflows, including the delivery of content to all screens through one interface. It can be adapted either for linear broadcast or streaming, running on a blade server or a dedicated appliance.
Through capabilities such as time-shift TV, VOD and cloud DVR, companies can generate revue from their content with less infrastructure, and pay-as-you-go pricing also shortens the time needed to realize ROI. Encoding and transcoding is powered by the Harmonic PURE Compression Engine, which supports numerous formats, codecs and encoding schemes to preserve video quality at low bitrates at all stages. MPEG-2, MPEG-4 AVC and HEVC codecs are supported, plus SD, HD and UHD formats for broadcast, cable, satellite and IPTV delivery - including constant, variable and adaptive bitrate streaming.
Designed to be elastic and flexible, VOS software was developed to ultimately deploy, scale and operate in public or private cloud - running on top of deployment environments such as OpenStack, AWS and Azure – now available as VOS Cloud. Ingest, playout, graphics, transcoding, encryption and delivery are all managed from one UI. Configuration, deployment and management are handled through VOS Cloud's automated video formation, which uses standard IT deployment templates to set up your processing and delivery workflows.
VOS 360 is somewhat different in that, as one of the first professional grade, native cloud-based media processing services, it is maintained and operated by Harmonic, who monitor and control your quality of experience and service availability 24 hours a day. Built on existing public cloud infrastructure platforms with geographic redundancy and operational resiliency, the VOS 360 service has a simple dashboard for preparing and delivering content and initiating temporary or longer term channels from any location. See www.vos360.tv.
The VOS Cloud platform is currently in trials in OpenStack and public cloud environments with service providers around the world. www.harmonicinc.com