Companies Continue to join the TICO Alliance at NAB 2016

Blackmagic Design, B&M Modern Media, Bluefish444, Cobalt Digital, Ikegami, Leader, Net Insight, Panasonic, Pesa, Telestream and Village Island have joined the alliance in the weeks preceding NAB.
Current members have collaborated to create a set of open specifications that will be disclosed in the SMPTE RDD35, specifying TICO compression and its mapping on SDI, SMPTE2022-6 and RTP payload. The specification suits the industry trend to converge on SMPTE 2022-6, VSF TR03 and TR-04 for the transition to IP.
TICO supports 4K live production by transmitting lightly compressed 4K UHD 60P video over a single 3G-SDI link, alleviating common issues which broadcasters face either using multiple 3G-SDI ports or updating their infrastructure to 12G-SDI to manage 4K video throughput. It also helps optimize the transmission of UHDTV using a single 10GbE interface to carry up to three UHDTV 4K streams.
TICO can achieve a visually lossless quality with only a few pixel lines of latency, is robust to multiple coding generation, has a very small footprint in FPGA so that firmware can be upgraded to support 4K in existing or new IP or SDI infrastructures.
TICO demonstrations at NAB 2016
At NAB 2016 several demos were staged to show how TICO compression can facilitate the transport of video over SDI and IP networks for Live production for applications including UHD/4K over single 3G-SDI, SMPTE 2022-6 or VSF TR03. TICO enabled products were demonstrated at several booths including Imagine Communications, Grass Valley, Panasonic, Deltacast, Bluefish444 and others.
Panasonic, a new member of the Alliance, showed an interoperability demonstration over 10GbE IP network with Canon and other vendors. The demo showed 4K/60p Video over IP with TICO and RDD35 implementation.
The alliance is an open coalition of companies united to ensure upcoming UHDTV infrastructure by establishing TICO compression in the new IP-based Live ecosystem. Using the TICO compression with open standards and specifications, the group assists the industry to update the existing SDI-based workflows to IP and UHDTV 4K without the cost of a complete renewal. Member companies now number 34.
New TICO Alliance Promoters and Adopters
Jesse Foster, director of products and business development at Cobalt Digital said, "The TICO Alliance is less than a year old but has already attracted some major industry players, which is a testament to the technology's viability. Participating in the TICO Alliance will help Cobalt maintain its position in the signal-processing and transport markets as a provider of problem-solving products that connect system components such as cameras, production switchers, and multiviewers."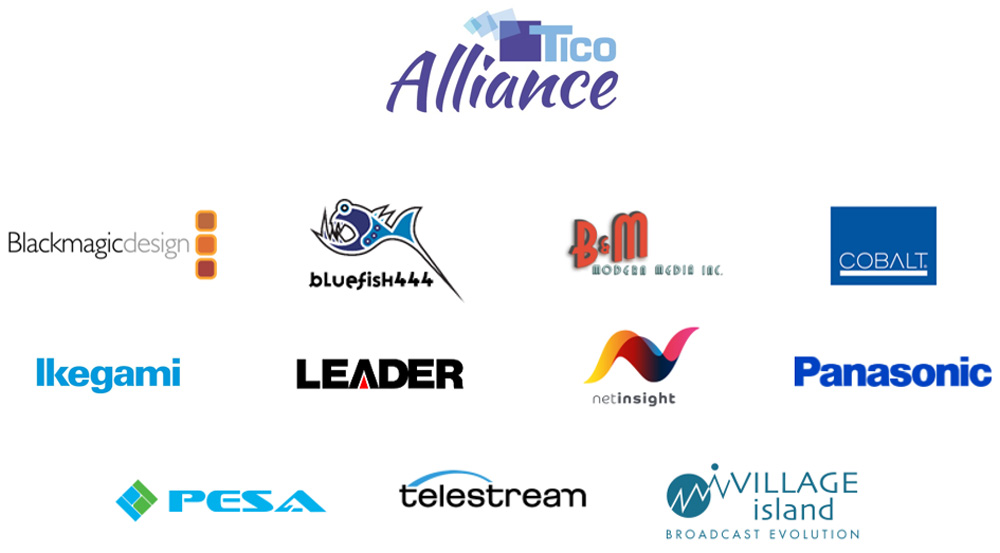 "We believe interoperability and scalability will ultimately benefit customers, especially in our specialty, 4K and 8K. As IP based solutions will play a key role, we see TICO as a real answer" says Naoki KASHIMURA, Director of the Board, Global Business Promotion, Ikegami.
Panasonic Kunihiko Miyagi, Director of Professional Video Business Unit commented, "We're excited to be a part of the TICO Alliance. Panasonic is providing several 4K delivery options to the market. In addition to 12G-SDI, TICO over 3G-SDI is one of the best options for the future of 4K on traditional SDI workflows. We're showing another possibility of TICO: transmission of 4K video over IP networks."
Village Island President Michael Van Dorpe said, "The broadcast industry has conflicting needs: increasing the video quality while optimizing the infrastructure with ever more compact systems, lower delays and simpler cabling. In that trend it was natural for us to adopt TICO within our projects either in hardware or software solutions. We are excited to join the TICO Alliance and tackle these new technical challenges."
"Broadcasters have been asking us for video over IP solutions for quite some time," said Grant Petty, CEO Blackmagic Design. "The TICO codec delivers excellent image quality with extremely low latency and we believe it is an ideal codec for IP video systems. We will be able to supply HD and Ultra HD video over IP products that will integrate with other TICO compatible studios and broadcasters around the world."
"With TICO lightweight compression our customers will be able to provide products capable of delivering 4K 60fps video over a single 3G SDI cable, infrastructure which is already well established," said Tom Lithgow, Bluefish444 Product Manager. www.tico-alliance.org