Sony Sees an Interoperable Future for IP Live Production & Transport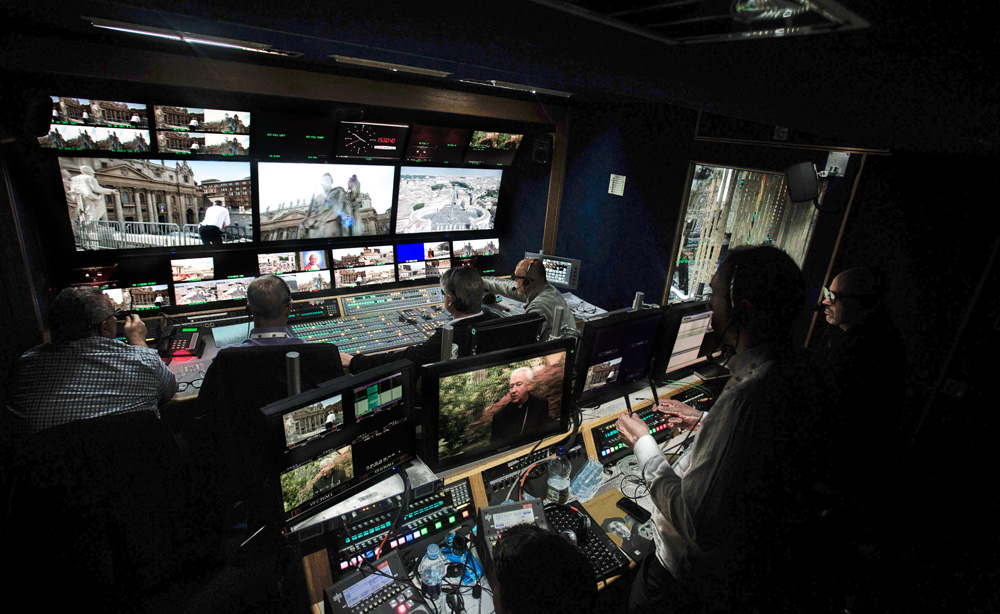 Sony's IP Live Production system delivers a robust IP workflow to broadcasters with 3rd party interoperability and standards-based development at its core.
Sony is working with standards bodies including SMPTE, VSF and JT-NM (Joint Task Force on Networked Media) to create a unified, format agnostic standard for live IP production, identified as IP Live. The IP Live codec is in the process of becoming an open industry standard through SMPTE. At the same time, in collaboration with some of the major broadcast organisations and companies, Sony has created the Networked Media Interface, NMI. 
NMI's AV-over-IP interface packetizes, transmits and clean-switches HD and 4K video, audio and metadata, over standard IP-based network infrastructures with very low latency. It forms the backbone of IP Live production systems. NMI refers to the physical network interface, and the data being sent over it complies with a number of different standards for the different portions of the signals such as timing, packetization and so on.
IP Live Alliance – Supporting Migration to IP
Sony's IP Live production workflow  and the NMI were developed to help broadcasters migrate to IP to meet their own objectives. It includes functionality addressing the demand for 4K live content, and some of the cost and scalability issues associated with conventional SDI live production workflows.
Earlier on, Sony recognized that IP had certain advantages for live production. Over the past five years the company has been working with customers, standardization committees, partners and competitors to ensure that its approach was based on interoperability. This means building and testing systems and products that support a comprehensive range of standards and are prepared for modern, live environments.
Through its IP Live Alliance, Sony is committed to strengthening IP interoperability and standardization among live production equipment. With the recent participation of Grass Valley, the Alliance has now grown to 49 vendors. Sony participates in the AIMS initiative as well,  promoting the adoption of widely supported, open standards that encourage IP-based interoperability and migration to IP-based platforms.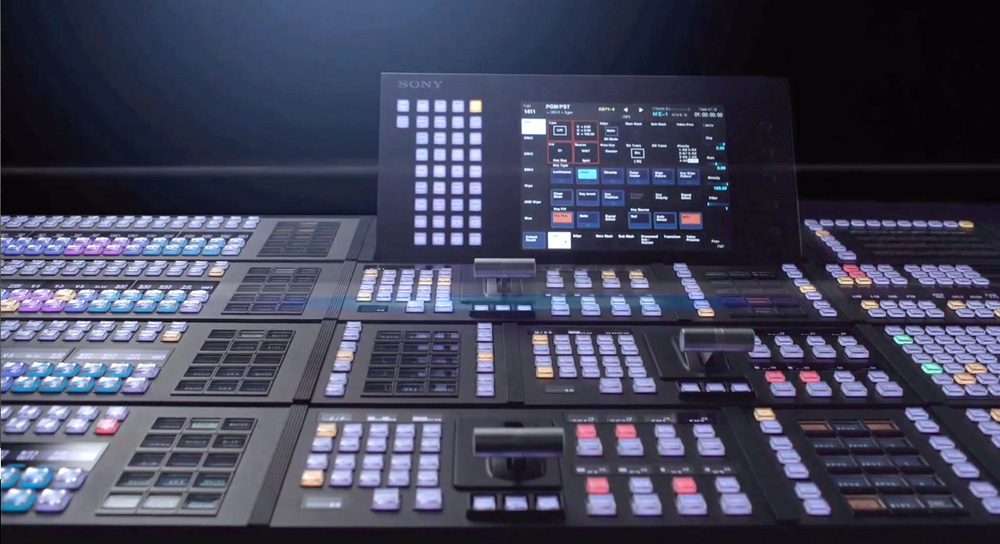 Apart from Grass Valley, other vendors supporting the Live IP Alliance include PCIe board developers like Advantech, AJA and DELTACAST, ChyronHego and Vizrt CG systems, IP switch manufacturers Cisco Systems and Juniper, plus many other types of hardware suppliers such as Matrox with I/O cards, Leader Electronics, Tektronix and more. Evertz and Imagine Communications are also developing software-defined processes.
In the case of Evertz, the effort has been to completely integrate Sony's 4K IP Live Production system – outlined below – with the Evertz Sofware-Defined Video Network system, and to promote interoperability with Evertz' own  codec ASPEN, which allows video, audio and metadata to run as individual IP multicast streams. Sony has been a member of the ASPEN Community since  IBC 2015. Sony is now working on camera and production switcher prototypes that output and receive ASPEN streams.
Grass Valley plans to implement an IP-to-IP gateway card compatible with its  GV-Node IP processing platform. This card will ensure compatibility between Sony's NMI and Low Latency Video Codec, and systems based on standards supported by the Alliance for IP Media Solutions, AIMS, of which Grass Valley is a founding member. Grass Valley also provides with one of the industry's widest portfolios of IP-enabled systems available so far for broadcasters, marketed as the Glass-to-Glass IP solution.
Beyond Media Transport
Also a member of SMPTE and VSF, Sony finds that many industry discussions have focused on media transport, such as SMPTE 2022-6, a protocol for audio and video mapping. While the company feels this is critical for live production, it is only one part of the picture. Other types of interoperability such as timing, identity, discovery and registration, flow control, flow switching and compression - are just as important. This is why Sony has developed their Networked Media Interface as a standards framework across several aspects of the live production workflow, to make sure that SMPTE 2022-6 continues to support an industry-wide interoperable approach.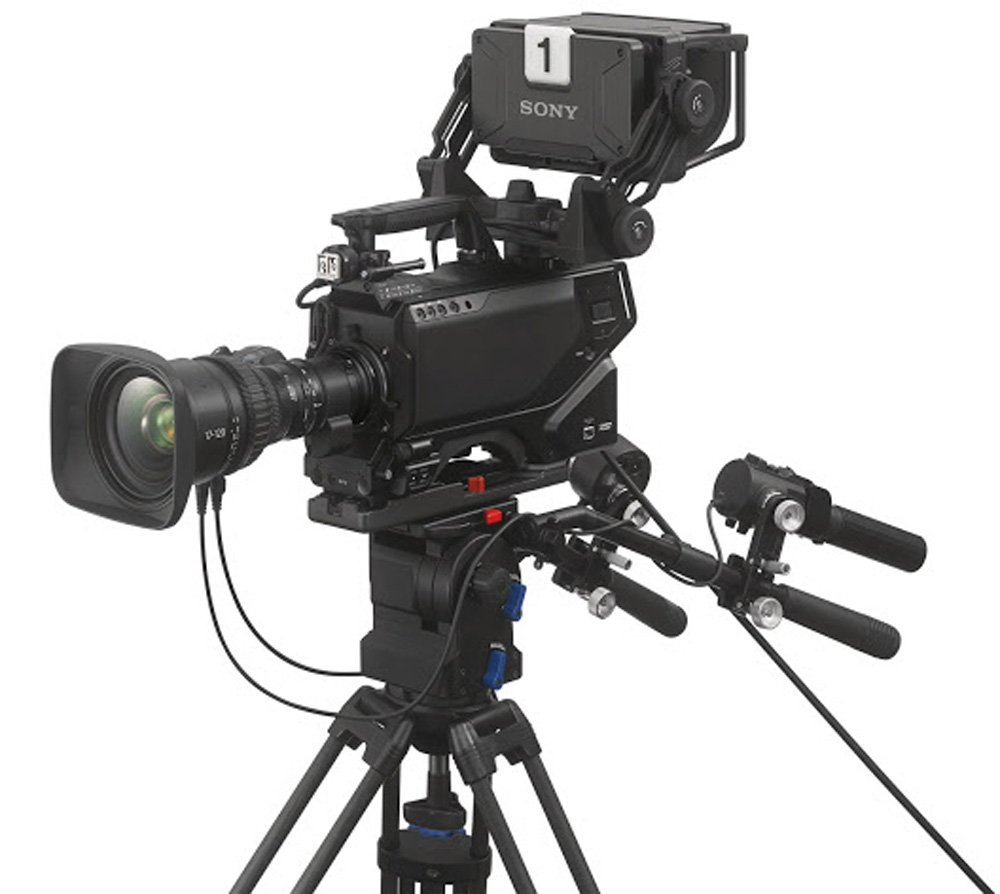 This type of openness is reflected in the fact that  IP Live and the NMI is a single development, implemented into a number of different products such as servers, switchers and system cameras. If a vendor has a product that supports NMI, then this product would be able to use the same network data as the other components. For example, Leader Electronics' wave fore monitor can display and analyse the NMI stream from Sony's system cameras, as well as check the NMI output from the switcher. Vizrt's graphics were supplied over NMI for use on the switcher.
Interoperable Products -  the Sony 4K IP Live Production System
At NAB 2016, Sony released new, interoperable products to base a 4K live IP production system on. These include the HDC-4800 4K 8x / HD 16x Ultra High Frame Rate Camera system with the BPU-4800 base-band processor unit, which has a high-capacity record and replay server capability, and the BPU-4500 base-band processor routing 4K signals to support long distance transmission, either over IP or through standard fibre cables.
The HDCU-4300 is a compact camera control unit combined with a base-band processor unit for the HDC-4300 4K system camera released last year, for use inside OB vehicles. The PWS-4500 multiple-port A/V server handles 4x 4K signals / 8x HD signals using the XAVC 10bit codec for recording and playback of high resolution and HDR video. The XVS-8000, XVS-7000 and XVS-6000 multi-format switchers accept hybrid SDI & IP I/O streams with 4K and HDR functions, and operate in the same way as the MVS-series switchers.
All of these are either available now or are planned for release before the end of 2016. When used together, with the NMI, these products form a complete 4K production system and support High Frame Rate recording/playback, suitable to use over SDI or over IP. In other words,  the user has a high level of flexibility when choosing a suitable infrastructure for a project.
With the integrated server on the BPU-4800, a replay operator can handle long record times and instant replay, without stopping for HFR data transfer. Connected with a dedicated IP network, the BPU-4800 and PWS-4500 servers can use a Share Play operation enabling a replay operator to access content from and send content to multiple servers, to create custom highlight edits.
Ready for the Future
A further step toward an open approach that Sony has taken is the submission of Registered Disclosure Document No.34 (RDD 34) to SMPTE for their Low Latency Video Codec, LLVC, which is published and available to read. Sony IP systems use the LLVC to support the compression required for Ultra HD 60p transmission over 10Gbps network bandwidth. Sony will also submit RDD 38 for Network Device Control Protocol.
The most positive indication that the Networked Media Interface is ready and can adapt to future developments comes from the live environments it is being used in already. Brazil's largest commercial broadcaster, TV Globo has started using a new purpose-built 4K/IP OB truck, based on Sony products including the new HDC-4800, to cover the upcoming sporting events in Brazil. TV Globo is using several products from IP Live Alliance partners, which have NMI interfaces to connect the products together, transfer data and allow interoperability between them. pro.sony.com.au