Telestream Wirecast 7 & ScreenFlow 6 Update Video Streaming & Editing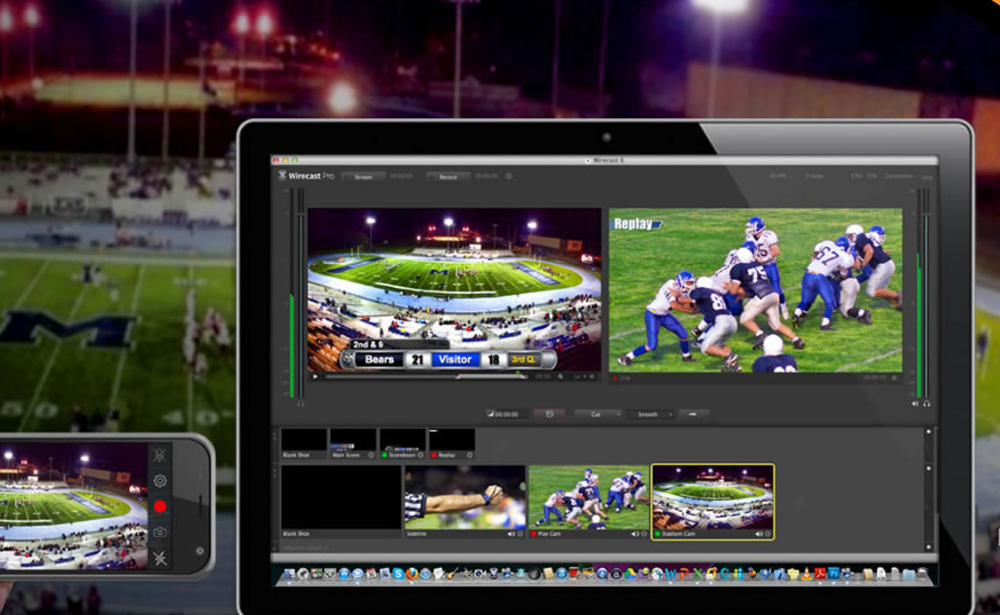 Wirecast 7 adds GPU-accelerated encoding, an updated user interface, ISO recording and screen capture functionality. Wirecast is used to create and stream high-quality live broadcasts from user's computers to such destinations such as Facebook Live and YouTube, or custom streaming servers. Production facilities include multi-camera switching, graphics, titles and live encoding.
For producers who want to re-edit live shows to produce highlight reels or replays later on, the new ISO recording function in Wirecast Pro 7 can save the original source camera media as captured, allowing content to be re-purposed without any of the overlay graphics applied during the original broadcast.
The new version 7 user interface has a new Shot Editor panel that gives more flexible access to shot editing tools for changes on-the-fly. Users have control over every aspect of a broadcast through the panel. For example, in-shot source toggles turn video and audio layers on and off within each shot for dynamic editing of complex composites.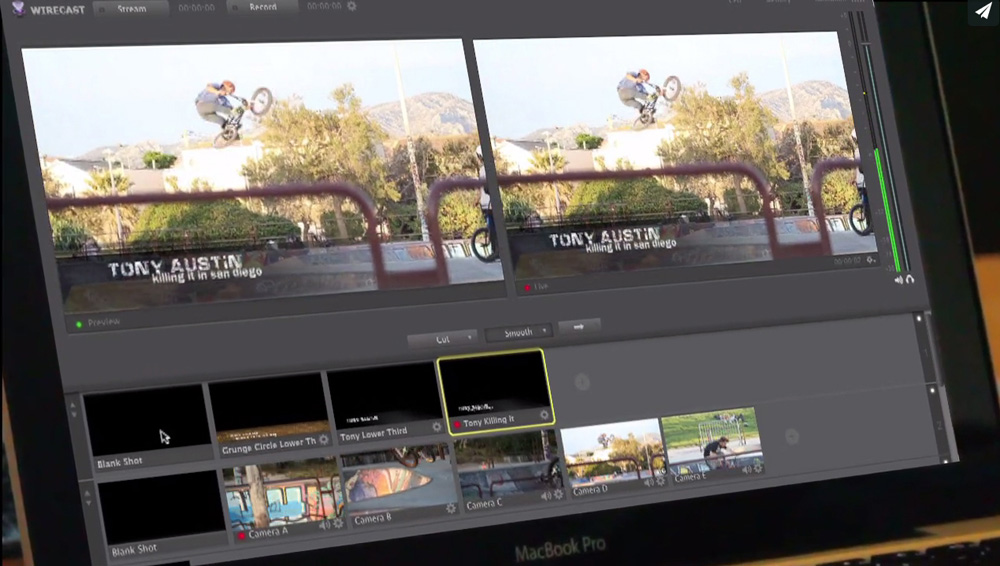 New options for how text can be displayed on screen include entering text live, via a file or from an RSS feed. This means a different user can prepare text that will be automatically picked up in the broadcast. A new audio mixer controls every source from one central location, and an improved 'mix minus' tool selectively mutes any source, such as the user's own voice, while continuing to monitor the full stream audio output.
A Global Hotkey Management system speeds up repetitive tasks by allowing users to create their own hotkeys.
Users who need to share Microsoft PowerPoint, Apple Keynote or Skype windows within a stream have a new Screen Capture function to add windows or applications to the broadcast area as a source.
In terms of performance, Wirecast 7 performs GPU-accelerated hardware encoding to limit CPU usage, and CPU utilization itself has been improved for smoother, faster streams. Graphical Output Statistics display the health of the system, and the output stream's framerate, bitrate and other indicators.
Further control for individual broadcasts comes through colour correction tools to fine-tune control over the brightness, contrast, gamma, hue and saturation of sources, and video delay adjustment for syncing. A solid colour background source is available to use as a background or in lower thirds. Wirecast 7 will be available at the end of June 2016.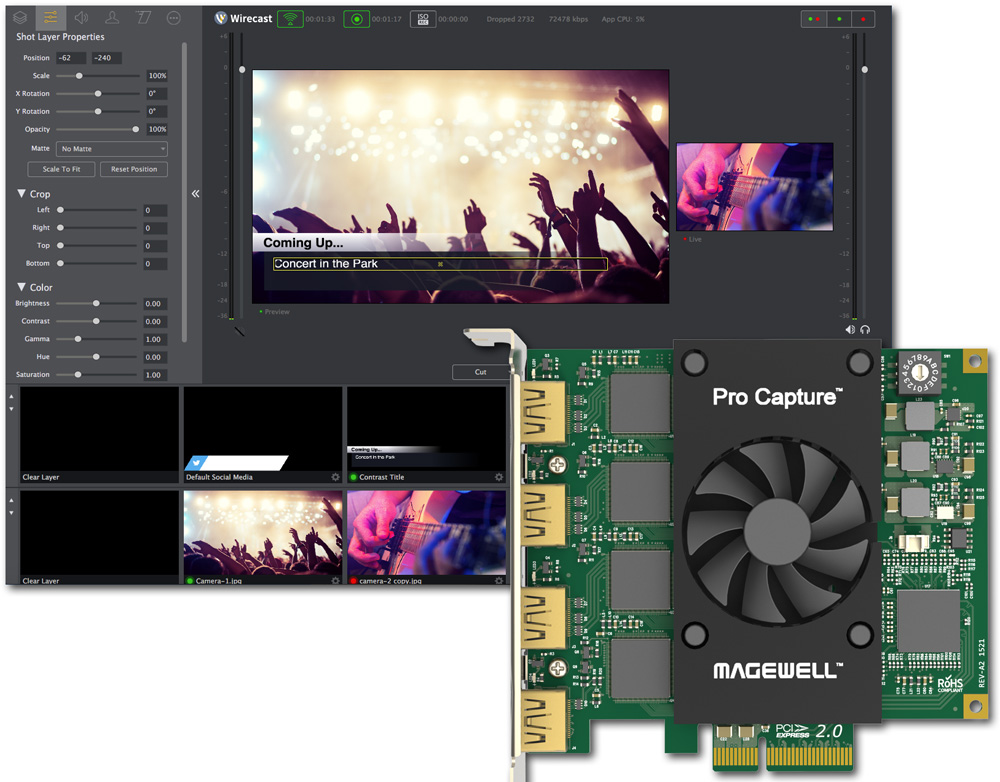 Wirecast 7 was just shown for the first time at InfoComm 16 in Las Vegas on the Magewell stand, 8 -10 June. The company's video and audio capture cards are already compatible with Wirecast 7, and are sold with a range of different input interfaces, including the Pro Capture PCIe cards and quad-channel HDMI and SDI cards. The quad-channel cards support Wirecast's ability to switch between multiple live cameras while dynamically mixing in other media and production elements such as transitions and titles. Magewell also manufactures USB Capture devices for use on any type of computer in order to connect to and capture from live camera feeds at user-selectable resolutions.

Desktop Channel Manager at Telestream Ken Bell said, "Magewell is one of the few vendors producing a high-density, multi-port HDMI solution, which attracts customers previously priced out of multiple-camera live production work."

Made for broadcast and A/V applications, Magewell's Pro Capture cards can capture 1080p full-HD video at 60 fps with minimal latency and carry out hardware-based video processing such as deinterlacing, up/down conversion, video enhancements and colour space conversion without requiring CPU power, thereby making more of the CPU available for third-party software such as Wirecast. Developers can use the Magewell Pro Capture SDK to create custom software applications and turnkey systems.
ScreenFlow 6.0
ScreenFlow 6.0 is an update of Telestream's screencasting and video editing software for the Mac. It suits production of video tutorials, marketing videos or professional screencast video productions, targeting producers such as educators, trainers, marketers, app developers and gamers. ScreenFlow 6.0 adds more editing tools and options for recording and exporting video.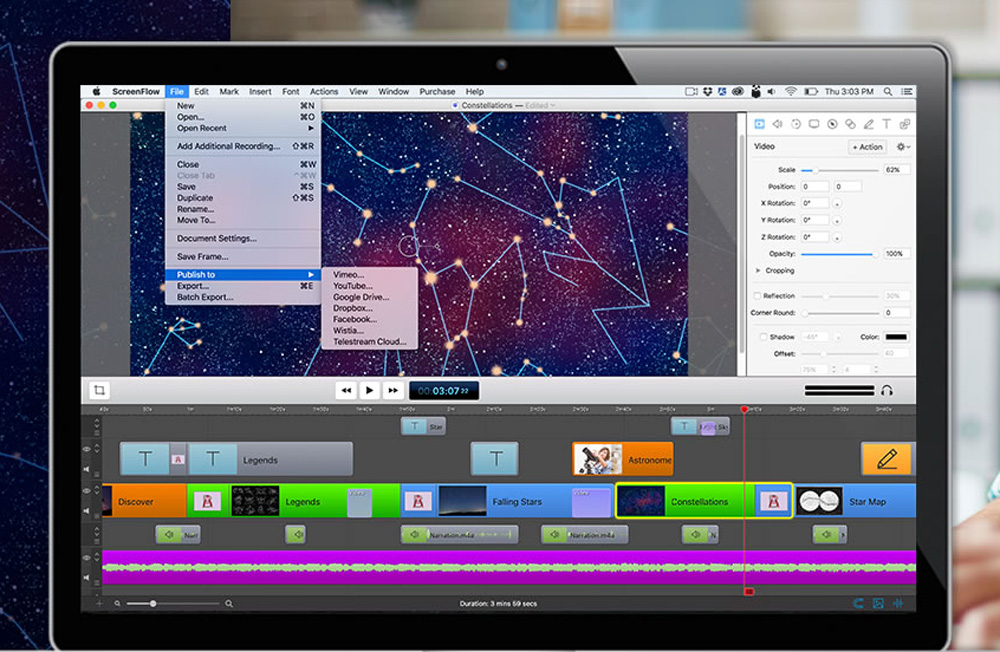 The new Partial Screen Capture allows you to focus specifically on a particular region of interest or window in the screen output, for emphasis and clarity for viewers with smaller screens. While editing, complex motion animation effects can be created very quickly. Producers can mix and adjust up to 16 discreet channels of audio recorded from a USB mixer. You can also set ScreenFlow to continuously record in a defined-time loop as a rolling recording buffer, encode with ProRes 422 and 422LT options, and publish to the Telestream Cloud service - Telestream's online, on-demand, pay-as-you-go encoding service.
Users can click three new motion effects – Spring, Gravity, Pulse - to apply these effects to clips and create animations without keyframing or writing custom code. You can also create GIFs directly from ScreenFlow projects and export them as short animations for the web, memes, tutorials or social sharing. This results in video for the web that is universally supported by most browsers.
ScreenFlow now recognizes and records multiple audio channel inputs from USB mixers. You can record up to 16 discreet audio channels from a single USB input, and mix and adjust them separately in ScreenFlow's inspector. A new iOS Audio Monitoring function means you can listen to an iOS device's audio while simultaneously capturing and recording it. This is useful for mobile gamers, app developers, musicians and others who need to demo an app in which audio is a critical part of the operation.
A new editing option will swap clips in the timeline without changing the overall duration of a segment, or resetting in- and out-points on the new clip. ScreenFlow 6.0 is available now from the Telestream store. www.telestream.net.