Pixvana SPIN Studio Integrates Cloud-Based VR Creation and Delivery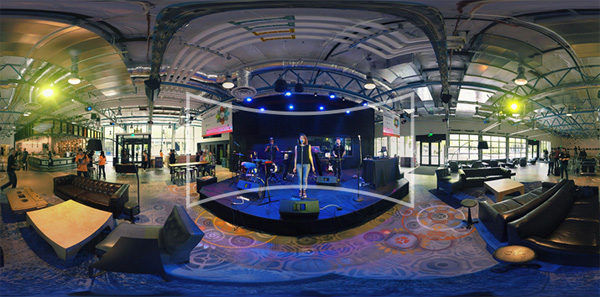 Pixvana SPIN Studio is a platform of software for virtual reality video content creation and delivery, including stitching, editing, finishing, publishing and playback. The cloud-based, integrated tools were developed to make it easier and less expensive to create immersive, VR video experiences – replacing adapted desktop production tools and, above all, working as a delivery system so that VR stories can be streamed to and shared with a variety of audiences.
SPIN Studio is comprised of several cloud applications. These are SPIN Publisher and SPIN Player, which soft-launched earlier in 2016, and SPIN Stitch, SPIN Story and SPIN Finish, introduced recently.
SPIN Studio
SPIN Stitch syncs and stitches clips from VR rigs and integrated cameras, which you upload to high-performance GPU clusters in S3 cloud storage where SPIN Studio operates, making it possible to scale production on-demand for high-resolution content and maintain real-time interactivity.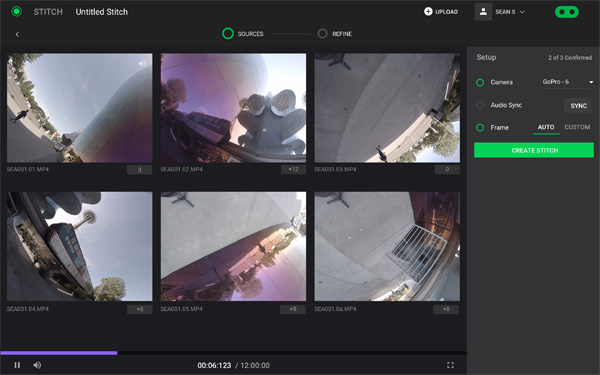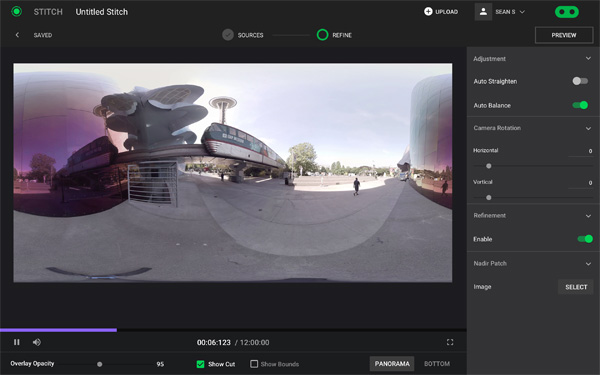 To stitch, the clips are first grouped according to the camera they are recorded on, and synchronised between cameras based on the audio track from each camera. Adjustments are made for centre point and horizon line, and the interactive correction of masks allows users to review the stitch in both a browser and their headset. The nadir – the spot where the viewer stands and looks out from – can be replaced with a logo.
SPIN Story combines the stitched VR clips into self-contained stories, using a visual storyboard to define sequences. With the trimming functionality, you can both trim the clips and adjust user viewpoints at the cuts to focus attention according to each story, which means multiple stories may be created within the footage from a single project or shoot. Also, you design your own hotspot triggers based on viewer gaze, and use them to link stories within an experience, or show titles or graphic overlays. Other editing tasks you can complete on SPIN include transitions and pre-roll titles.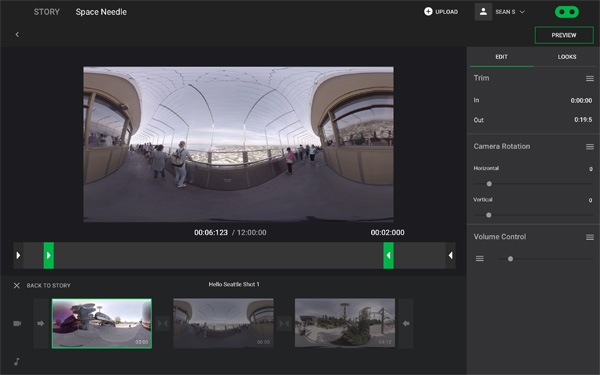 To finish the VR masters for distribution, SPIN Finish includes tools for visual effects and three-way colour correction with HSL selective colour adjustment, including exposure adjustment per clip, lift, gamma & gain, linear saturation controls and sharpness. These tools support stereoscopic VR.
Field of View
Publishing is the point at which the stories are compiled into experiences in formats that viewers can stream to watch on their headsets. SPIN Publisher encodes VR content using Pixvana's Field of View Adaptive Streaming (FOVAS), which adjusts focus in real time to deliver high quality video within the viewer's field-of-view (FOV), at HD bit rates.
FOVAS is Pixvana's way of overcoming the fact that streaming a VR video in 4K wastes bandwidth and can result in low quality. VR headsets generally display a field-of-view, or 'viewport', of roughly 90°, about one-sixth of the entire video sphere. Looking through this viewport at 4K VR video, the viewer sees fewer pixels than the headset display is capable of rendering, which reveals the video as a soft, blocky image. At any moment, more than 80% of the video is out of view and unseen by the viewer, but still uses up data bandwidth.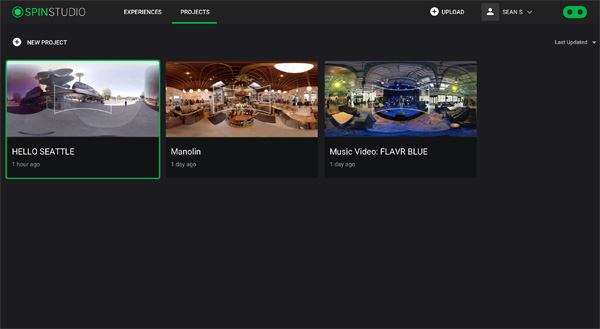 Pixvana's approach deconstructs the VR video into multiple streams, each of which acts as a viewport into a region of the video sphere. Each of these viewports can now contain enough pixels to exactly fill a VR headset's maximum resolution. At any given time, a viewport will contain both the current FOV as well as a lower-resolution version of the out-of-view areas to maintain peripheral vision for the viewer.
First though, to combine high and low resolution image areas within a single video stream, Pixvana needed to develop a non-proportional image projection technique. The projection for each project is a Viewbox. The viewer sees the projected Viewbox image through multiple viewports, while the software switches the video stream to the optimal viewport based on where the viewer's head is turned at any moment. The SPIN Play smart player takes into account the head position, network conditions, codec and projections, so a viewer sees the best quality, looking in any direction.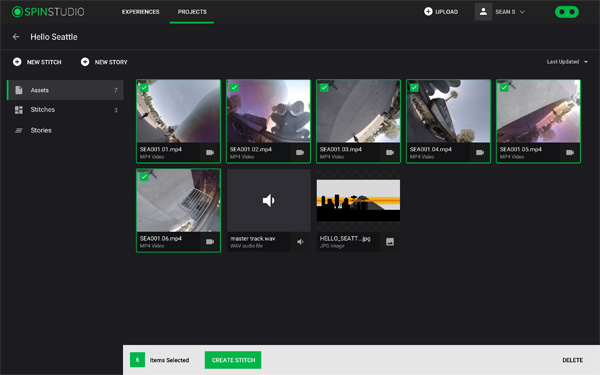 About Stories
Technical fixes aside, Pixvana says the main function of their software is storytelling. An experience is what viewers see inside a headset, but VR storytellers need to turn an experience into a story or, in Pixvana's case, multiple stories. Until recently, none of the existing storytelling tools fully prepared filmmakers for that – that is, how to create a story for a viewer when the viewer is present inside it.
Sean Safreed, CMO and Co-Founder at Pixvana, described this situation within the framework of the software. "If you think of VR storytelling as a flow, you start off by shooting clips on a multi-camera rig, like a GoPro Omni. You then stitch those clips into a VR clip. You then take these VR clips and edit them together into a story, conceived as a single sequence. You can then place one or more stories into an experience that viewers can consume in a headset. Previously completed VR stories can be uploaded to SPIN as well, created with other software.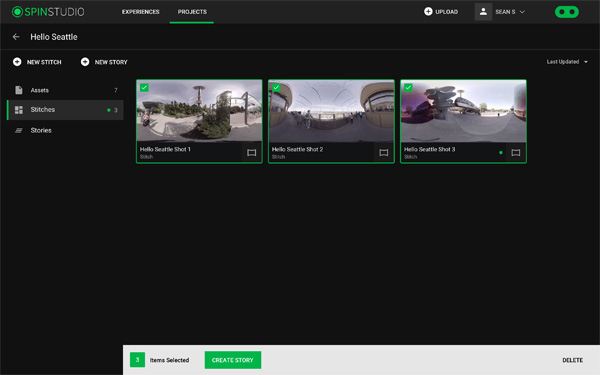 "You can have multiple experiences in your account that you can stream for multiple viewing audiences. As a SPIN Studio user, you might create a set of stories for a retail client that you share as one experience. Then you have a second client who wants to use SPIN Play to display stories at a conference. Each client would only have access to their experience but you can administer and stream it all from one interface."
SPIN Studio can stitch and encode as users upload, and is built to process up to 16K footage in full colour and HDR. If required, enterprise customers can access Pixvana's SPIN Play SDK to optimize delivery encoding to suit their own systems, and a multiple headset SDK built on Unity. Pixvana's SPIN Studio will be available via public beta in Q1 2017. www.pixvana.com/spin