Dalet's New Premiere Pro CC Integration Supports Metadata & Export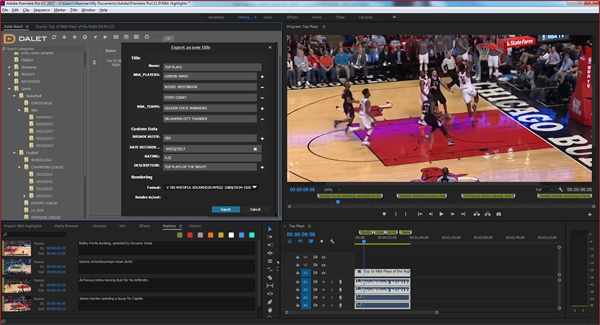 Dalet's new version of the Xtend plugin for Adobe Premiere Pro CC connects Premiere Pro CC users to the Dalet Galaxy Media Asset Management and orchestration platform, creating a direct path to assets and their metadata and supporting collaboration with users such as journalists, prep editors, sports producers and other production staff on the Dalet Galaxy platform.
The new HTML-5 Dalet Xtend panel for Adobe Premiere Pro CC adds support for multi-sequence export, locator inheritance and configurable metadata forms for exporting content.
By connecting via the Dalet Xtend plugin, editors working on Premiere Pro can import media, including shot selections, sequences and EDLs, made by other users on the Dalet Galaxy platform, as well as previously saved Premiere Pro projects and sequences.
Users can also browse and search the Dalet MAM from Adobe Premiere Pro and edit growing files. By saving against a placeholder in the production system from Adobe Premiere Pro, it is possible to trigger various workflows.
Editors have the option to work in proxy resolution and render in hi-resolution to save on bandwidth. Still in Premiere Pro, they can view Dalet Galaxy timecode-based metadata in Adobe such as closed captions, QC, censorship, editorial review and more from the MAM to Premiere Pro and vice versa. To set up multiple editor collaboration, Premiere Pro and sequences projects can be saved in Dalet Galaxy, enabling bidirectional metadata exchange between the two applications.
Adobe Premiere Pro users have instant access to content in the Dalet Galaxy MAM and edit in place - out of the shared storage - even as material is still being recorded. The plugin also allows the editors to choose to work on proxy, leveraging the smaller file size to work faster and reduce network dependency, then switch to full resolution when needed or for final render of their project. Video packages can be pushed to air as media are still being rendered to the central storage.
Bidirectional metadata exchange and origin make sure that useful data are passed on to Premiere Pro, retained throughout the editing process and exported back to Galaxy for consistency. The exchange is configurable and can include information such as manual annotations, closed captions extracted from video, report data from media analysis engines such as QC, censorship markers, digital rights and so on.
Dalet will be showcasing the new version of Dalet Xtend for Adobe Premiere Pro CC at NAB 2017. www.dalet.com