Kyno 1.3 Tunes Up Premiere Pro Integration, Transcoding and Speed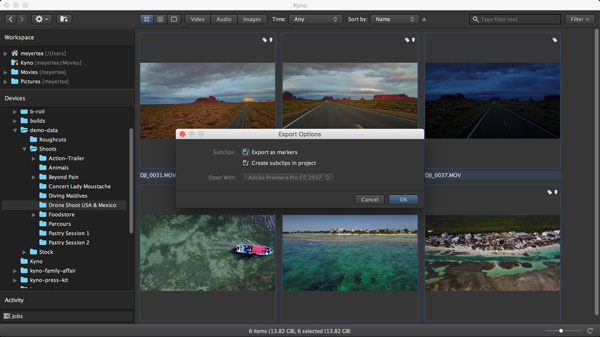 Kyno v1.3 media management application has been upgraded to improve its Premiere Pro integration and core tasks including transcoding, batch renaming and filtering.
Kyno, developed by Lesspain Software for people working with video and images, has tools for screening, logging, organisation and transcoding. It supports a wide range of formats and integrates directly with Adobe Premiere Pro and Apple Final Cut Pro X, working as an extension to the tools in the host application.
New functionality to increase the flexibility of its Premiere Pro integration affect exports. Subclips can now be used as duration markers in Premiere Pro, which results in the option to set up a workflow for Premiere users who use markers to organize their editing projects.
Another change concerns roundtripping. When XML files are re-imported, all metadata fields contained in the files are automatically added to Kyno metadata. This allows you to use the metadata added and acquired during editing, in Kyno workflows such as batching still frames or Excel shotlist exports.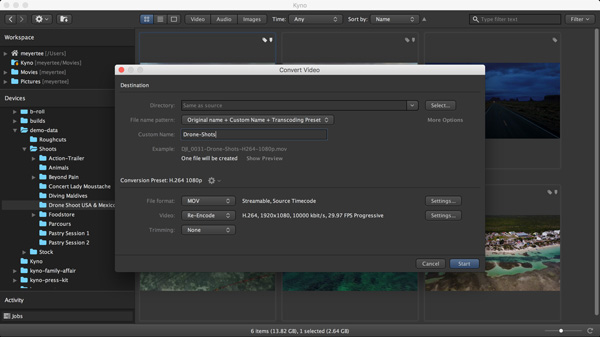 Ease of use continues to be a focus for Kyno 1.3 regarding several workflows, improving access to the most commonly used tools, such as transcoding. The dialogue options for renaming and transcoding single files have been extended, making all presets and variables available as batch operations.
Shot lists can now be built in parallel using batch tagging to mark frames for still export, and filtering is extended so that users can filter material based on scene, shot, take and more descriptive metadata fields. To work faster, new keyboard shortcuts allow users to rapidly send files to Final Cut Pro or Premiere Pro, export to Excel, toggle drilldown, shift between different viewpoints and other common tasks.
Kyno 1.3 can also improve performance when slow drives or network drives have to be connected, through updates to functions like presets - speeding up the selection of the most recently used conversion presets - and a new option to pre-analyze content generate content tab thumbnails in advance, speeding up the screening and logging of footage.
Also, data can now be cached so that thumbnails and technical metadata remain intact when moving files around within Kyno, which has been a challenge until now. Exported subclips inherit all descriptive metadata from the original clip as well, making team workflows that are based on pre-edited material more efficient. lesspain.software/kyno
Kyno Windows beta
Although Kyno has been a Mac-exclusive application, Less Pain is announcing that a Windows version is in development, undergoing closed-beta testing. To join the Windows Beta program, click here.