Avid Extends MediaCentral for Cloud-based News, Graphics and Editorial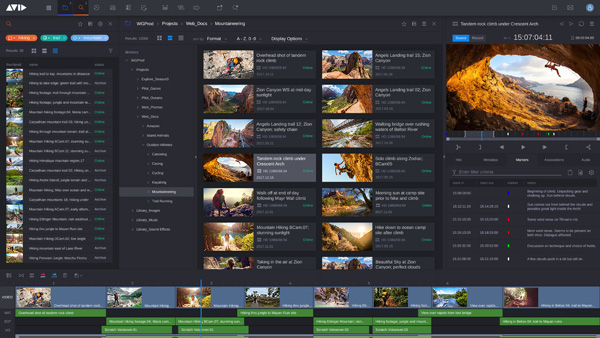 Avid has updated and extended their MediaCentral platform to a customizable, modular design with cloud-based workflow modules and apps for editorial, production, news, graphics and asset management, and a large number of media services and partner connectors.
All users, in teams of any size, are connected in an integrated workflow environment, and have a unified view into all of their media regardless of location - on premises, in a private data centre or via the public cloud. The teams select the desired apps, switch on the modules they need, and customize their workflow with different media services and partner connectors.
Cloud-based GUI and Apps
MediaCentral now uses Avid's redesigned MediaCentral | Cloud UX, a GUI that runs on virtually any operating system or mobile device. It creates a consistent, coherent environment and is available to everyone connected to the platform, supporting collaboration from wherever their work requires.
MediaCentral is built with several categories of components that users select, as required – apps, workflow modules and media services. The optional apps supply the functionality required for media production - from searching and browsing media, researching data and social media feeds, logging, editing, review and approval, publishing and so on. All of these are accessed from within the MediaCentral | Cloud UX interface.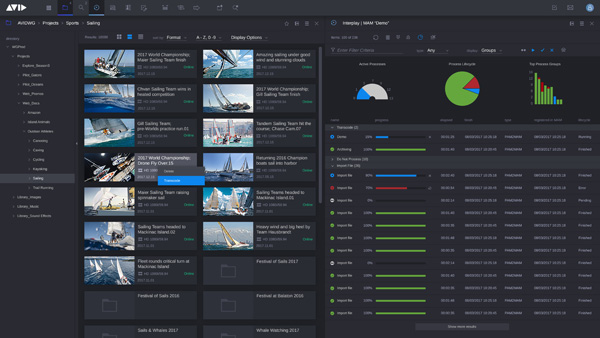 MediaCentral | Browse is used to navigate and view content with ordinary web search techniques. It analyses and shows details of any asset type including videos, audio clips, graphics and documents and also allows quick forward and backward scrubbing through any clip, with the ability to play back clips anywhere inside the app.
MediaCentral | Search performs global search and filtering so that users can index and locate video, audio, graphics and document content across multiple MediaCentral systems, basing searches on keywords, metadata and other criteria. It includes a phonetic search option that automatically indexes content, locating relevant clips that contain a specific spoken word or phrase.
MediaCentral | Edit cuts together stories and shot lists, marks in and out points and performs basic editing tasks such as scrubbing through timelines and adding voiceovers directly inside of MediaCentral. Users can access and edit projects and media from anywhere on mobile and Internet-connected devices.
MediaCentral | Publish delivers video to OTT, VOD and social media platforms simultaneously, including Facebook and Twitter - from within the MediaCentral | Cloud UX web interface. Built-in tools speed up this work with auto-fill templates, email notifications and similar tools.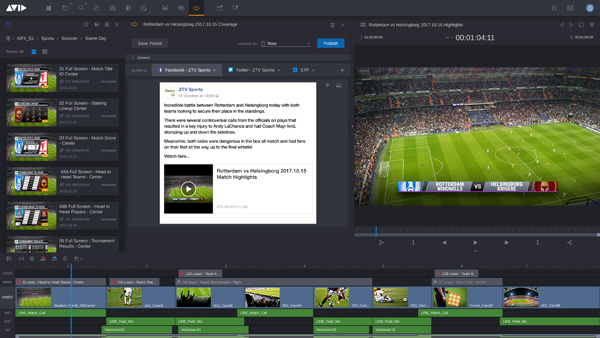 MediaCentral | Research will be added to the platform soon so that users can monitor particular topics or stories on social communities such as Twitter or Facebook, and integrate social posts or trends into their programming.
Workflow Modules
MediaCentral can also be configured with flexible combinations of workflow modules designed for basic editorial, production, newsroom, graphics and asset management. Production teams can combine modules and integrate the apps and services that meet their immediate production and workflow demads, with the option to add modules in the future as necessary.
MediaCentral | Editorial Management adds asset management capabilities to file-based editing workflows as the foundation of the larger MediaCentral for Post application, designed specifically for smaller post-production and broadcast teams working with Avid NEXIS. This module synchronises teams, and makes shared projects, bins, and media accessible to others who are not editors and may not be working with Media Composer.
Whether in a single facility or at several locations worldwide, MediaCentral | Production Management enables contributors to work on projects simultaneously using a web interface. They can check in and out of projects and centralize media management. With metadata applied to every asset, media can be located, used and repurposed without spending a lot of time managing it.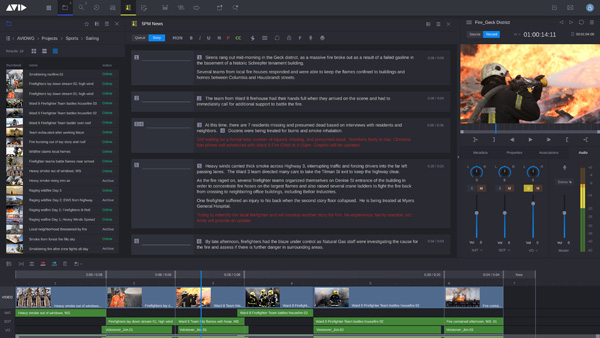 New high-speed Avid FastServe video servers make media instantly accessible to log content live as it happens, and facilitate ingest, playout or replay in near real time - including at 4K and 8K resolutions.
MediaCentral | Newsroom Management is the next development of iNEWS and now works as a customizable workflow module for MediaCentral controlling story creation, management and distribution. From newsgathering to on-air delivery, users can create and publish various angles or versions of a story to larger and wider audiences across many different channels, platforms and devices.
Whether part of a smaller local or regional news operation, or a major global media enterprise, users can produce breaking stories across more than one platform simultaneously. Because their workflows are integrated, teams can create, collaborate, manage and distribute content specifically for viewing on air, on websites, in mobile apps and on social media channels directly from the MediaCentral | Cloud UX web or mobile app interface.
MediaCentral | Newsroom Management also integrates directly with the other MediaCentral workflow modules and apps described here, and various platform-connected tools to handle tasks such as accessing remote footage from the field, integrating social media content, or dropping content directly into graphics templates ready to go on-air.
Maestro is now tightly integrated into the MediaCentral platform as its Graphics Management module. It contains tools designed specifically for news, sports, election coverage, branding, and particualar special events. Graphics asset management for news and sports support workflow integration in real-time.
MediaCentral | Asset Management quickly finds assets within MediaCentral, and is highly scalable and customizable for specific users - broadcaster, news organization, post-production facility and others. Designed for broadcast, news and post-production environments, MediaCentral | Asset Management manages the entire lifecycle of content and allows users to browse and retrieve media across multiple tiers of storage for reuse or repurposing.
Media ingest, file import, transcoding, quality control and other complex processes can be automated and managed through MediaCentral apps and services. Customizable metadata allows each database to be optimized for users who need specific insight into media operations and workflows to help allocate resources and improve services.
Media Services Suite
MediaCentral has a number of media services as well that can be configured for different workflows – for example, for content reformatting, distribution, social media integration, indexing, search and content retrieval. More unusual ones are cognitive analytics and machine learning, for deep insights into content performance. Services include orchestration using simple batch processing scripts, or more complex workflows spanning systems, teams and sites. Audience engagement services collect, filter, moderate and integrate user-generated content.
Content transformation automates file transfers and format conversions, and enables users to browse and edit proxy files from any location, and apply edits to the original-quality masters at any time. It also automates content ingest and output flows, minimizing workflow bottlenecks and media management tasks.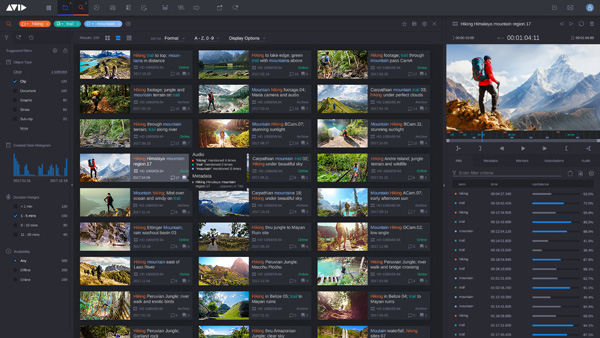 Distribution services run across diverse channels and devices, and automate file preparation and transcoding in the background. Cognitive services apply up to date machine-learning algorithms to content libraries, automatically indexing content to extract streams of time-based metadata. This service allows you to execute complex searches in a few seconds, without manual logging.
Finally, MediaCentral connectors are what enable integration of MediaCentral workflow modules with over 2,000 partner products from about 600 partners.
Platform Engine
The MediaCentral platform engine centralises administration and media indexing, software deployment and infrastructure management, and has the ability to scale from teams of two people to media enterprises with thousands of widely distributed contributors. From this engine, administrators switch modules and apps on and off, manage licensing, and designate user roles and permissions across the whole platform.
It has a centralized media index as well that makes it possible to access any media residing anywhere on the platform. All assets in the system are presented to users in the same manner to avoid concern about whether an asset is in the archive, in a facility, or in the cloud.
The engine automates software installation and updates throughout an enterprise, and simplifies system deployment and configuration by using a template-based approach, and its infrastructure management layer dynamically scales resources and optimises infrastructure elements such as storage, computing power and bandwidth. www.avid.com/products/mediacentral