Commercial Grading Goes On Set with DaVinci Resolve Micro Panel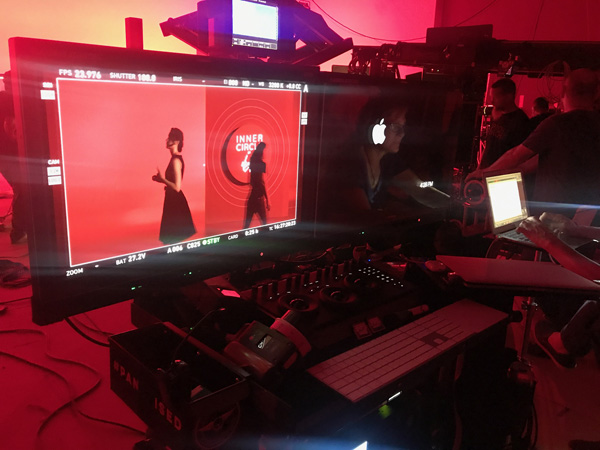 Nina Chadha, a Local 600 DIT, gained her professional experience from working on many feature film, television and commercial productions, including '10 Cloverfield Lane', 'Scorpion', 'Baywatch' and 'Escape Plan 2'. For two recent commercial projects, one for Pepperidge Farm and another for Virgin Mobile, she carried out on-set colour grading, transcoding of footage for editorial and output of material for the final colourist to use.
The cart Nina built and used for both spots was only 30 inches wide and included a laptop and DaVinci Resolve Micro Panel on the top, with the Blackmagic Design Smart Videohub 20x20, SmartView Duo and the Mini Monitor below. Because the Micro Panel is compact and tough, she was able to design a cart that could be moved easily between locations and areas on any set, and would help her react quickly to the DP's or director's demands.
"The knobs and hot key style buttons are excellent for working quickly. The weight and feel of the panel are great. Once I learned the layout, I was able to fly through clips and nodes, while I was grabbing stills and making small adjustments," said Nina. "It has definitely made me faster and more efficient when grading on set, and when doing commercials, quality combined with speed is very important. The price is reasonable, but it also just looks nice on the top deck of my cart. I hate to say it, but appearances matter."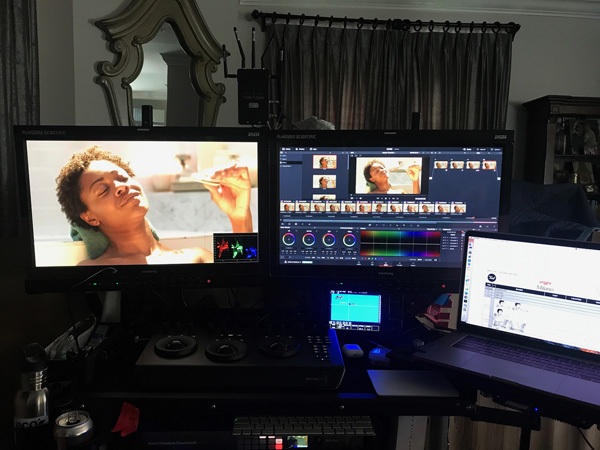 According to Nina, being able to handle high quality colour grading on set has allowed her to supply a number of different services to not only the client, but also all members of the crew. For the Pepperidge Farm production, for example, which was for the company's Milano biscuits, the director was looking for a sunny and bright look and feel. With the DaVinci Resolve Micro Panel, Chadha was able to grade the video right on set and also work with the DP to adjust looks and quickly make sure each shot fit the production.
"The DP of the spot, Eric Steelberg, ASC, has always been conscious of colour. He likes to make sure the look for each setup is dialed in before I start transcoding. So he was intermittently stopping by my blackout tent to check out the footage I had brought in. He has a great eye for colour and detail and sometimes likes to play around with colour correction panels himself. After a quick introduction, he was using the panel to adjust shots very quickly," Nina said.
For the Virgin Mobile production, which was done for the brand's Inner Circle iPhone plan, DP Cale Finot was looking for a stylized, high-key fashion look.
"With this spot, there were a few monochromatic setups in which the tonality – that is, the client's precise corporate shade - of the 'Virgin Mobile Red' was a major factor. We were on a Technocrane on stage both days doing big, slow-sweeping moves because Cale wanted everything to feel clean, upscale and a little sexy, something much more evocative than a typical phone commercial. The DaVinci Resolve Micro Panel let me be really intuitive and able to jump on any of the adjustments he needed to make," she remarked.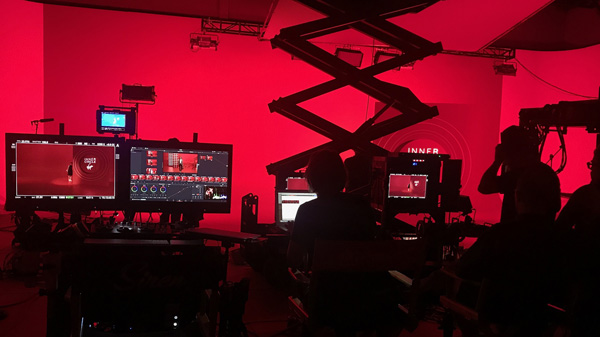 Micro panels have 12 primary colour correction control knobs designed to make stylizing the look of video more precise and generate specific film looks. As well as manipulating saturation, hue, shadow and highlights, a colourist or DIT can independently adjust contrast in the darker, brighter or mid-tone areas of the image - the lift, gamma and gain - affecting the luminance or Y channel only and controlling vibrancy, depth and other qualities.
You can also either increase the contrast in areas with high edge detail to enhance the perception of sharpness, or reduce contrast in regions with less detail to soften them while leaving detailed areas unaffected. This level of control is useful for faces and beauty work. www.blackmagicdesign.com