EDIUS 9.2 Updates HDR Colour Space and Monitoring Functions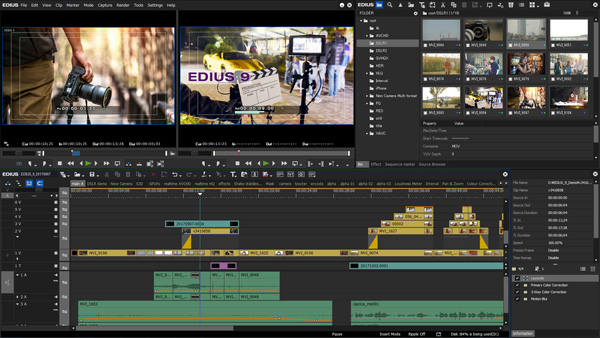 Grass Valley's latest version of EDIUS Nonlinear Editing Software, EDIUS 9.2, has been released with upgrades to support better HDR editing. It is also faster and keeps its close integration with GV STRATUS Video Production and Content Management System in order to maintain its specialisation for news broadcast applications.
Grass Valley has been continuously developing EDIUS as a versatile broacast editing system, until it now supports more resolutions, formats and frame rates than any other editor over the past ten years. New functions added to EDIUS 9.2 include new video scopes supporting HDR video including an RGB Parade and 'nits' display. It has colour space list editing tools and an ability to add new proprietary colour spaces including ARRI ALEXA Wide Gamut/Log C, DJI D-Gamut/D-Log. Mync HDR support includes previewing, storyboarding and export, and monitoring controls are added to the Workgroup 9 version of EDIUS for the EIZO 4K HDR monitor.
EDIUS 9.2 now supports Apple ProRes MXF and Sony VENICE RAW imports, and the Matrox IO hardware driver version 8. Canon Cinema RAW Light decoding performance has also been improved. To increase a facility's options, the EDIUS Floating License for Pro and Workgroup versions allows management of multiple EDIUS licenses in a closed network environment. Users can install EDIUS to any number of machines and manage the number of EDIUS 9.2 clients running simultaneously in the network from a central license management server, so there is no need to manage multiple serial numbers. www.grassvalley.com.