Editor Alan Bell Cuts 'The Hunger Games' Final Chapter
Alan Bell is the editor of 'The Hunger Games: Mockingjay Part 2', the final chapter in 'The Hunger Games' franchise. He spoke to Digital Media World about his work on the movie, and about his own, distinctive approach to cutting films that blends the roles of editor and compositor.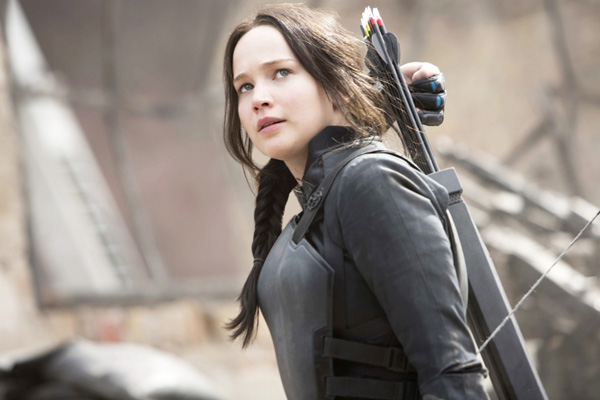 Alan has been working as an editor for the past 30 years since his early 20s, after meeting an editor who showed him what the job involved. He took an unpaid job on a Roger Corman film and later started in a paid position with Rob Riener Films with the editor Robert Leighton.
Now I can give something a cool tooltip!
It was during this early period that he began discovering and gaining skills in effects that editors could apply as they proceeded with the cut. Working as a freelance editor through the 1990s, mainly on independent films, he found he could use his expertise in effects to give an edge and add value to his editing services. Once he started working on larger studio films, he continued developing these skills.
Alan regards many of the effects he creates as a way to enhance performances. An example is inter-frame editing, allowing him to do such tasks as re-time part of a frame, morph parts of an image or even a character from different frames into one frame, or erase elements. This kind of split-frame work can actually be used to make slight story changes, as can the ability to cut seconds from a shot to make it follow the director's intended story more fluidly and naturally.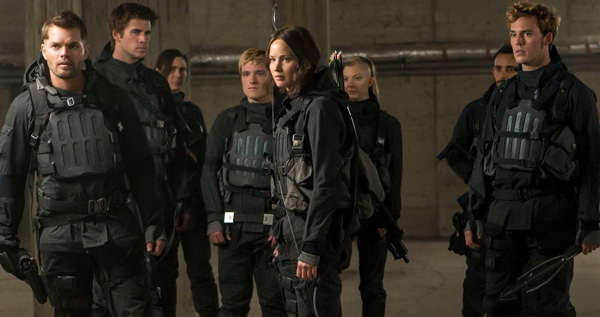 Though he can use almost any NLE, he now mainly uses Avid as his editing package. A compelling reason for using it is the Connection plug-in between Avid and Blackmagic Design Fusion compositing and effects software. Alan contributed to the plug-in's development as a beta tester. The integration, first released in 2012, is tight enough to give editors access to Fusion's node-based effects environment and tools directly from the Avid timeline, allowing them to do compositing, paint work, re-timing, camera animation and add various other effects as they cut a project. Even though Avid is a layer-based software, editors can use the source, tool and output nodes in Fusion.
True 3D Space
Once you identify the layers in your Avid project that you want to work on and launch Fusion, the timelines and project set-up in both applications become identical. The direct round-trip facility also allows the editor to return to Avid at any time to continue editing while, for example, effects in Fusion are rendering. The results will be visible as they are processed. Editors can work in true 3D space, use Fusion's detailed masking tools, and create new cameras.
Working in Avid involves working with proxy images so that, at least at first, Alan is producing temporary shots. He might go ahead and finalise them on the full-resolution images himself, but more often the shots will be going on to the VFX department, in which case he would work with the VFX vendor's team on composition but then leave the clean up and completion of the shots to them.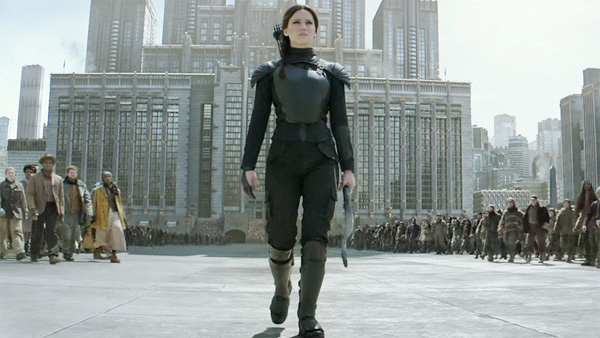 Back to Back
As well as editing this final film in 'The Hunger Games' series, Alan was also editor of 'Catching Fire' and 'Mockingjay Part 1'. The two 'Mockingjay' films were shot concurrently. Pre-production commenced even before the 'Catching Fire' film was completed. Working in a trailer, Alan was on set a week ahead of the 'Mockingjay' shoot, and could start cutting Part 1 as soon as the material was shot. The entire shoot for both films lasted nine months, mainly in Atlanta for seven months, plus a month in Paris and a month in Berlin. Throughout this period the production employed varying levels of editorial staff to avoid a crunch at the end.
"The editorial style of 'Mockingjay Part 2' was always going to be somewhat similar in style to the first films, due to the nature of the story and the fact that it is a series," Alan said. "However, the camera work was steadier than the first film, and the action has left the Arena of the earlier movies and shifted into themes ranging from world politics and corruption to life during wartime and post traumatic stress.
"The tone was fairly dark and serious but we needed to keep it interesting and well-paced. I had read the books as background, before the script was complete, but focused on the movie, on fan expectations and balancing the story to play out well on screen."
Expressive Sequence
On 'Mockingjay Part 2' Alan applied effects of some kind to over 300 shots, which he says is fairly typical for most projects. Two sequences in particular illustrate what Alan's style of editing, working between Avid and Fusion via the Connection plug-in, can do to shape certain performances or the story as a whole.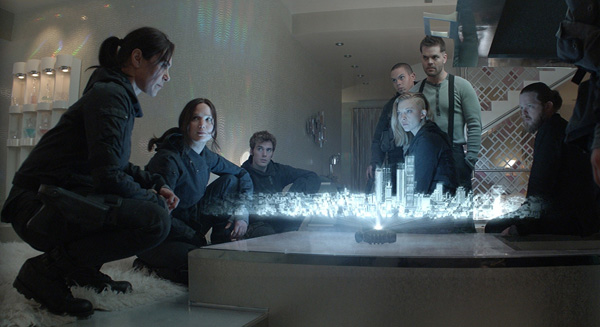 In the film's final sequence we see Katniss holding and talking to her baby. The director wanted to show the communication between the mother and child, mainly through eye contact. But on set, the baby was asleep almost the entire time apart from about five or six seconds when his eyes were open. Furthermore, some of the over-the-shoulder shots were captured with Katniss holding a doll.
This left Alan with the task of creating a coherent, expressive sequence from the photography by compositing the open eyes into shots when the baby was asleep, at times replacing the baby's arm to maintain continuity of motion, or replacing the doll with parts of the real baby. All 2D elements were taken from the shot footage.
Double Action
Another sequence was quite different, an intense action scene in which all of the main characters are under attack from a pack of vicious hybrid lizard-human mutants called mutts. At the shoot, the entire set piece was shot as a continuous sequence in which all characters, each fighting one-to-one with a stunt performer, were fighting simultaneously. Having the stunt actors in-camera was extremely beneficial for the actors' performances – it gave the actors creatures to interact with, and Weta Digital motion data to work with.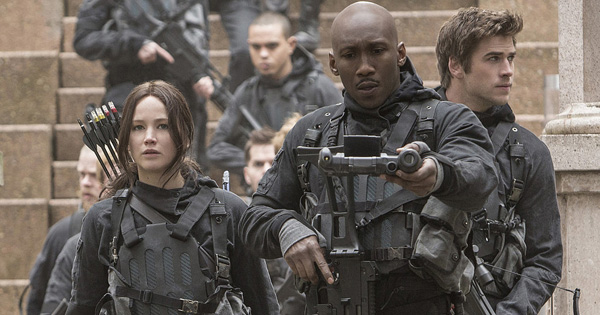 Alan said, "While editing, it is sometimes important to slow down and show the whole story in more detail. So, much of the simultaneous action was cut apart and shown as separate moments, pulling the camera in, even though in reality - on set in the master shots - they were happening simultaneously. Shooting it this way made for a very active powerful set piece that felt real and intense, however, many of the shots were relatively wide and that meant that various pieces of action would be going on in the background.
The sequence took a lot of compositing and paint work. Fusion helped us in the cutting room to retime, paint out and deal with issues of matching and double action, due to the nature of how the scene was choreographed. Fusion also made it easy to add explosions and muzzle flashes as we cut the scene. Once we finished, the sequence was handed over to the production VFX team, who gave it to the wonderful artists at Weta Digital to complete the shots."
Collaboration – VFX and Stunt Teams
Not surprisingly, Alan works fairly closely with visual effects vendor teams on films – probably more so than any other department. "However, this is true for most editors working on VFX heavy films, and includes previs departments. On some films, I will help cut the previs, which is also closely linked to the stunt choreography.
"Ideally, the stunt choreographer organizes the performances according to the previs but, once on set, he or the director may want to change it, calling for more specific 'stunt previs'. In any case, I take all versions of sequences into the edit room, discuss the options with the supervisors and the director once the footage is available, and develop a rough cut."
Mixing Technical and Creative
Alan Bell's skills have been largely self-taught. He learned software like Fusion from tutorials, forums or just experimentation, driven by enthusiasm for what such efforts can do for storytelling. Alan started explicitly offering visual effects as part of his work about ten years ago, at a time when editing still had a stronger technical element than it has now.
"Nevertheless, it has always been a creative process at the same time," Alan said. "It is definitely possible for an editor to combine those two kinds of work! I edit stories, and do what is necessary for a good story. Invisible visual effects are one way to make that happen. Some of the older, more established editors are reluctant to mix the cutting process with other skills, while I find younger editors are happy to learn how to use a range of different tools, like compositing software, seeing them simply as other ways to mould performances.
"At a recent ACE technical day, for example, I helped demonstrate Fusion software to a group of editors. I showed a shot from 'Mockingjay Part 1' from which I removed a line from a shot without cutting away, using morphing techniques. Doing this enhanced the drama of the moment and worked better for the scene. Some of the editors were amazed to see the level of creative control that being able to work this way this gives an editor." alanedwardbell.com
Words: Adriene Hurst
Images: Courtesy of Lionsgate