SCRATCH 8.3 Joins SCRATCH Lab for Dailies & Post Cloud Workflows
ASSIMILATE SCRATCH 8.3 now integrates the complete SCRATCH DI workflow and SCRATCH Lab for on-set and VFX dailies into one set of robust, cloud-based digital cinema tools for DITs, DPs, directors, editors, colourists and post-production artists.
The new uninterrupted workflow runs from on-set production through full 4K post-production, with a single user interface and the ability to assure consistent colour through all processes. The SCRATCH 8.3 system also incorporates SCRATCH Web and SCRATCH Play 8.3 for real-time publishing and sharing of native RAW camera or other media between team members in any location, in any format or resolution. Unicode is now included to support teams and facilities in Asia.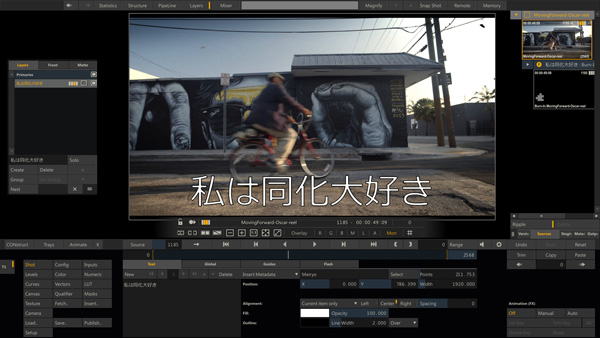 The core functionality includes real-time 2D/3D and virtual reality workflows for on-set, dailies, live grading on-set and visual effects to 4K post and DI – conform, versioning, colour grading, playback, compositing and finishing. SCRATCH supports many different cameras and media formats, and continues to add new ones as they emerge.
Further to re-positioning to its original tools, SCRATCH is now fully ACES 1.0 compliant. This includes the file format, colour space and device and rendering transforms. Although a typical production might involve several different cameras and data formats, ACES 1.0 solves integration challenges with consistent colour management and digital image encoding that preserves the latitude and colour range of the original imagery.
Metadata support in SCRATCH has been expanded so that you can update metadata for a single shot or multiple shots at once, as well as update data by entering plain text or using formulas that contain other metadata items. New metadata can then be exported via ALE or XML to be imported into other systems or integrated with other proprietary tools.
The Live View tool gives DPs and DITs the ability to capture metadata from live camera feeds, grade live on the camera feed and create looks. SCRATCH also supports high speed Apple ProRes encoding on Microsoft Windows 7/8-based PCs and the Max OS X.
The SCRATCH 8.3 system includes Unicode to support Chinese and Japanese languages, necessary to use for burn-in, subtitles, and file naming, as well as local language support. It also incorporates SCRATCH Web, a cloud-based collaboration and review tool with individual clip, timeline or timeline-plus-version sharing via SCRATCH CONstruct, on a private channel. CONstruct manages shots or VFX in a stacked timeline, setting up versions and switching between them. The SCRATCH Play media player plays back and reviews dailies in any format in real-time, including Oculus Rift.
Developers can create cinematic content for the Oculus Rift with a specific tool that allows them to review, grade and composite VR shots in real-time, whether or not they have a Rift headset. Artists can also publish and share RAW media and other data for global collaboration and review.
SCRATCH 8.3 is appearing at NAB 2015 at the booths of Bluefish 444 and Maxx Digital. www.assimilateinc.com