Blackmagic Design Resolve 12 Builds Up Editing, Compositing & Audio
The new version 12 of Blackmagic Design's DaVinci Resolve grading software has new editing and audio capabilities, and a new 3D tracker and 3D keyer that add to grading precision.
DaVinci Resolve 12 simplifies the colour management of multiple clips with different colour spaces by allowing the user to accurately define individual source, timeline and output colour spaces – improving on DaVinci's colour science. The result is a colour managed pipeline that can use DaVinci Resolve's colour managed timelines and ACES 1.0 colour for digital cinema workflows.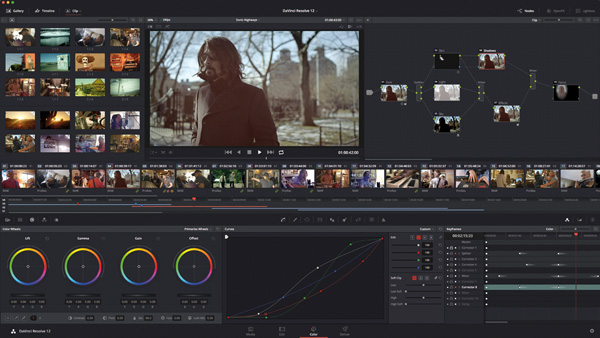 Resolve 12's curves interface is more accessible, and colour analysis and matching between two or more clips is automatic. The new 3D tracker is able to track objects with significant perspective changes or that have extreme perspective, such as those lying flat on the ground. Typically, trackers slip when such objects become partially obscured. But Resolve's tracker can accurately lock on to them. You can then colour correct the shot without affecting that object.
The 3D keyer is also new, fast and simple for secondary colour correction but also very useful for compositing. Areas to include in mattes are slected by clicking and dragging. Mattes can be inverted or expanded once you start working. Special tools remove noise from mattes, and others can suppress spill from green screen shots.
One of the most useful new functions is Shot Match, which helps automate the task of matching and balancing a foreground shot or shots with your background plate. You first select all the shots involved, and then nominate one to match the others to. From there, power windows can be refined and shaped with splines to remove rigging or other objects in the shot very precisely. To deal with camera moves, you can use the 3D tracker to track the power window into place.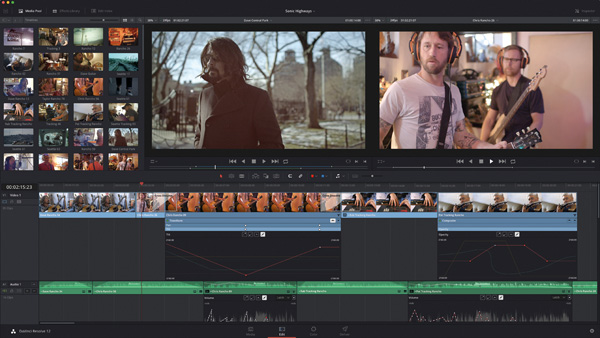 The user interface in Resolve 12 has now been optimized for the display of high resolution media. Its lighter colour scheme and new fonts were chosen to reduce eye strain. Resolve 12's interface now has Smart bins as well, which help locate files in large projects by displaying clips based on metadata tags. New, tagged material will be automatically sorted into the correct Smart bin, without manually sorting them. You can also prioritise your most-used folders as favourites on the media page.
A new audio engine has higher sampling rates and improved real-time audio playback performance. It is now possible to mix audio in real-time in Resolve by recording your fader adjustments during playback. You can add VST and AudioUnit plug-ins and adjust their parameters, either on clips or on whole tracks. Alternatively, if you want to send projects to ProTools for audio finishing, exporting will create an AAF file with all source audio and a flattened reference file. Also, this audio support matches the audio timeline in Final Cut Pro X, which may help speed up collaborative workflows.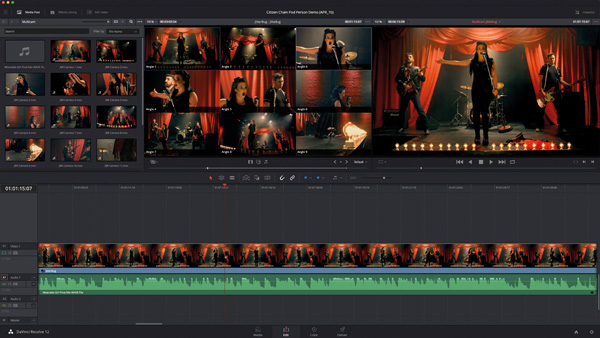 Editing & Timelines
DaVinci Resolve 12 now has the ability to integrate more closely with other NLEs. Edit timelines can round trip to other editing software while preserving more of the settings, plug-in effects and edits. For example, when importing XMLs from Final Cut Pro X, DaVinci Resolve 12 will also import multi-camera clips and preserve all original camera angles.
It is possible to drag and drop files from the finder directly onto the timeline. For multi-camera projects, you can group clips by camera angle, and also sync clips by in/out points, by timecode or by sound.
Timelines in Resolve 12 can be nested to make it easier to work on large, multi-scene projects. The timelines can be decomposed in place or opened in a window for editing. Various new editing tools are now able to handle complex operations affecting groups of elements, and new media management tools specifically address editorial workflows. You can archive and restore entire projects, including media, individual timelines or a batch of clips with new copy, move, transcode, relink and consolidate tools.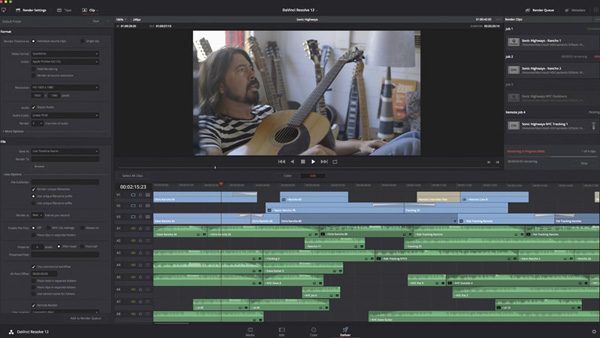 Asymmetric and dynamic trimming have been improved in Resolve 12, allowing you to trim in different directions simultaneously by trimming edit points on the same or different tracks. Slip and Slide also now works on multiple clips at the same time.
New on-screen controls and motion paths have been added to Resolve, which make working with animation faster, showing you exactly how the animation will move. Transitions are more customizable as well. After adding a transition, you can open the curve editor in the timeline and add Bezier handles to fine tune it.
DaVinci Resolve 12 also now supports remote rendering so customers working in larger facilities can distribute rendering jobs to other Resolve systems that are on the same shared database and shared storage. www.blackmagicdesign.com