Grass Valley EDIUS 8 to Support Canon XF-AVC & Faster Transcodes
Grass Valley EDIUS 8 editing platform, designed for production and broadcast news, will receive a new user interface, Canon XF-AVC support, a new workflow clip management tool, and accelerated 4K H.264 playback.
EDIUS aims to keep up with support for new camera formats so that editors to concentrate on the timeline and production, not the media itself. EDIUS 8 will be among the first nonlinear editing systems to support the new Canon XF-AVC video format which is the basis of the new 4K XC10 camcorder. EDIUS 8 also includes a new GV browser tool to manage video and still image content on the user's PC, prior to importing material into EDIUS for editing.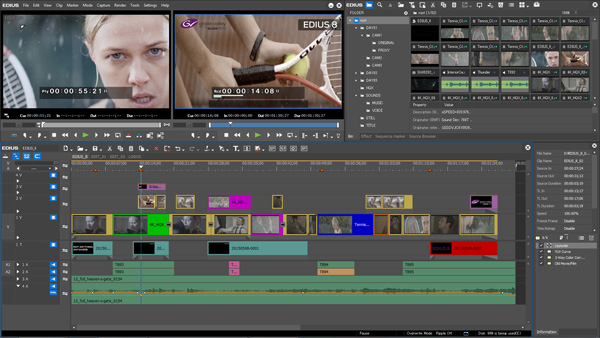 EDIUS increases performance through the use of Intel Quick Sync Video, which brings fast H.264 export capabilities and is useful for dealing with smartphone footage and repurposing for uploads to social media channels, including YouTube. It also supports immediate playback, even when editing 4K material. Quick Sync is hardware video encoding and decoding integrated into some of Intel's CPUs. The name refers to its speed, compression ratio and quality which have tested to be comparable to the x264 superfast preset.

EDIUS 8 will be available in two versions, EDIUS Pro and EDIUS Workgroup. EDIUS Pro is targeted at production professionals looking for flexible editing with speed and the ability to handle any file format with creative tools. EDIUS Workgroup is developed for collaborative news and sports editing for broadcasters, and can be integrated with the Grass Valley STRATUS video production and content management system, or other third-party media asset management tools and server equipment.
Grass Valley says they are working on a development program that will introduce a number of new creative tools for EDIUS over the coming months. EDIUS Pro 8 and EDIUS Workgroup 8 will ship towards the end of June 2015. www.grassvalley.com