Octopus 8 Newsroom Brings New Web and Social Connectivity
At IBC 2015 Octopus is launching the new functionality will be core to version 8 of Octopus Newsroom. The new software changes the way teams across different departments collaborate and share stories, sources and data, and will also focus on connecting news teams with social media and online news channels, enabling them to publish stories quckly on multiple platforms.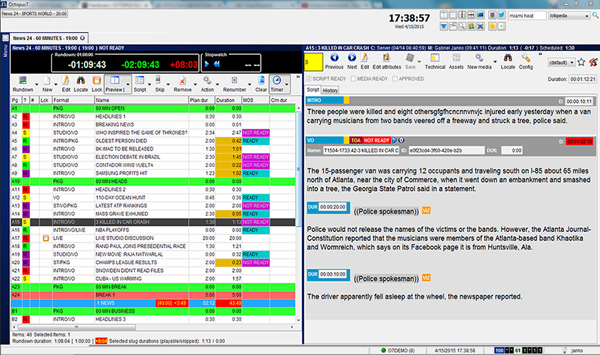 Octopus 8 extends the collaborative toolset available to editorial teams. Information and media sharing is now supported without having to duplicate information - every topic and each element within a story is centralized and instantly available across editorial teams, with transparency between TV, radio and social media departments. Managers can assign entire stories, or individual sections within a piece, to particular users across the organization. Where features have multiple parts or sources, users can now filter within that topic to arrive at relevant information faster.
CEO of Octopus Petr Stokuc said, "With audiences expecting to watch, hear and read bulletins on every device they own at any time of day, Octopus has focused development on speed and ease of use when sharing news items and information across departments. With version 8, users can collaborate with other teams to deliver stories in multiple formats for every possible audience."
Octopus 8 developers have improved the user experience by making operations and workflows accessible from a single screen. All related material – news sources, clips, stories and related assignments, notifications and updates are now available to journalists via a new dashboard.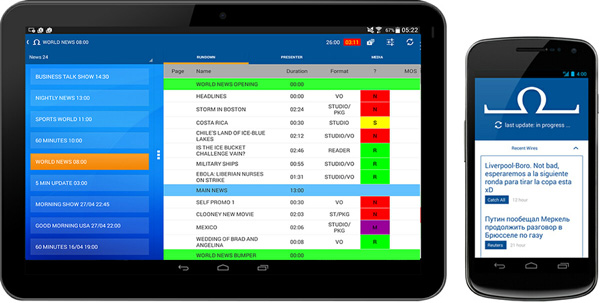 Because audiences increasingly use the Internet for their news, media organizations are responding by publishing stories to a channel's website faster and more frequently. Octopus 8 directly interconnects with CMS systems, enabling scripts and articles to be uploaded dynamically to web portals. This new web component allows TV news editors to directly upload pages themselves, saving time and reducing the strain on the web team. This new approach avoids duplication of effort and handing control of news items to the news production department, who can upload material immediately to web pages and speed their cooperation with an online team.
Pitched as a workgroup product, new functionality in Octopus allows administrators to assign users to create content for social media. Instead of treating social media as an add-on feature, Octopus 8 takes advantage of social networks, tweets and Facebook posts by treating them like any other news story, so that team managers can assign and share tasks and approve messages before they go live.
New Octopus tools also help journalists follow Twitter trends and track topics of particular interest to them across the social network in real time. The system automates the research process to supply instant information and analyses trends over time. Editors can tweet, reply, re-tweet or designate favourites directly from Octopus as well as manage the channel's relationships by following or blocking Twitter users.
Until now, many mobile apps have been limited in scope. The new Octopus App, which ships in September 2015, moves full news production onto tablets and iPads for journalists. News teams working remotely are given instant access to all wires, rundowns and assignments. They can also edit stories within a rundown, preview prompter text as well as create wires and reports in the field. The new app supports both Octopus 8 and the most recent versions of Octopus 7. www.octopus-news.com