Shotgun 6, RV 6 and cineSync Align Project Tracking Tools
Shotgun Software's Shotgun 6 and RV 6 now work together without end-user configuration required. Shotgun is cloud-based production tracking, review and asset management software for film, TV and games.
Shotgun recently expanded its scope through the acquisition of RV, the desktop image and sequence player. Shotgun 6 will now include direct access to RV 6 at no extra cost to users, who can use their existing Shotgun login to download and install the player. The latest releases of Shotgun 6 and RV 6 also include some other functionality.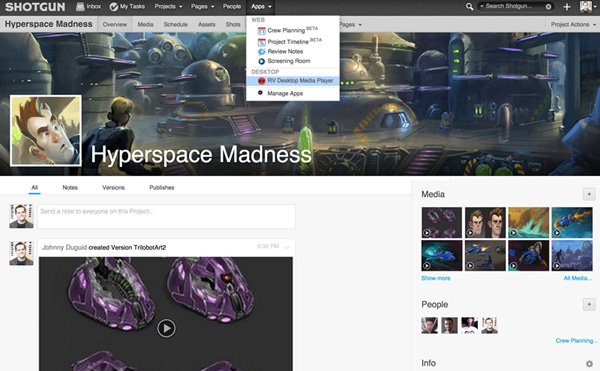 In Shotgun 6, project templates have been added to help teams manage different workflows for different types of projects, such as films, episodic TV series or games. Users can also improve navigation and browsing in Shotgun by choosing how to organize the items they are tracking for example Shots by Sequence or Asset by Type, and then navigate between them using the application's new navigation widget.
Since becoming an Autodesk company, Shotgun has improved its integration with Flame, transferring project content into Shotgun faster and more reliably. Using the updated loader, artists can find and load files faster directly from inside of their 3D software such as Maya, 3ds Max and Nuke, using the new list view in the Toolkit Loader app.
New in RV 6 are some functions previously only available in RVX, which is a specialised version of RV designed to test programming and publish GPU accelerated image processing operations to use in RV and its other versions RVIO and RV-SDI. For example, RV users can now author image-processing operations ranging from simple colour transforms to multi-input compositions and editorial transitions.
Similarly, RV users can export using RVIO, RV's standalone transcoding pipeline tool for renderfarms, without a separate RVIO license. This includes exporting movies or frame sequences with RVIO while running RV.
Cinesync Integration
A new integration between cineSync and Shotgun now comes bundled with cineSync Pro, replacing a previously separate integration package and has also been shown at NAB 2015.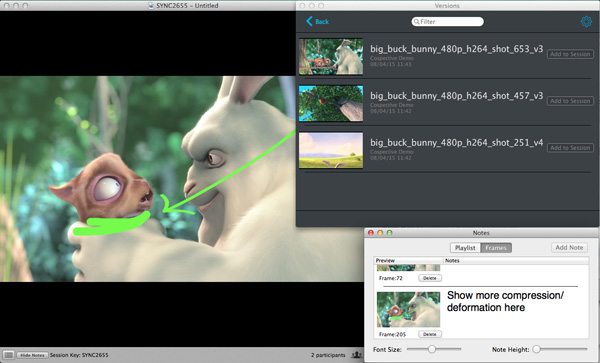 Initially available as a private beta, the integration consists of a Shotgun Review portal built into cineSync. Users launch Shotgun Review from within cineSync and browse their Shotgun instance to identify clips for review. Versions and playlists can be added from Shotgun to cineSync sessions with a single click. Any files stored in Shotgun will be automatically downloaded, while local files will be added as usual.
During the review session, cineSync users can browse with the built-in Shotgun Review for alternate or previous Versions, to view all previous notes on Versions and to add new Versions for review at any time, all without having to leave cineSync. Once the review has been completed, cineSync users can publish all of their notes and drawings to Shotgun. Users can also merge cineSync data with existing Shotgun data - so in cases where annotated frames have been created in cineSync, but notes taken in Shotgun's Notes App, users can choose to combine the two. This email address is being protected from spambots. You need JavaScript enabled to view it. Cospective to sign up for the integration beta.
Both Shotgun 6 and RV 6 have now been demonstrated at NAB 2015. Shotgun 6 with RV 6 integration is expected to be available by the end of April with different levels of per-month pricing. RV will also continue to be supported as a separate tool. www.shotgunsoftware.com/pricing