Digital Anarchy Transcriptive 2.0 Edits Smarter, Faster in Premiere Pro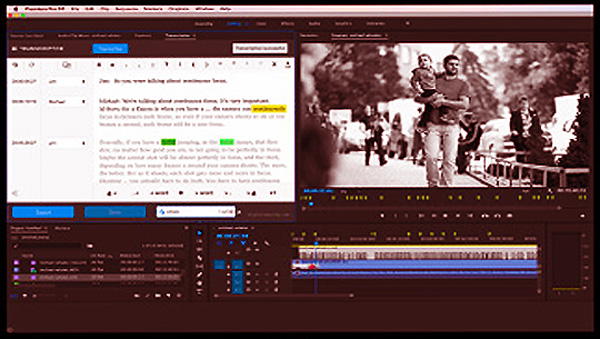 Digital Anarchy Transcriptive 2.0, an intelligent transcription plugin for Premiere Pro editors, can now build sequences from individual clip transcriptions. It has a new Editor for editing video with text, and Offline Sync to align transcripts to video timecode. Digital Anarchy launched the new version 2.0 of Transcriptive at the 2019 Adobe MAX conference in LA in early November.
Transcriptive 2.0 transcribes video automatically, using two different cloud-based speech and natural language processing engines. Using Transcriptive 2.0 can help lower the cost of post production by replacing transcription services, and save time by working faster than many legacy transcription models.
Through its integration with Premiere Pro, editors use the plug-in to transcribe video or audio, and can then edit transcriptions and edit video with text directly within the transcripts, without leaving the Premiere Pro timeline. Users can stay within one program, which saves time and sustains the creative flow.
Metadata and Searching Updates
One of the most useful aspects of Transcriptive is being able to use transcription results as metadata within Premiere Pro, enabling keyword searches for specific words or phrases spoken in a video. Transcriptive 2.0 now comes bundled with PowerSearch as well, a dedicated search panel that makes searching easier and more thorough within Premiere Pro. It adds the option to search not only for words in transcribed content but also to search for clips, sequences, markers or other associated files containing those words.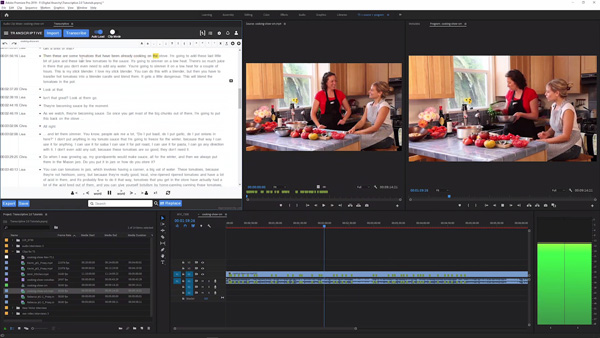 Text Editing
A new Text Editor in Transcriptive 2.0 combines word processing and tracking capabilities for editing transcripts in real time. As you edit and move through the text during playback, the word highlighter will follow along. You can click on a word to jump to that spot in the video and then return to the Editor window to make edits just as you do in a word processor.
All changes made on the transcripts in this way will be automatically synced with the corresponding clips and sequences in real time, and new words will be correctly timecoded.
Editors have a new Clip Mode in which a timeline can be built directly from the transcripts of individual media files within a project, loading each clip's transcript instead of entire sequences. Then you can select the parts of each one as soundbites in the transcript and paste them into the timeline, or set in- and out-points to select soundbites and use keystrokes to insert selected sections of clips to create a new edited sequence. Then, by switching to Sequence Mode, a transcript for the complete, new sequence will be generated automatically.
Offline Sync is an alignment function used to assign timecode to an existing transcript matching the audio of a clip. This tool, built entirely into the Transcriptive panel as a regular option, is an offline extension of Transcriptive's ability to use its AI engines to sync transcripts to audio files, adding timecode to every word.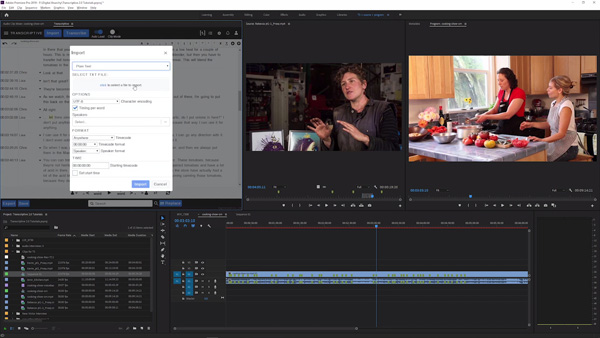 However, Offline Sync works offline - without an internet connection or cloud service – making it a convenient tool for customers that can't go online, and is supplied at no cost. This offline alignment functionality is available for English transcripts only - syncing transcribed text in other languages still requires an internet connection and costs $0.04/min.
Transcriptive Engines
Transcriptive users now have the option to use one of Digital Anarchy's two different speech engines to automatically and accurately transcribe video with minimal human interaction. An update to Transcriptive's AI services means users can access both of the engines - Transcriptive A.I and Speechmatics - through one account with lower pricing. Instead of pre-purchasing access, minutes can be charged on a pay-as-you-go basis.
As well as time code and text editing, Transcriptive 2.0's functionality includes speaker identification and other tools to make transcription simpler for editors and producers. Once the transcriptions are complete, editors can either use them within Premiere or export them as .srt, .stl, or .vtt files for use in other applications or online, for example, on YouTube for SEO and sub-title purposes. You can also save the metadata with the video clip.
Transcriptive 2.0 is available now. Transcription costs vary according to the speech engine selected. digitalanarchy.com
.