EDIUS 7.3 Gains Matrox I/O, Sony & Panasonic Support
Grass Valley EDIUS v7.3 Pro and Elite now incorporates several updates for editors in I/O, data exchange and audio, and has new capabilities for working with Sony and Panasonic cameras. The software now has I/O support for the Matrox MXO2 LE, MXO2 Rack, Mojito MAX and MXO2 Mini editing devices, which are used in various scenarios including connected to laptop and desktop computers, in studios and OB vans, and on set. They can connect to an editor's computer via PCIe or ExpressCard/34 adapters.
New audio functions include 96kHz/192kHz audio, and lower bit-rate audio support for MP4 output. Audio monitoring while capturing with third-party I/O hardware – including the Matrox devices – is also possible, as well as multi-channel audio monitoring for clip preview. Audio level adjustments can be made in the preview window.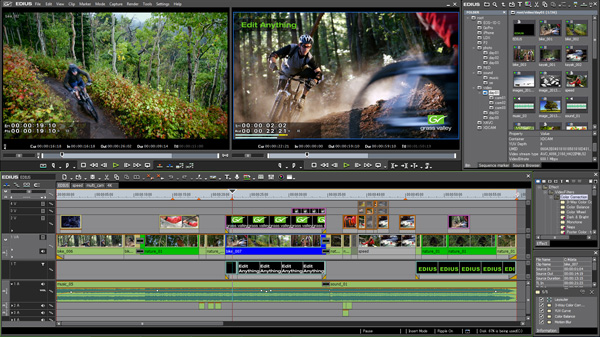 EDIUS can now use AAF exchange with DaVinci Resolve grading software. The Layouter, a tool in EDIUS for resizing, panning and scanning, and for picture-in-picture and keying effects, can be applied as a separate transform filter. There is also an After Effects plug-in Bridge update, with support for Sapphire presets.
EDIUS 7.3 includes new capabilities for working with Sony projects, including Sony XAVC-S file export and XAVC-S timecode support, and export for the Sony PMW-1000 recording deck, which works with the PMW-F55 and F5 cameras. XAVC-S is the format used in Sony's prosumer A7s, AX100 and AS100V action camera, and uses the MP4 wrapper.
For Panasonic, EDIUS 7.3 increases AVC-Ultra format support to include the new AJ-PX5000 P2 HD camcorder with native AVC-ULTRA recording and microP2 card slots, and files from the new LUMIX GH4 4K camera. EDIUS 7.3 is now available for download by registered users on the Grass Valley website.  new.grassvalley.com