Adobe Creative Cloud Picks Up the Pace for Video Production
ProRes RAW source setting in Premiere Pro, including the exposure toggle.
Adobe has released Creative Cloud updates that include Apple ProRes RAW support for Premiere Pro and After Effects, and new Shape Layers tools in After Effects. RAW support is now part of Creative Cloud Apple ProRes workflows, from camera media through delivery.
ProRes RAW records all data from the sensor. Premiere Pro has Master Source Settings available for working with this format, allowing you to adjust exposure and perform colour correction. The playback quality and data footprint are quite similar to standard ProRes. The settings are available both in Premiere and After Effects and work in both Mac and Windows although you will need a special driver for Windows.
Updates to the Graphics workspace include adding graphic elements to video and manipulating them. The Pen tool is more direct and precise – you do not need to exit Premiere Pro to do the work in Illustrator or After Effects instead. You can change shape types, use Bezier curves or break a shape apart without starting over.
The Pen tool has better support for Bezier curves for more precision when creating lines and shapes.
Effects Filtering
Effects Control Panel Filtering makes work involving effects, animations, colour correction keyframing and so on, more efficient. This function reduces the view down to only the elements you are working on, called Edited Properties. By limiting the view, you can check all of the associated parameters such as position, scale and rotation for the Motion effect, colours for colour correction and so on.
This makes it easier to then return to the timeline and adjust the timing. This kind of filtering is useful for editors working on motion graphics inside Premiere Pro, to keep track of changes as they are made. A further filtering refinement limits the view to only keyframed elements.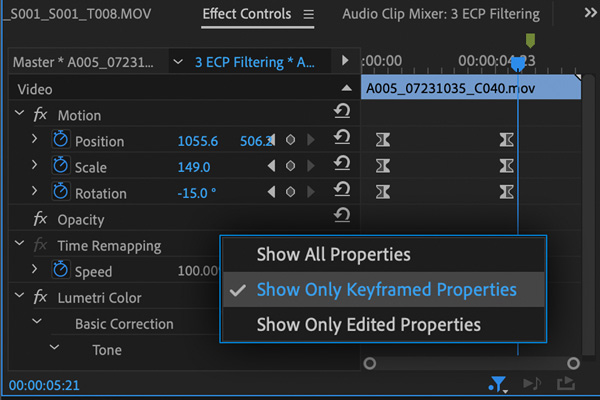 Filter effects show attributes that only have keyframes or adjusted parameters to help focus on the currently active effects.
Creative Cloud Libraries have been available in Premiere Pro for a while, serving as places to collect and share assets that you use often, within such categories as colours, looks, vector graphics, videos, images, mograph templates. Now you can collect audio elements like music and sound effects as well. To use them, they are accessible in projects directly from the CC Libraries panel. Complete libraries can also be shared with colleagues.
Auto Reframe in Premiere Pro is now faster, running on the Adobe Sensei AI and machine learning engine. Auto Reframe automatically reformats and repositions video within different aspect ratios, such as square and vertical video, speeding up video processing for social media and content platforms.
For Windows machines with NVIDIA and AMD GPUs, hardware encoding to H.264 and H.265 (HEVC) is available, resulting in faster exports for these formats.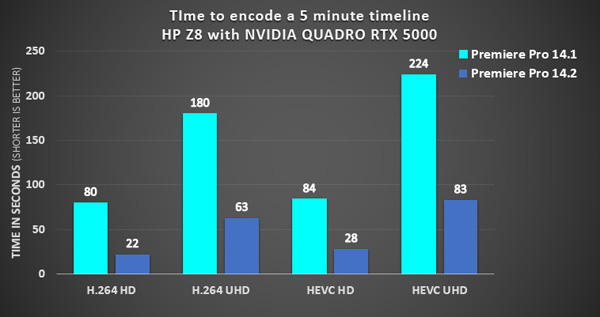 Encoding speed gains using hardware-based encoding with an NVIDIA RTX 5000 GPU. AMD and NVIDIA support on Windows, hardware encoding is now available across recent macOS and PC systems.
New Shape Layers Tools
In After Effects, there are two major updates to use with Shape Layers. Tapered Shape Strokes give you the ability to change the thickness of a path along its full length. To give a hand-crafted look to paths, you can taper the ends of a path and have different start and end widths, and create repeated wave patterns along the path. These waves and patterns can be animated.

Tapered Shape Strokes
The Concentric Shape Repeater, another new After Effects tool, is used to generate many different copies of a path, radiating in and out by offsetting the copies over time. You can add textures and patterns to these copies, creating abstract backgrounds very fast. This function is based on the original Offset Paths tool – previously you could offset a single path. Now you can choose the number of copies, animate how they offset over time, draw them on and off and offset the copies.
Mask and Shape Cursor Indicators in After Effects show which tool is in use, to help minimise undoing and repeating work when drawing shapes and masks.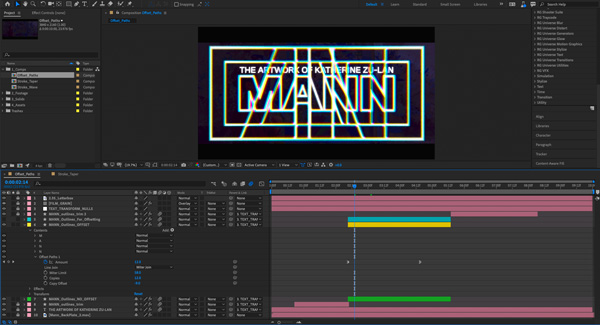 Concentric Shape Repeater
Automatic audio hardware switching is now available on macOS for After Effects and Premiere Pro – as well as Media Encoder, Audition, Character Animator, Prelude and Premiere Rush. When changing audio devices, or plugging in headphones, the OS recognises the hardware and the Adobe application automatically switches to the hardware in use.
These Creative Cloud updates are available now. www.adobe.com