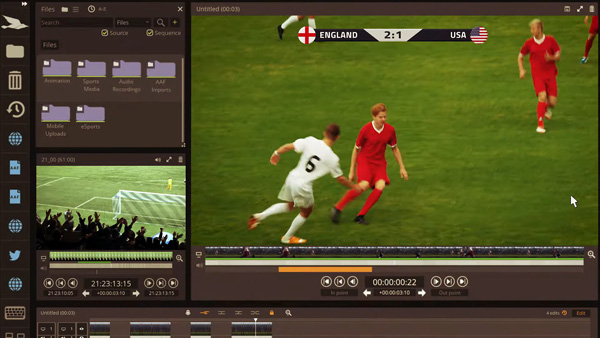 Blackbird, the cloud video editing developer, and EVS have launched a partnership with plans to deploy Blackbird's software and processing at some major, upcoming international sporting events in 2021.
EVS specialises in live video systems for broadcast and new media productions. Through its range of products and systems, EVS delivers widely recognised live sports video, entertainment shows and breaking news content from around the world to millions of viewers every day, in real-time. The company operates from 16 regional locations around the world.
Blackbird is a cloud-native video editing and publishing platform for professional applications, giving rapid access to video content for fast creation of clips, highlights and long form content to multiple devices and platforms. Blackbird's tools and operations are cloud-based, which means that media can be worked on wherever it resides. The editors do not need to download material or travel, supporting the industry's sustainability, storage and budget goals.
Initially, EVS will sell Blackbird to their clients when appropriate, and later in the year will integrate the system into their platform. EVS Chief Marketing Officer Nicolas Bourdon said, "As a certified partner within our Technology Partner Program, EVS will be able to expand its live and near-live content management and distribution tools with the integration of Blackbird's flexible infrastructure and cloud-based video editing functionality, which meets the demands of major sporting events."
Blackbird CEO Ian McDonough said, "Forming this partnership with EVS and seeing our system deployed at two of critical international sporting events taking place in the near future is significant and exciting for us. It is valuable acknowledgement not only of Blackbird's tools and approach, but also of the confidence that EVS has in our team."
Blackbird can be used to improve awareness, reach and monetisation for brands in the sports, news, entertainment and enterprise sectors. The company's other customers include IMG, Deltatre, Sky News Arabia, A+E Networks, NHL, Eleven Sports, Riot Games, Arsenal FC, the US Department of State and 50 local US news stations with TownNews. www.blackbird.video