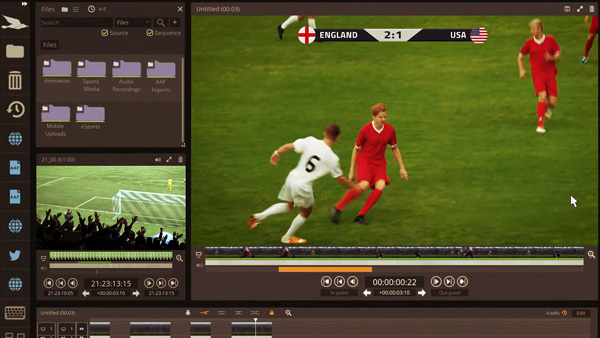 CBS Sports Digital is set to start using cloud video editing and publishing of their sports content after signing a deal with video editing platform developers, Blackbird. Accessing Blackbird's tools and functionality through a browser, CBS Sports Digital editors will be able to access live and file-based content for collaborative, scalable editing and enriching content with metadata to make it more useful.
Deployed within CBS Sports Digital's cloud infrastructure, Blackbird will make it less necessary to travel to a facility or transfer material to and from multiple local storage environments. CBS Sports Digital creates and distributes sports content across a variety of platforms to audiences around the world.
It covers sports from high school level to professional events, and delivers live coverage to fans every day through live and on-demand video, analysis, breaking news, scores and statistics, fantasy games and advice. The company's multi-platform products include CBSSports.com and the CBS Sports apps for mobile and connected TV devices, CBS Sports HQ, 247Sports, MaxPreps, SportsLine and SportsLive.
A cloud native video editing and publishing platform, Blackbird is used to manage video by giving access to video for viewing, editing and publishing almost immediately after capture – from anywhere. Developed specifically for browsers and to support remote production, Blackbird is fast and scalable with a complete set of editing features and video output options.
Editors can access live streams within a few seconds, with scheduled capture to make operation possible anywhere. Live workflows are supported in order to accept growing files, RTMP, HLS and SDI inputs, featuring multi-track, multi-channel operation that is frame accurate and helps save time.
Customers include Tata Communications, EVS, BT, Univision, IMG, Deltatre, Sky News Arabia, A+E Networks, NHL, Eleven Sports, Riot Games, the U.S Department of State and 69 local US news stations with TownNews. www.blackbird.video