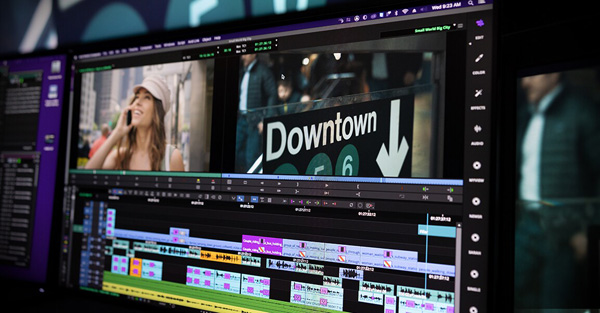 Hedge Postlab, cloud-native software support for Media Composer, allows Avid editors to set up collaborative, remote editing workflows. Postlab serves as an extension to on-premise Nexis or other Avid-compatible NAS/SAN storage without relying on access gateways or incurring high latency associated with cloud-media workflows.
Postlab for Media Composer maintains the user experience, regardless of available bandwidth. Post facilities and media businesses can use the Postlab platform without upfront commitment, and scale or shrink team sizes when needed using the flexible pricing.
"Media companies continue to need a way to collaborate remotely but, given the uncertainty surrounding the pandemic, many do not want to make significant investments or wider infrastructure changes," Paul Matthijs said, co-founder and CEO of Hedge. "Postlab for Media Composer extends facilities' on-premise storage investment by supporting fast secure remote editing for a small incremental cost. The user experience remains the same as it is in the facility."
Secure by nature, Postlab for Media Composer does not rely on VPNs. Editors may begin working immediately from anywhere, with no minimum requirement for an internet connection. Postlab keeps existing workspaces in sync and allows Avid's Bin Locking feature to work in the cloud so that users can collaborate on projects as usual, without overwriting each other's work.
To build a cloud-driven editing environment for Avid editors, Hedge made a cloud storage component in Postlab, called Drive, compatible with Media Composer and with Avid's Bin Locking. This was accompolished through a partnership with LucidLink, combining Hedge's locking system with Lucidlink's cloud NAS expertise, and configuring the layers needed to make cloud storage function as if it is local shared workspace. To Avid editors, Postlab for Media Composer looks and works like a NEXIS system, but in the cloud, and it retains the collaborative functionality.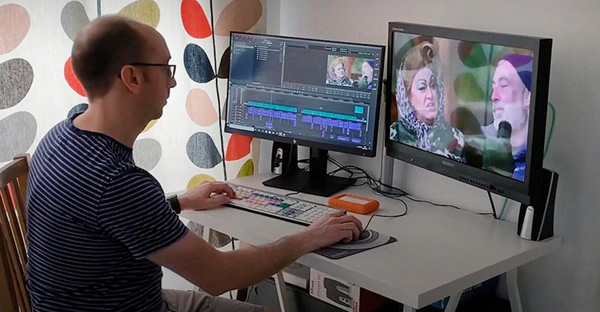 Direct Transition
Because Postlab has no middleware, storage restrictions or other limits, it makes a direct transition from on-premise to cloud, keeping essential features and characteristics of the Nexis, or other Avid compatible NAS/SAN, workflow intact. Its cloud infrastructure only activates Hedge's tiered authentication on an authorised person's computer, and only when it is logged in. Locally cached files are obfuscated and encrypted, unavailable for use elsewhere.
Postlab works with both fast and slow connections. Where bandwidth is insufficient for real-time cloud operation, media files are prefetched and intelligently cached, making them available for immediate editing. With Postlab's Workspace feature, an editor can also cache a complete folder and its content locally. Only metadata and lock files require syncing, which happens instantaneously.
Its use of metadata, making egress unnecessary, lowers the costs and complexity of using the cloud. No costs are charged related to cloud storage. Facilities pay a basic monthly fee and can then add extra Postlab users for one or more days at a time, and increase or decrease storage capacity on an as-needed basis. This level of flexibility is useful for facilities working on dynamic productions and employing varying numbers of freelancers.
Storage Options
Postlab for Media Composer works for Avid Media Composer Ultimate editors working on-premise or externally, and supports on-premises Nexis systems, NAS or SAN, or no on-prem storage at all. A 15-day is available trial is avaialable with zero upfront commitment.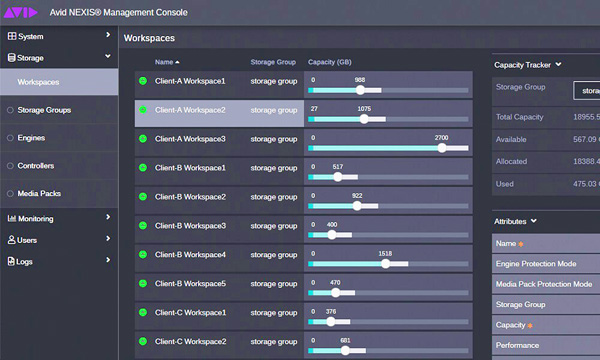 Hedge makes Postlab easier to use for facilities with an Avid Nexis. No change is made to the existing workflow and therefore no training is required. Media Composer editors will see their familiar workspaces and workflows from wherever they are working.
For 3rd party-storage owners, however, because Avid Bin Locking is what allows editors to collaborate using shared storage, this has been built natively into Postlab and works alongside Avid-compatible local shared storage, NAS or SAN.
Finally, Media Composer Ultimate users who do not have a centralised NAS/SAN can use the Drive cloud storage component. It mounts as a network share that Avid identifies as third-party storage, allowing for proper bin locking, remotely, and supports editing straight from the cloud without requiring the user to download all media first. Drive scales with requirements, so that users do not pay for storage that Drive uses. hedge.video