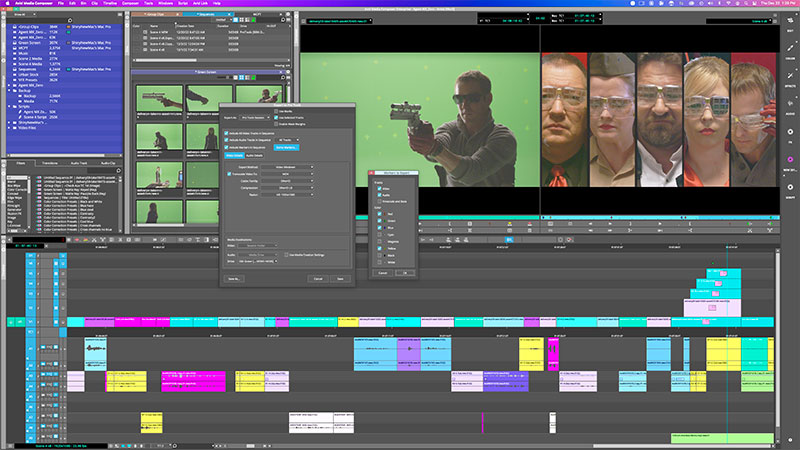 Avid Media Composer UI
Avid Media Composer's new update includes new features intended to speed up post production processes and workflows between editorial and audio post teams, aiming for efficiency, plus video updates that continue to improve the software's media management and remote working and collaboration.
One of these is an export feature. Users can now export complex sequences with video, audio and metadata in a single step, combining all information into one export .PTX file that can be opened directly in Pro Tools. By largely automating exports, users can avoid errors and remove steps from export processing. Avid says their underlying goal here is to develop collaborative workflows between Media Composer and Pro Tools.
Avid's MBOX Studio, a compact hardware audio interface, can now be used with Media Composer, giving editors a way to record, use punch-ins and perform multichannel monitoring of sequences in up to 7.1 surround sound. With the preamps and audio converters in MBOX Studio, users can capture sonic nuances of performances with low-latency monitoring. Monitoring is made flexible with outputs for two headphones, two stereo sets of speakers and Bluetooth, plus cue mixing and a built-in talkback mic. MBOX Studio users also have access to over 130 studio-grade plugins.
Media Management and Remote Working
As well as new audio features, updates to Media Composer's video editing tools include new media management capabilities that simplify the media relink workflow and improve performance when identifying paths to previously linked files. Users can locate all content within the relink window, making it easier to re-establish broken paths, and avoid spending time searching for a file's previous locations.
The software's user interface has been simplified for new users, students and editing teams. A new project creation setting creates the project format from the editor's media with one click. The UI also generates default bins and makes suggestions to guide a new user through project set-up.
Avid has continued to enhance the Media Composer experience for remote editing by integrating the Media Composer | Enterprise editing tool, used to set up collaborative video editing workflows for teams, with Avid NEXIS | EDGE, software supporting collaboration from any location with high-res and proxy media workflows.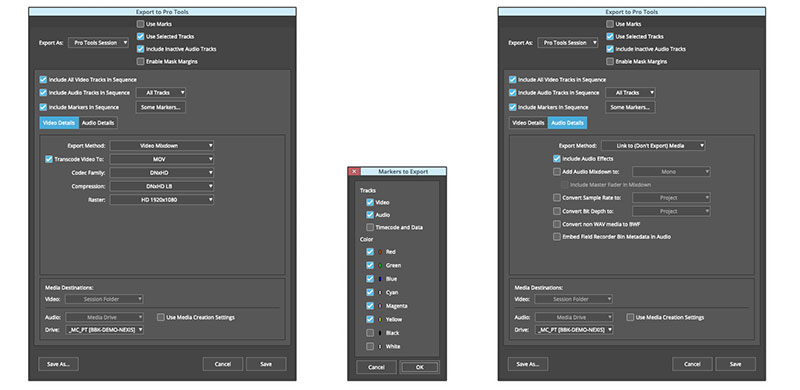 ProTools menus in Media Composer
This integration helps editing teams collaborate on projects while members are working remotely in post production environments. They can work where and with whom they want, and use Media Composer | Enterprise, Adobe Premiere Pro and Avid NEXIS storage, as normal. Remote teams can use Media Composer and Avid NEXIS | EDGE to build proxy workflows in which editors switch directly between high-resolution and proxy content with a single click. No relinking is required, saving production teams time, reducing complexity and making collaboration more efficient.
Media Composer's new Multiplex IO feature enhances the over-the-shoulder editorial experience by giving users the ability to stream up to 10 active I/O plug-ins simultaneously. This allows output from Media Composer to reach multiple streaming platforms and devices through different protocols at the same time – SRT, NDI and any connected and supported I/O hardware – allowing local monitoring while streaming to remote viewers.
This visual integration helps editing teams collaborate on projects while working remotely in post production environments. Control panels for each hardware interface or a streaming plugin can be accessed individually, through your I/O manager. Icons adjust automatically depending on whether you have selected hardware or software. www.avid.com