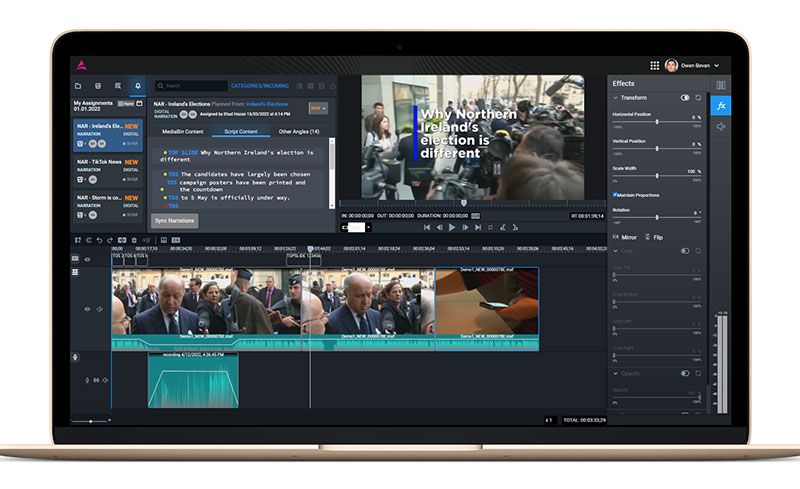 Dalet Cut powers live web-based editing from anywhere with native access to all assets including clips, sequences, projects and graphics, even on limited bandwidth. The intuitive user experience enables content producers and storytellers to collaborate with unparalleled speed and efficiency, delivering better audience experiences across linear and non-linear channels. In a few clicks, content targeted for linear channels can be repackaged for social and OTT platforms, optimizing resources and saving time.
"Dalet Cut is a game-changing web-based editor. There is no other solution on the market that provides such speed, mobility and format agility. The native integration of the editing process into the wider media production and storytelling workflow brings tremendous value through collaboration," states Robin Kirchhoffer, CMO, Dalet. "In news production specifically, Dalet Cut seamlessly blends field and newsroom editing workflows — offering exactly the same user experience to both.​ Designed for all skill sets, Dalet Cut simplifies editing and production workflows so that there is no training required for new users."
Dalet Cut Benefits for News Workflows
• Break the news first - Dalet Cut for Pyramid (originally Pyramid Cut) supports growing files, closed captions and edit-in-place both on-premises and in the cloud. Packaging and distribution of eye-catching stories is quick and easy in a single browser tab.
• Create multimedia news stories from anywhere - Cloud-native, browser-based proxy editing coupled with intuitive tools for story creation eliminates the need for VPN, media movement, local rendering or lengthy training. Journalists, producers, editors and freelancers can quickly come up to speed and use Dalet Cut to collaborate on news stories for digital, social, TV and radio from anywhere.
• Produce digital-native content - The digital-first approach features templates to adjust aspect ratios for various video requirements, ensuring stories are prepared in the right shape and form. Users can write scripts, edit content, record narration, add graphics and manipulate captions. Innovative script-to-graphic and AI-powered translations enable users to add impactful narration graphics to stories quickly and easily.
• Collaborate better with story-centric workflows - Dalet Cut is natively connected to Dalet Pyramid planning calendars, assignments, rundowns, archives and more. With full access to Dalet Pyramid shared resources, users can easily collaborate and focus on story development and editorial decisions without the burden of trying to locate relevant content. Dalet Pyramid gives Adobe Premiere Pro editors full access to the newsroom, boosting remote workflows.
"Dalet Cut is designed for fast adoption. Its purpose-built feature-set gives newsrooms the competitive edge - especially when it comes to covering breaking stories - in any format, across every platform," states Mathieu Zarouk, VP, Product Management. "The cloud-native solution supports growing files and remote rendering giving journalists a jumpstart on live story development and the added speed boost they need to ensure it is delivered on the fly from anywhere."
The fluid exchange of information between Dalet Cut and the Dalet Pyramid substantially improves productivity and collaboration for creating news stories. Existing Dalet Galaxy customers can benefit today from Dalet Pyramid centralized planning, remote editing and digital production "plug-and-play" subscription-based solutions.
For more information on Dalet Cut, please visit the Dalet Pyramid page and watch the latest Quick Cuts episode about remote editing workflows.
Dalet Cut to Address Any Digital Content Production Workflow with Dalet Flex
An illustration of Dalet's new single-technology stack approach, Dalet Cut will be available in Summer 2023 as part of the Dalet Flex media workflow platform. More than a news editor, Dalet Cut allows any content owner and storyteller to edit digital content such as sports and event highlights, short-form programs or social promos thanks to its multimedia and multiplatform production capabilities.