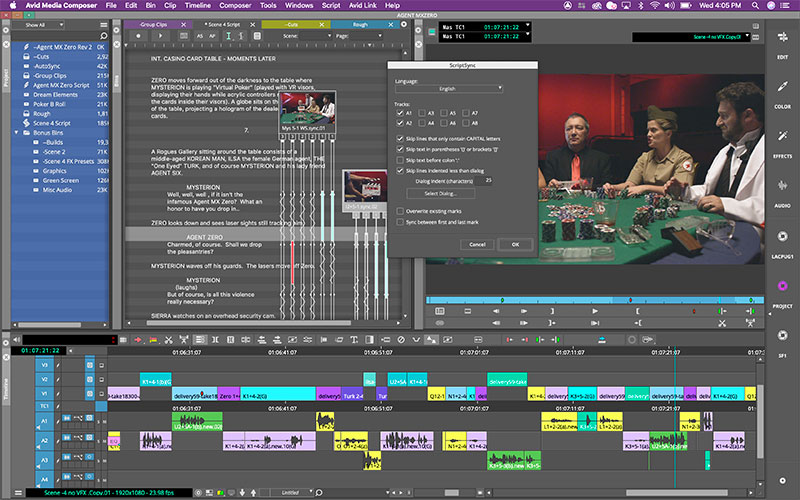 ScriptSync AI
Avid's most recent updates to Media Composer 2023.8 include new capabilities to its two AI-driven dialogue search and sync tools, PhraseFind AI and ScriptSync AI. Aiming to remove mundane, repetitive procedures, the new functionality can help speed up script-based editing, keeping the focus on storytelling and saving time.
Avid has also developed a new Media Composer Panel Software Development Kit (SDK) to widen the scope for editors to work directly with custom and third-party video editing apps, services and libraries when using Media Composer. Developers can source, build and integrate the apps as components directly into Media Composer, to be used within editorial workflows.
Avid will demonstrate these and other new Media Composer features and capabilities at the IBC2023 Show in Amsterdam.
AI-Assisted Transcription, Search and Script Creation
Editors use PhraseFind AI to find relevant clips by typing a word or phrase. The tool then automatically analyzes all clips in the project and indexes the audible dialogue. When search results are found, it displays the complete sentence containing the search terms. This makes reviewing and logging footage in advance is unnecessary. It also generates transcripts and detects multiple languages automatically, and has a new transcription management tool.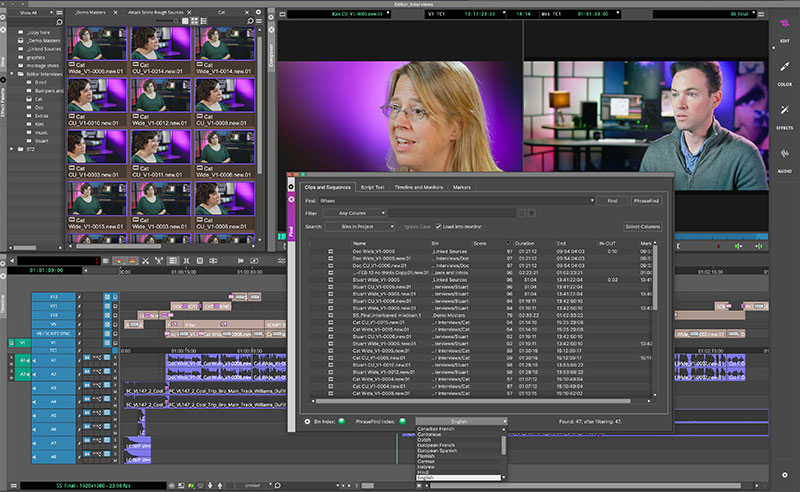 PhraseFInd AI
PhraseFind AI integrates directly with the Media Composer Find tool, so that editors can start editing clips from within the search results without exporting or importing clips, or finding the right file. Frequently performed searches can be saved, and results limited to particular files using metadata. All search results are automatically ranked for accuracy and appear in a virtual bin. The tool searches project material stored across local and shared storage, and initially supports 21 languages.
With a similar approach, ScriptSync AI indexes a project's text and audible dialogue, and then syncs each source clip to its associated line in the script. The includion of the AI engine means users can create scripts from clips and automatically align the media with text in the script window. Relevant clips can then be located based on a word or phrase search, allowing an editor to compare performances in the context of the story and either choose one or edit dialogue together from different sources to create an 'ideal' performance.
Editing text in the script to match what was actually said in the synced clip is another possibility. ScriptSync AI features a new transcription management tool as well, with automatic multi-lingual language detection.
The new PhraseFind AI and ScriptSync AI updates are available as previews through the latest Media Composer release.
Media Composer Panel SDK – Workflow Integrations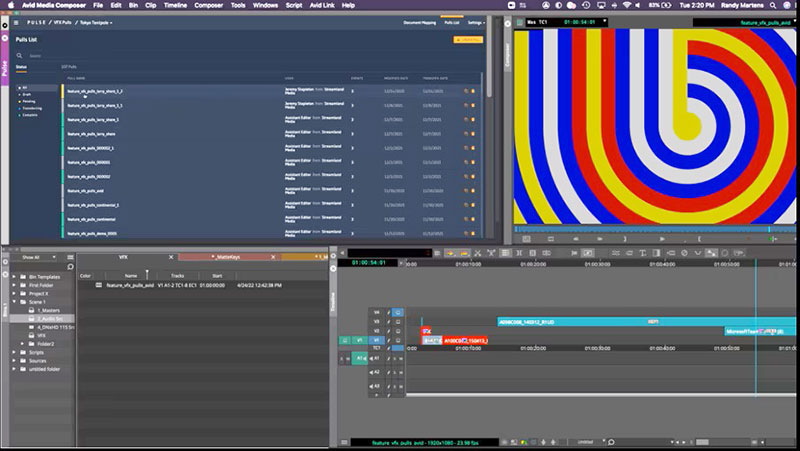 Media Composer Panel SDK
Language-independent for Windows and Mac, the new Media Composer Panel SDK connects to a range of commands and functions, and grants access to applications and services through an integrated HTML5 panel. Through this panel, editing teams at studios and post houses managing many different critical processes can make working with Media Composer more efficient, for example, by directly integrating the third-party tools they need to carry out dailies uploads, VFX pulls, logging for news and sports, and content review and approvals.
Available to customers and third-party developers now, the Media Composer Panel SDK will be seen in demonstrations during IBC2023 in several integrations including Autodesk Moxion, a secure collaboration platform used from preproduction through final review. With the Moxion Panel for Media Composer, editors can browse, search and import Moxion production files directly into Media Composer for editing, or upload Media Composer cuts directly into Moxion to support review and approval processes.
In a similar way, Dixon Sports Computing's Rich Metadata Engine, which has Content Intelligent Loggers and search tools, can be used to form a clip management system to monetise and manage material held in content libraries, and the PIX media asset management platform, which also has secure asset review-and-approval tools, can support collaboration throughout the production pipeline.
Avid will demonstrate these and other new Media Composer features and capabilities at the IBC2023 Show in Amsterdam, 15-18 September. www.avid.com