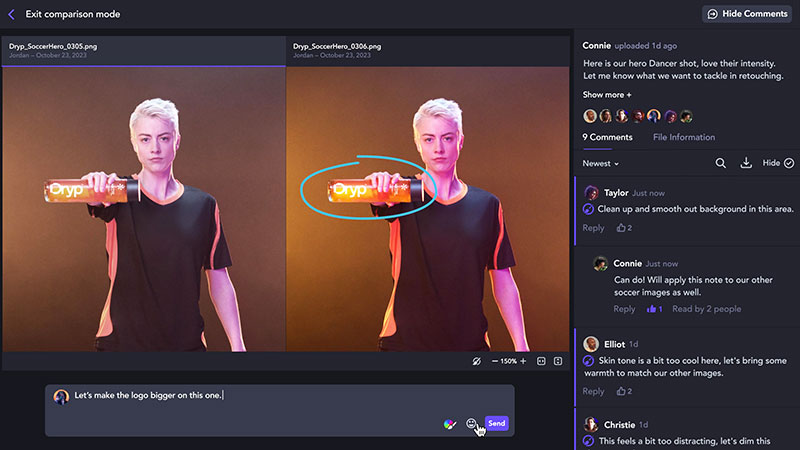 New features are now available in beta for Premiere Pro, After Effects and Frame.io including collaboration tools for professional teams and AI-powered functions for automating time-consuming video editing and graphic design tasks, with various workflow enhancements.
PREMIERE PRO
Premiere Pro in particular adds AI-driven features including Enhance Speech, used to quickly clean up dialogue, detect and remove filler words in Text-Based Editing, and improved Auto Tone Mapping for more consistent colour output. The timeline is now several times faster, resulting in smoother, more responsive editing, trimming and similar timeline tasks.
Enhance Speech
When the overall speech quality in video is compromised by poorly placed microphones, excessive background noise or low-quality archive footage, the audio can be very difficult to clean up. Enhance Speech uses an AI to recognise and identify background noise, allowing the editor to remove it selectively. You can make it sound as if it were recorded in a professional studio or use the mix slider to incorporate some of the background noise to make it sound more natural and interesting.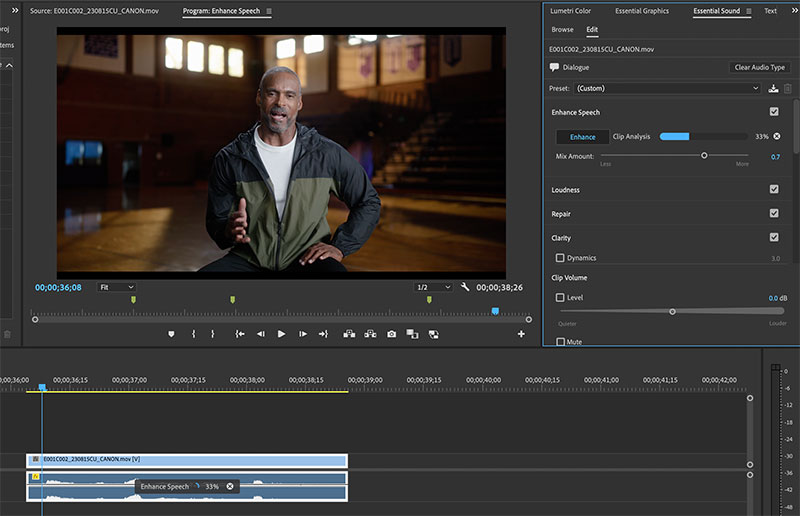 In a similar way, the new Audio Category Tagging uses AI-based tools to determine which clips contain dialogue, which contain music and which are sound effects or ambient noise. When each audio clip is selected, the most relevant tools are automatically displayed. By taking over some of the identification and decision-making, both Enhance Speech and this tagging feature speed up audio editing and result in more professional sounding video very quickly.
Enhance Speech and Audio Category Tagging are located in the Essential Sound panel. Both features process in the background to allow users to continue keep working .
Text-Based Editing
Premiere Pro introduced Text-Based Editing earlier in 2023 to help turn creating rough cuts into more of a text copying and pasting operation.
Text-Based Editing has now been enhanced with filler word detection to automatically identify 'ums' and 'uhs' in dialogue. These filler words, pauses or other unwanted dialogue can be removed in one step using bulk delete, which is accessed in the Transcript panel in Text-Based Editing workspace.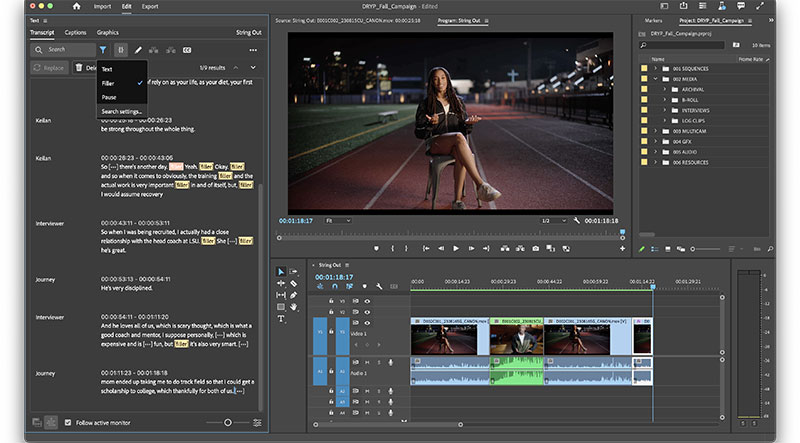 Filler word detection
Speed is a large element of the new version of Premiere Pro. Adobe's recent comparisons to Premiere Pro 23.4 on Mac and Windows indicated a 5x timeline performance improvement for faster editing, and new tools such as the Effects Manager help users find incompatible plug-ins to optimise system performance. in the event of a problem, Automatic project recovery returns the user to the point where an operation stopped working, saving time.
Colour
Premiere Pro has new colour preferences and the Automatic Tone Mapping has been updated to include three new tone mapping methods. In the Lumetri Color panel the Settings tab now consolidates Preferences and Project, Source Clip, Sequence and the new Sequence Clip colour settings, which were earlier spread across panels and General preferences. LUT management and relinking are also better, and users can ensure colours look exactly as expected in QuickTime Player by adjusting the new Viewer Gamma option.
Other small Premiere Pro updates are project templates to use as a head start for new projects, custom export locations, a new metadata and timecode burn-in effect, batch selection of markers among others.
AFTER EFFECTS
In After Effects, AI has been applied to rotoscoping to help automate the process of removing objects, making it faster and more accurate.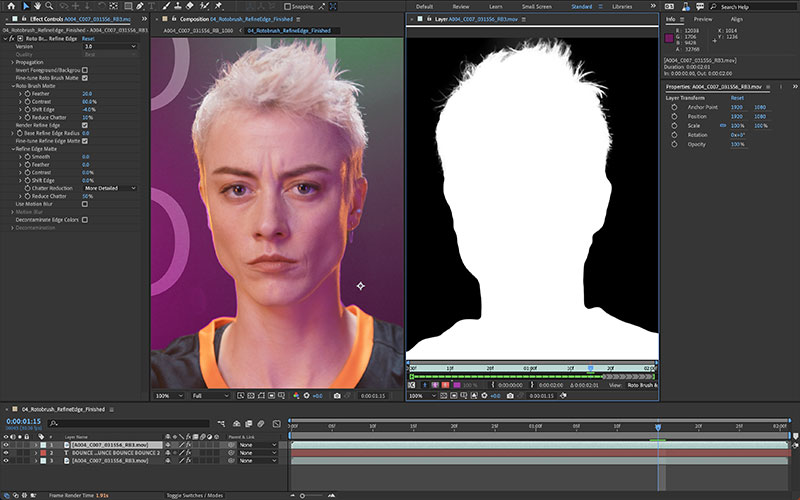 Equally interesting is After Effects' new true 3D workspace where users can add depth and dimension to compositions in a unified space. 3D model import allows you to import 3D model files natively in OBJ, GLTF, and GLB formats and render them in the same 3D space as the existing After Effects cameras, lights and other 3D layers.
Image-Based Lighting places models into a scene and applies complementary lighting and shadows borrowed from the HDRI file of a chosen image, using it as a light source. The effect is make the model and the background scene appear as if they belong together, enhancing realism.
A new composition renderer, Advanced 3D, is now available to render attractive, polished 3D motion graphics with refined antialiasing and transparency. Advanced 3D is based on a rendering engine that is shared with other Adobe and Substance products and uses Adobe Standard Material properties for physically-based rendering.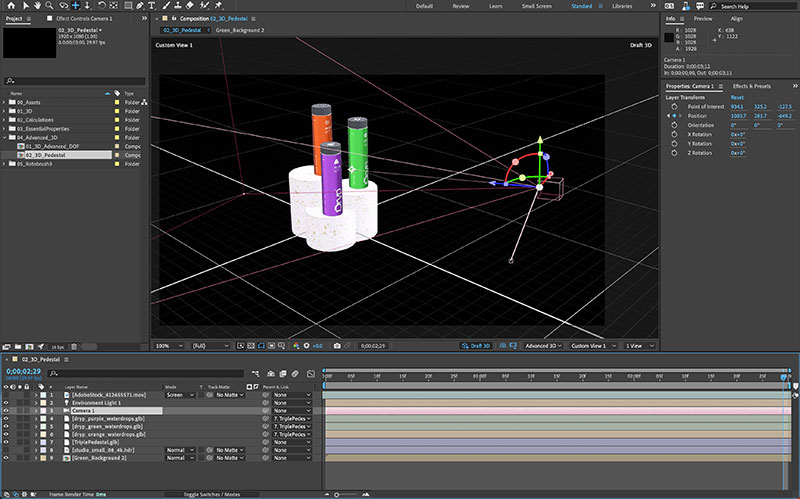 3D Workspace
So far in the After Effects beta, Advanced 3D renders 3D models, other 3D layers such as extruded text and shape, cameras, lights and 2.5D plane layers, and can be used to light 3D layers in a composition.
Artists can also combine 2D and 3D assets such as 3D models or extruded text and shapes within a composition. Effects that reference another layer, such as Displacement Map, Vector Blur or Calculations, can use a 3D model layer as a source to create highly stylized renders.
FRAME.IO
Storage Connect
The Frame.io beta introduces Storage Connect, developed to speed up collaboration and limit costs for Enterprise users who need their software to scale so that they can use the cloud storage they already own, and still keep control of their assets. Storage Connect establishes direct connection to AWS S3 storage and makes lightweight proxies available in Frame.io. Storage Connect will be available later in 2023 for Frame.io Enterprise customers.
Comparison Viewer
The frame.io review and approval tools are updated to work with and compare a wider range of assets used for multiple purposes. For example, the comparison viewer now supports viewing video, audio, photo, design file and PDF assets side-by-side. Users can compare any two matching asset types with access to commenting and annotations – comparing two different assets, or many versions of an asset or draft.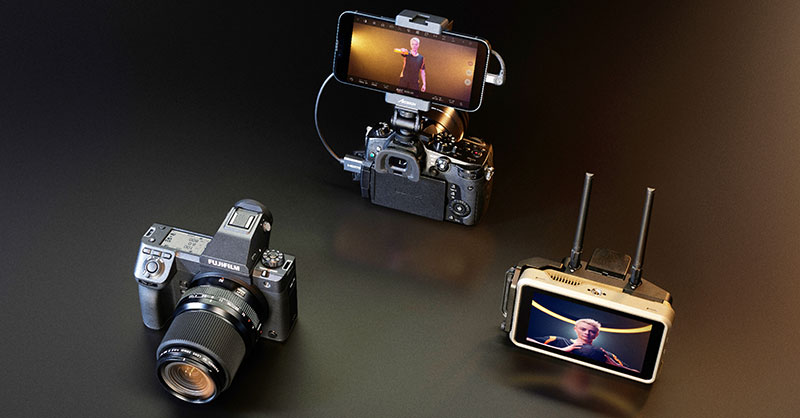 Camera to Cloud Expansion
Camera to Cloud has grown and now gained support on over 200 camera systems through a large network of integrations. Five new Camera to Cloud connections for Frame.io and Creative Cloud users are being announced at IBC.
Atomos has two new Camera to Cloud-compatible capture devices, the new Ninja and Ninja Ultra. When paired with an Atomos CONNECT module, video teams can capture and automatically upload 10bit 4K H.265 assets to Frame.io after each take. The Ninja Ultra includes dual-record ProRes RAW and HD proxy C2C capibilities supporting online/offline workflows.
Fujifilm's new large-format mirrorless GFX-100ii camera – with a 55mm CMOS II HS sensor – can be used to capture and upload 102MP RAW photos and up to 10bit 8K video clips remotely to Frame.io. This is a native integration that does not require further hardware to make use of Camera to Cloud.
New to the Camera to Cloud network is Accsoon, a wireless video transmitter/receiver developer. Both of their SeeMo and SeeMo Pro devices for videographers, journalists and news teams, make it possible to use iPhones or iPads as professional video monitoring tools.
The SeeMo, built for mirrorless cameras, attaches to the camera via HDMI. The SeeMo Pro is a more rugged device that attaches via HDMI or SDI and suits ENG and mid-range cine cameras. With the new Camera to Cloud integrations, both products support monitoring, recording and uploading of lightweight HD H.264 video clips from a connected iPhone or iPad, directly to Frame.io. www.adobe.com