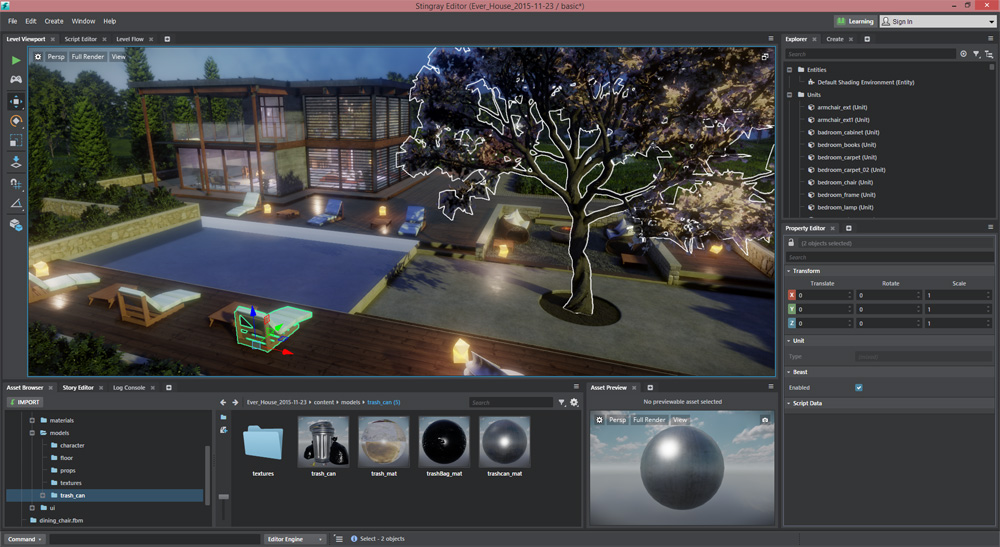 Stingray v1.2 adds support for new VR platforms including the HTC Vive VR platform and Oculus Rift SDK v0.8. Project and asset import is faster through multiple CPU compiling, speeding up common tasks within the engine.
To improve workflows, entity support in story mode makes it possible to animate the shading environment with lighting, atmospheric and camera effects such as global illumination, fog, depth of field and other looks. A new unit component editing tool moves, rotates or scales and animates sub-components of units, which are the game objects such as cameras or meshes that contain a fixed set of components, like templates.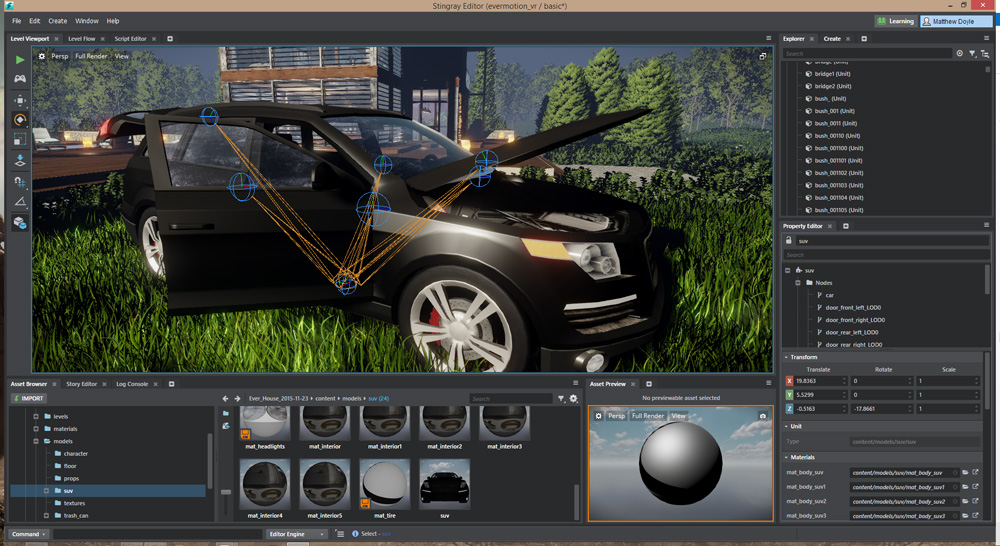 More flexibility in the UI helps you snap, move, maximize or minimize Stingray tools independently of each other and allows the use of multiple monitors during development. The addition of rendered outline highlights makes it easier to find lost objects within large scenes.
Maya LT Extension 3
Maya LT Extension 3, which is coupled with Stingray v1.2, includes improvements to modelling, UV creation, rigging and animation, and has an updated exporter to simplify character creation. A new quick rig tool can be used to automate the creation and placement of bipedal character rigs, and HumanIK support for up to five roll bones per limb distributes model deformations during an animation.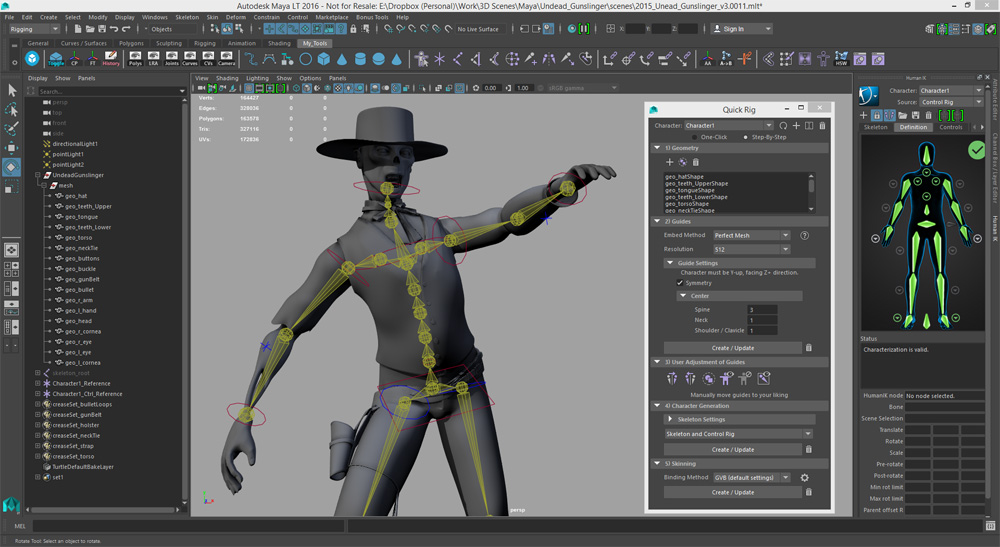 New shape authoring tools and a shape editor, a blendshape deformer and sculpting enhancements are among the improvements to modelling, with a robust mesh mirroring command and expanded tool symmetry. Tool symmetry allows you to sculpt on one side of a model and affect the vertices the same way on the opposite side of the model, at the same time.
For UV creation, a new brush-based Symmetrize UV Tool has been developed. There is multi-object support now for Unfold, which lets you unwrap the UV mesh for a polygonal object while trying to ensure that the UVs do not overlap. Unfolding UVs helps to minimize the distortion of texture maps on organic polygon meshes by optimizing the position of the UV coordinates so that they reflect the original polygon mesh more closely. Improved layout and auto-seam functions have been added, with poly modelling enhancements.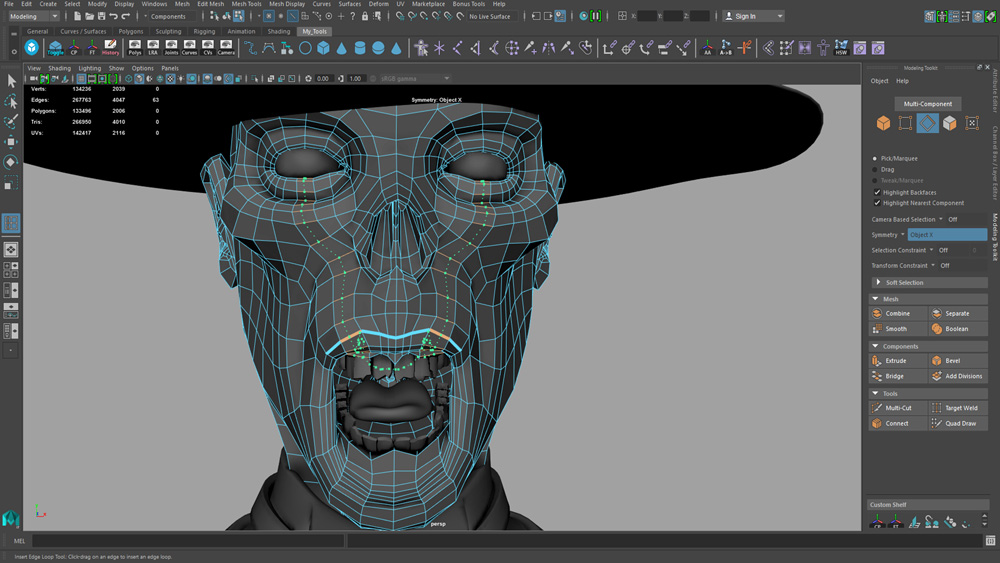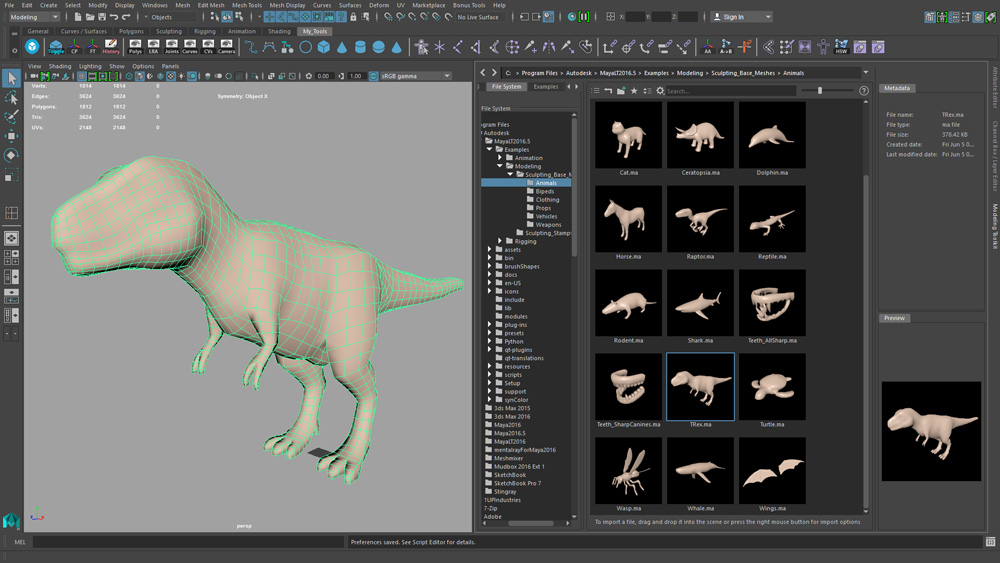 Maya LT's Extension 3 has an updated Game Exporter as well. Users can select objects in the viewport, create a named set with one click and view it in the game exporter as an object to be exported. To when choosing an animation clip's start and end times, a click-drag workflow now helps to scroll through key frames more efficiently.
During GDC, 14 to 18 March in San Francisco, Autodesk is hosting sessions that focus on developers such as Eidos-Montreal on 'Narrative Driven Experiences' and Fatshark on Warhammer, plus Stingray demonstrations including a session on building VR experiences. See the dedicated GDC 2016 page on Area.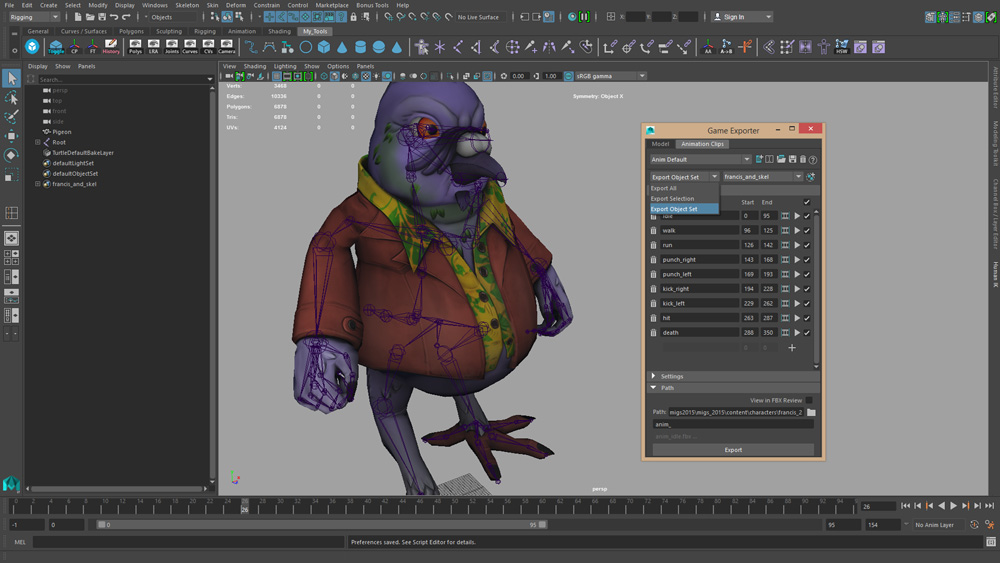 Stingray v1.2 is available for subscription customers to download starting 15 March 2016. Maya LT 2016 Extension 3 will be available for download to customers on subscription 18 April 2016, and includes access to Stingray v1.2 in the monthly subscription fee. autodesk.com