Imagination Studios Creates Real Time Game Experience with OptiTrack
Creative services company Imagination Studios and Onemotion, an integrated marketing agency, developed and designed an interactive 3D game for visitors at DreamHack Summer 2015 held 13-16 June in Jönkoping, Sweden. Armed with a UV light rifle and an OptiTrack Prime 13 mocap system, players took down their enemies in real time. It was created on behalf of Swedish potato crisp company Estrella for their presence at the digital festival, which attracted over 23,000 visitors.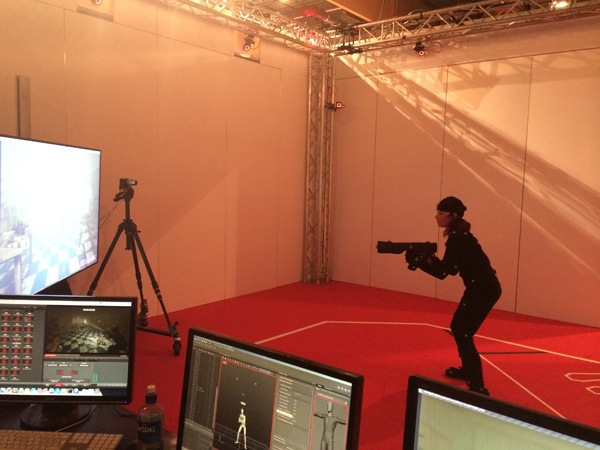 DreamHack is among the world's largest digital festivals, a local area network gathering with live concerts and competitions in digital art and e-sports. It was originally held in Sweden and now comprises several events across Europe through the year. It is officially recognized as the world's largest LAN party and computer festival, and having the world's fastest Internet connection and the most generated traffic.
New Approach To Game Play
"We wanted to create a challenging and unexpected experience that would motivate attendees to give a totally new approach to game play a try, in a simplified form. Beyond being technically feasible, the experience needed to be fun and also push the boundaries of our comfort zone," said Imagination Studios Motion Capture Supervisor and Line Producer Samuel Tyskling. "We hadn't heard of anything similar being done before, so we decided to give it a go. We put our OptiTrack motion capture system to work, deciding it was both flexible and precise enough."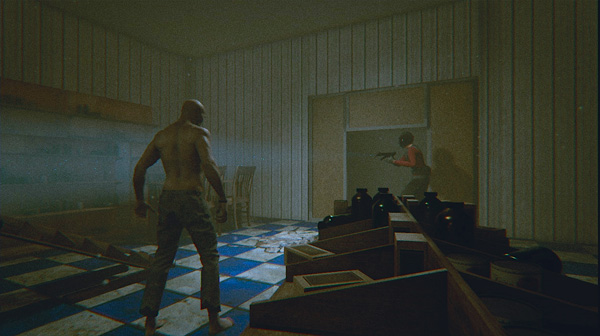 Starting from the concept stage and completing in less than four weeks, the project also relied on the Imagination team's technical expertise in motion capture, 3D animation and previsualization. To set up an interactive experience, the team developed the game in the Unreal Engine 4 and then streamed live motion capture data from the live players on-site directly into the engine. Outfitted in a 3x3 mocap suit with reflective markers, each player in the volume was tracked by 12 OptiTrack Prime 13 cameras surrounding a 4m x 4m area.
Using OptiTrack Motive software, real time skeletal data generated during the calibration process was streamed into Unreal and retargeted to their target character game rig using a third-party plugin from Ikinema. Compare the two images above to understand what was happening.
Unreal Action
Playing the game at DreamHack involved several elements from both the players' and the operators' point of view. The action takes place inside a ransacked Estrella Crisp shop taken over by hungry and aggressive vampires. "As the game starts, several vampires notice your presence and start moving toward you who, as the player, are armed with a UV-light rifle. As you shoot, light from the rifle is visible in the game engine in real time. If you successfully beam the vampires, they start to disintegrate and, after a full second, completely disappear," said Samuel.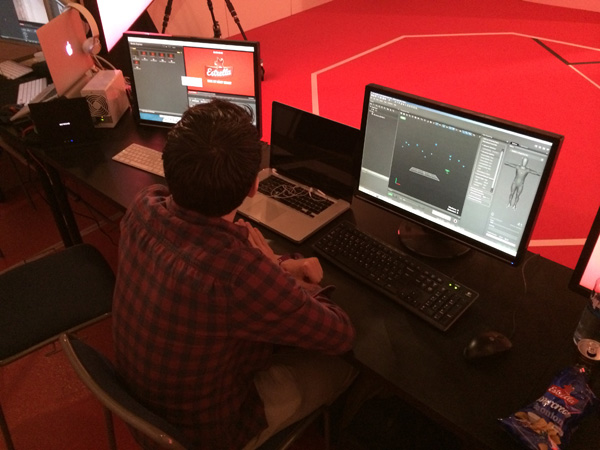 "However, at the end of the game you are rated not only on how many of the vampires you successfully disintegrated but also for your performance doing it. Standing still would give you a low performance-rating while actively performing cool and entertaining moves would give you a higher score."
Throughout these proceedings, the player was watching a 75-inch TV screen displaying a static camera built inside the engine at the spot where the player enters the shop. Meanwhile, the action inside the game was captured with a more cinematic camera from several angles, and then edited somewhat to make it more interesting to watch. Each session was finally recorded with Blackmagic Design Media Express so that participants could share their experiences via Facebook and Instagram. A winning player was nominated from each day of the event and, in the end, the top winner was awarded a grand prize on the main stage.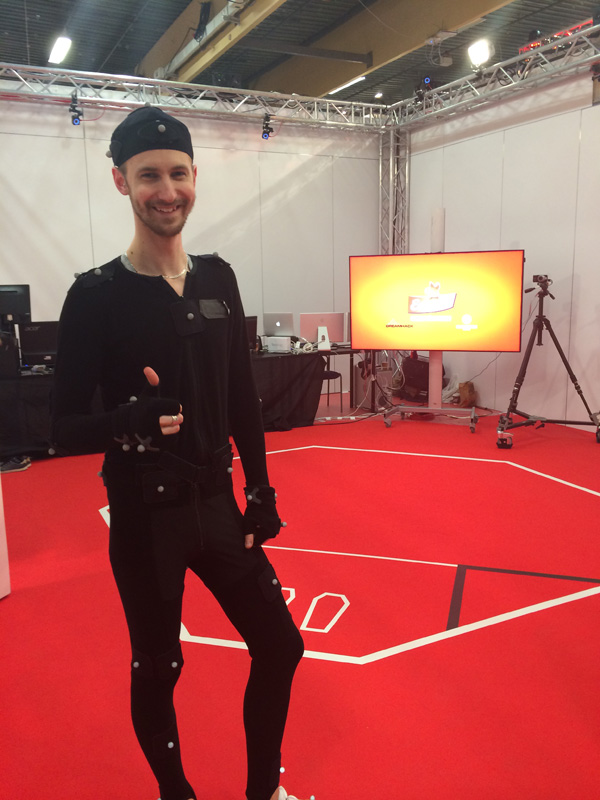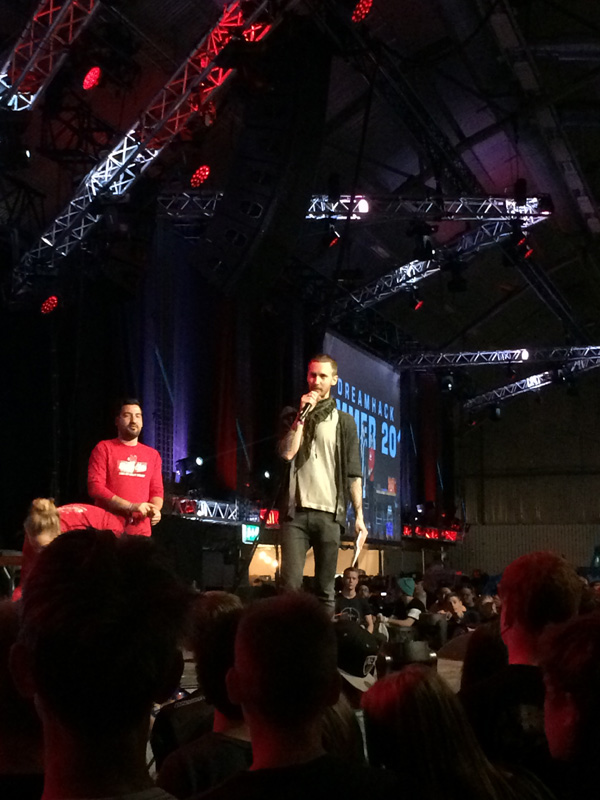 Pressed for Time
"We were pressed for time at DreamHack, especially because we wanted to give everyone a chance to try it, and the OptiTrack gear ran smoothly through the essential elements of the project - from setting up the cameras, to calibrating them and the actors and creating actor skeletons. I also don't think we could have captured that many players without the Motive software workflow, which I very efficient," said Samuel. "This was the first time we had attempted streaming from Motive, or any other motion capture software, to Unreal."
To effectively rotate participants through the game and account for a wide range of body types, the team pre-markered six motion capture suits and ten pairs of shoes in different sizes, plus additional gloves and caps. By the end of the festival, the team had captured data from more than 160 individuals ranging in age from 9 to 45 years and varying in height from 130 to 200+ cm, which would not have been achievable without the OptiTrack cameras' ability to calibrate subjects in a single click. Full range of motion calibration can take up to 15 minutes per person in some systems. www.optitrack.com