Bluefish444 KRONOS Video I/O Covers TV and Movie Production and Post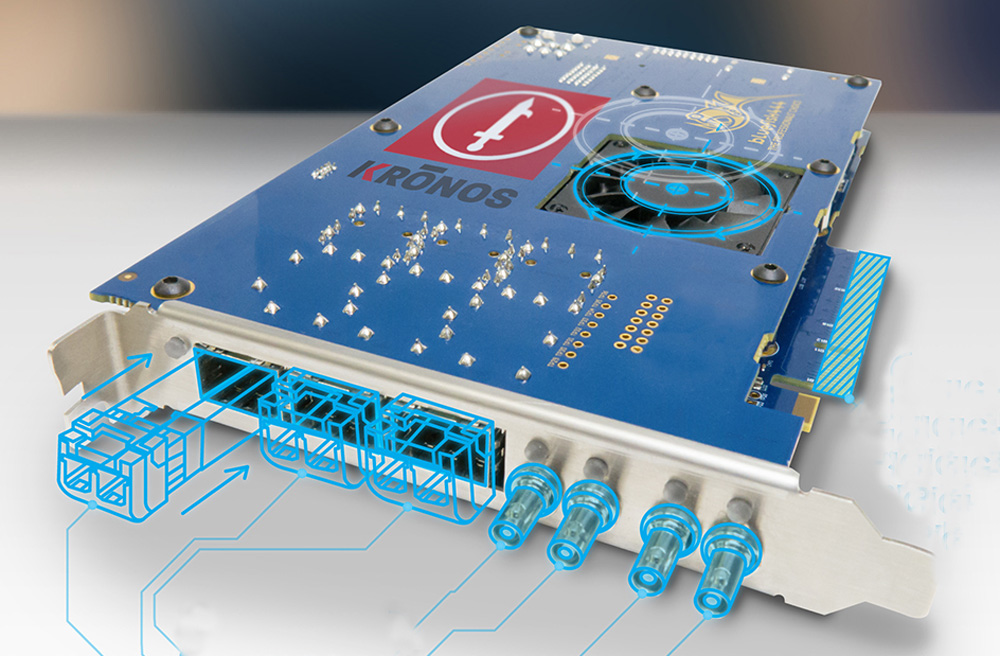 The new Bluefish444 KRONOS video and audio I/O cards are developed to support workflows requiring Ultra HD up to 8K, high frame rates up to 120fps, high dynamic range and video over IP. This hardware line extends the functionality of Bluefish444's Epoch video cards, which support up to 4K 60 fps workflows.
The capabilities mean Bluefish444 cards can be used in all areas of TV and feature film production, post, display and restoration, plus virtual reality and augmented reality. For use in theme parks, music concerts, sporting and outdoor events, the KRONOS hardware is also suitable for single and multi-card support enabling 8K/4K/2K imagery presented across one or more screens or projectors.
KRONOS has video processing functions as well - for example, resolution scaling, video interlace and de-interlace, hardware CODEC support, SDI to IP and IP to SDI conversion - and still has the 12-bit colour space conversion and low-latency capabilities of Epoch.
For real-time graphics used in sports and live event applications, the KRONOS cards may be especially useful because of their ability to achieve and maintain a high level of quality and low latency while users add multiple streams of 4K Ultra HD and high frame rate video I/O.
Other attributes of KRONOS are single, dual and quad link interfaces, a full 4K frame buffer and 2K/HD hardware keyer. Users can customise the pixel formats, and have AES audio I/O and genlock loop through. They are also compatible with SMPTE 2022-6, the SMPTE standard for sending digital video over an IP network – the video formats supported include MPEG-2 and SDI.
The KRONOS range will be available in late 2016 and in the meantime will be demonstrated at IBC 2016. Users can choose HD BNC SD/HD/3G connectivity, or SFP+ connectivity enabling greater than 3G SDI and Video over IP across 10Gbps Ethernet, intended to cover emerging systems as they mature.
The KRONOS ēlektron has a choice of SDI I/O connectivity with eight high density BNC connectors capable of SD/HD/3G SDI. Each HD BNC connector is bi-directional to allow various configurations including eight input, eight output, or a mixture of SDI input and output connections.
The KRONOS optikós adds some future proofing connectivity with three SFP+ cages as well as two HD BNC connectors for SD/HD/3G SDI I/O. The SFP+ cages on KRONOS optikós come with many different connectivity options exposing greater than 3G SDI, IP connectivity across 10Gb Ethernet, and numerous physical interfaces to choose from.
KRONOS gives access to high bandwidth UHD, HFR and HDR video I/O and processing, across traditional SDI and newer IP standards such as SMPTE 2022. HDMI 2.0 I/O. All KRONOS cards will have an 8 lane Gen 3 PCIe interface to achieve a fast full duplex DMA, allowing certain hardware subsystems to access main system RAM independently of the CPU. Further SMPTE 2022 IP standards and emerging IP standards are planned for future support via firmware update. www.bluefish444.com