Harmony Square Drives Urban Screen with Bluefish444 & CasparCG
The City of Greater Dandenong, a suburb of Melbourne, Australia, works to promote multicultural events and artistic endeavours. As part of the development of their main public open space Harmony Square, which originally took place in 2014, a large 8m x 4m LED urban screen was installed to show a variety of local and international content.
The screen is used to feature sporting events, films, interactive artworks, news and other content, programmed around the clock every day of the year. As part of a larger public, civic space, it was important that the screen became the showpiece, and required a high-quality, reliable approach for the system's hardware.
Live and scheduled content is controlled by a master control area in the Council offices, which in turn controls all source and mixing hardware in a server room. 300 metres away, the screen is driven by multiplexing all the signals over optical fibre to simultaneously transmit several signals via a single channel of communication. As the intermediary equipment, Bluefish444 video cards combine with CasparCG Server software to deliver content to the big screen for pre-roll. This set-up allows the City of Greater Dandenong to drive dynamic templating, social media and other overlays to the SDI video output.

CasparCG is a software video server capable of playing multiple layers of dynamic graphics, video and images in real-time. Used in broadcast, live event and signage applications with the ability to generate content with its own alpha channel, CasparCG can output the video and key data through the Bluefish444 SDI outputs.
Programming is presented from a range of sources, including free to air, pay TV, creative content, Council messaging and other content providers. Harmony Square also accommodates live events with multiple 3G-SDI, fibre and CAT6 patch points located throughout the space, allowing live events to be broadcast directly to the screen or outside broadcast vehicle.
Thomas Dawe, Urban Screens Coordinator at the City of Greater Dandenong, was conscious of the risk of taking on hardware that would become a point of failure for their system in such a singular environment. With the same platform that drives the large screen at Federation Square in Melbourne, it was important to have a package that would consistently perform on demand.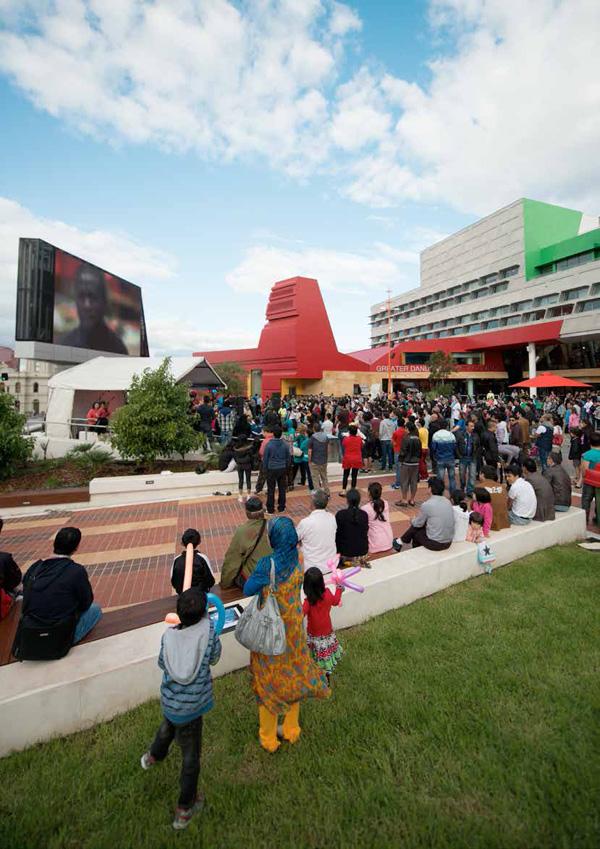 Thomas said the support that they have received from the Bluefish444 engineering team regarding the SDK and the CasparCG support has been excellent. Pleased with their existing video cards, Thomas and the City of Greater Dandenong recently acquired Bluefish444's Epoch | 4K Neutron video card with a plan to upgrade the system, allowing more scope and flexibility through the upcoming 3G support for CasparCG. Thomas also said, "We're looking at migrating to SMPTE 2022 IP delivery for our next major overhaul of the system. At that time, we plan to give the new KRONOS video cards with SFP connections, coming out soon, some consideration when we start rolling out the upgrade." www.bluefish444.com