AJA Updates Desktop Software, Ki Pro Ultra Supports Avid DNxHD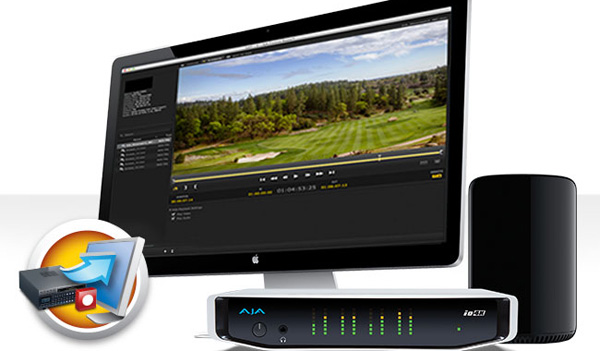 AJA's v2.0 firmware adds Avid DNxHD support to Ki Pro Ultra, their portable file-based 4K, UltraHD, 2K and HD video recorder and playback device. Available now as a free software download, Ki Pro Ultra v2.0 enables users to record and playback Avid DNxHD .mov files, to accommodate more production workflows.
Ki Pro Ultra v2.0 software now supports Avid DNxHD codecs including DNxHD HQX 220Mbps, DNxHD SQ 145Mbps and DNxHD LB 36Mbps. Supported frame rates are 23.98, 24, 25, and 29.97 for 1080p and 1080PsF, and 25 and 29.97 for 1080i, plus 50 and 59.94 for 720p.
As well as this new support, the Ki Pro Ultra, Ki Pro Rack and Ki Pro Quad all also now include Ki Protect, functionality that helps ensure data integrity if a media drive is accidentally removed, or loses power during recording. Ki Protect automatically pre-allocates recording space on the media drive for video, audio and timecode when the record button is pressed. While recording, the file header is continuously updated every time new data is written, lowering the risk of potential data loss if operations are interrupted. Frames already recorded will be preserved and are recoverable, promoting confidence on set and in the studio.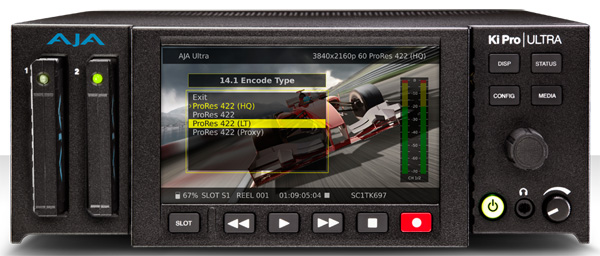 As well as new Avid DNxHD file support, portable Ki Pro Ultra captures edit-ready Apple ProRes files in video formats and frame rates up to 4K 60p. Ki Pro Ultra v2.0 firmware is available now as a free download, here.
AJA Desktop Software v12.5 for KONA, Io and T-TAP
AJA has also released Desktop Software v12.5 for its KONA, Io and T-TAP line-up of video and audio input/output devices. The v12.5 update adds support for Apple Final Cut Pro X 10.3, Adobe Creative Cloud 2017, MXF files, increases streaming capabilities, adds SMPTE 2022-7 support for the KONA IP, and helps enable the new HDR pipelines. This update allows Adobe Premiere Pro CC users working with AJA products to accurately monitor their HDR footage during editorial processing.
Other changes and support include capture and playback support for MXF OP-1A files in AJA Control Room, and capture support for MXF OP1a in Adobe Premiere Pro CC. HDR 10 HDMI infoframe output is supported in AJA Control Panel for KONA 4, KONA IP and Io 4K. Infoframes hold data format and rate details about your video.
For use in HDR workflows, KONA 4, KONA IP and Io 4K have 12-bit RGB frame buffer support in AJA Control Room, AJA Control Panel and Adobe Premiere Pro CC. SMPTE 2022-7 for KONA IP supplies direct protection switching for broadcast IP pipelines. Wirecast also now supports KONA IP and Corvid HB-R
AJA Desktop Software v12.5 is available today as a free download from AJA's support website. https://www.aja.com