DTL Buzz-USB Records Multi-Channel HD/SD-SDI Video Direct to USB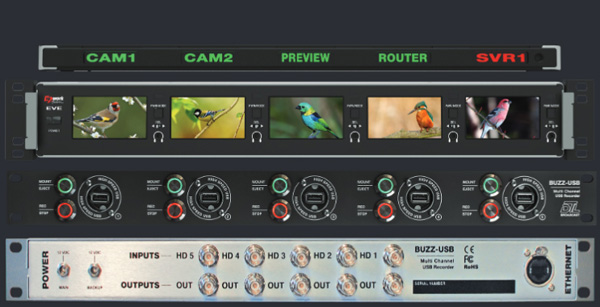 DTL Broadcast's new multi-channel Buzz-USB Recorder is a high definition 1RU video recorder that makes it possible to record HD-SDI or SD-SDI video with embedded audio directly to a USB drive.
Designed as a simple, quick, efficient way of capturing HD video and embedded audio to MPEG4 files, the Buzz-USB has a modular design so that users can start with a single USB recorder and add up to four extra USB channels. This facility means users can simultaneously make up to five copies or five different versions of a recording onto five USB drives.
The device's extreme flexibility makes it suitable for several different industry applications such as streaming, compliance recordings and security applications. Buzz-USB works well in sports environments, for example. A user operating the full five channels can activate the record buttons to capture five different versions of a feed such as a clean feed, a dirty feed, a director's feed, a coaches feed and an official's feed. After pressing the stop button when the event has finished, the five USBs are typically ready within a few seconds.
Buzz-USB is a complete recording system sold with a number of useful options. For example, an optional monitoring bridge that has five 2.8-inch high quality image monitors, each of which can also display signal format and audio metres. There is also a headphone socket for confidence monitoring.
A UMD and tally system is another option that has fixed UMD source identification and dynamic red and green tally lights so that users know exactly which video signal is on air. The X-Y switcher option has eight input signals and four outputs allowing users to create individual recordings or multiple copies. www.dtl-broadcast.com