AJA Ships VoIP and Streaming/Recording Devices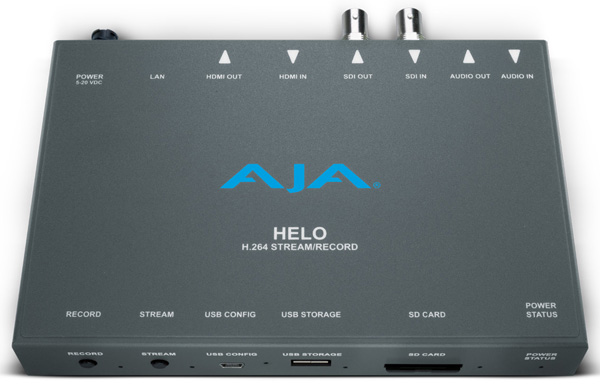 The new AJA IPR-1G-HDMI Mini-Converter is designed to convert JPEG 2000 IP video and audio streams to HDMI. It converts VSF TR-01 and other JPEG 2000 - over -MPEG2-TS formats for output on a full-size HDMI 1.4 interface. The Mini-Converter is fanless and supports a range of HD and SD formats.
It is designed for ruggedness and portability for use not only in studios but in several point-of-use applications including source monitoring, digital signage and video walls. IPR-1G-HDMI includes an RJ-45 (IEC 60603-7) for 10/100/1000Base-T Ethernet media input, and two RCA analog audio outputs. Running a full 10-bit pixel processing pipeline, it has embedded and analogue audio outputs, and can be set up quickly with AJA eMini-Setup software.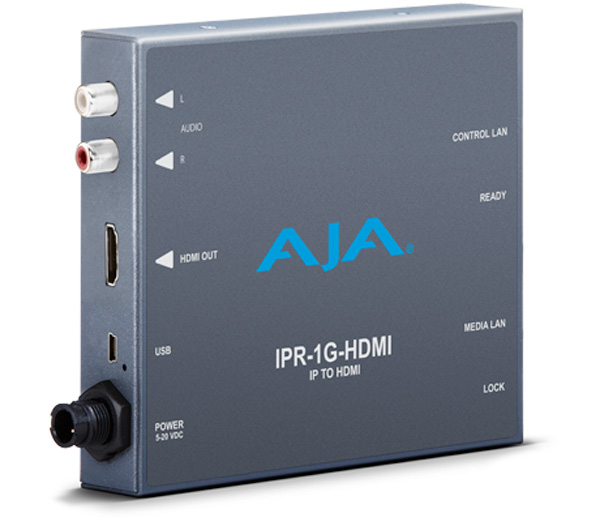 AJA HELO is a new H.264 streaming and recording device. Combining 3G-SDI and HDMI inputs and outputs into one standalone appliance, HELO allows users to stream video signals directly to Web Content Delivery Networks while simultaneously encoding and recording H.264 files to an SD card, USB drive or network-based storage – triggered through a single button.
With 3G-SDI and HDMI I/O, enough power to handle up to 1080p 60 recording formats and an web-based UI for setup and configuration, HELO can fit into a number of workflow options that match various professional streaming and recording applications found in live event production, webcasting, houses of worship, corporate communications, production and post. Compact and housed in aluminum, the device is lightweight to travel well for field projects.

HELO can achieve independently configurable H.264 streaming and recording bitrates up to 20 Mbps, with embedded audio support and dual RCA jacks for audio monitoring. USB, SD card and network recording supports flexible, scalable and inexpensive storage. A second USB port can be used to configure static/dynamic IP addresses, or make firmware updates via a simple UI. Thee are also dedicated stream and record buttons for start/stop triggers or complete web browser-based control. www.aja.com