Pronology mRes Captures Uncompressed 4k Video with Bluefish444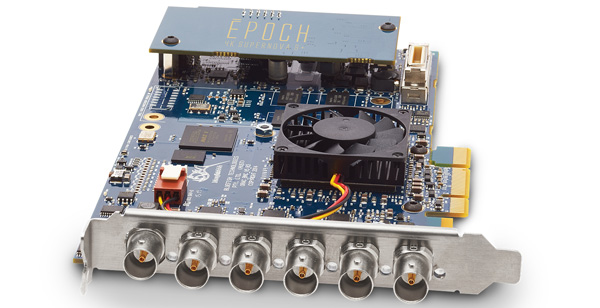 Pronology's mRes standalone multi-resolution encoder is now shipping with Bluefish444's Epoch | 4K Supernova S+ I/O video card. To create an integrated capture solution, the two companies developed a capture workflow that ensures that multiple channels of video are encoded accurately without missing frames.
For productions that require different codecs, wrappers and resolutions, mRes, Pronology's standalone encoder records multiple channels of video per SDI or IP input channel prior to compression and wrapping. A high-resolution media file, an edit proxy and a live web-streamable proxy can all be recorded simultaneously.

The Epoch | 4K Supernova S+ can capture and playout video resolutions and frame rates commonly used in production. Epoch | 4K Supernova S+ has four industry standard BNC video connectors that each allows 3G/2K/HD/SD SDI input or output, a fifth BNC for SDI monitoring and a dedicated sixth genlock BNC. With built-in bidirectional connectivity, developers using the Bluefish444 SDK, like Pronology with mRes, can configure the BNCs as input, output, 4K, 2K, HD or SD. In 2K/HD/SD video modes, each BNC connector can be any chosen frame rate frequency.
The mRes standalone encoder integrates with NLE systems from Avid, Apple and Adobe, allowing production teams to acquire content in many different codecs, including DNxHD, ProRes, XDCam and AVC-Intra, with various wrappers at most frame rates. mRes also works with most storage systems, including Avid ISIS and Small Tree. www.pronology.com