Workstation Review:The HP ZBook 15u is the new entrant in HP's recent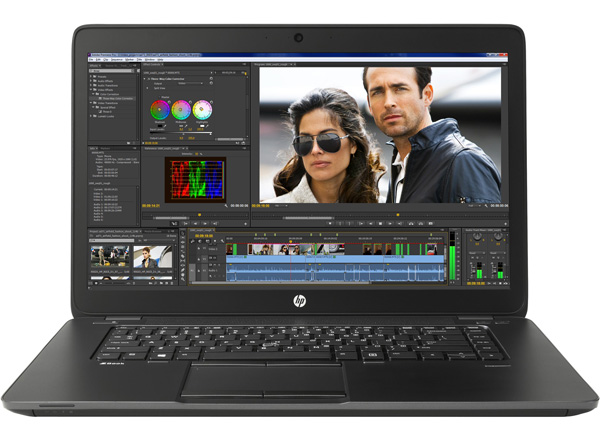 line of mobile workstations designed for film/video editing, graphic design,
CAD, education and architecture.
---
HP ZBook G2 15u Puts 3D Graphics & Storage Performance on the Move
TheHP ZBook 15uis the new entrant in HP's recent line of mobile workstations designed for film/video editing, graphic design, CAD, education and architecture. Digital Media World had a chance to see what it was like to use, in the office and on the go.
HP envisions a certain type of user for the ZBook G2 workstations whose key requirements are ahigh performance mobile CPUfor running software, graphics at or near workstation level with hardware-accelerated OpenGL graphics support where possible,ISV certificationsfor graphics application performance, and true64-bitcomputing. The form factor should be optimized for mobility, customisable and include ahigh-quality displaypanel.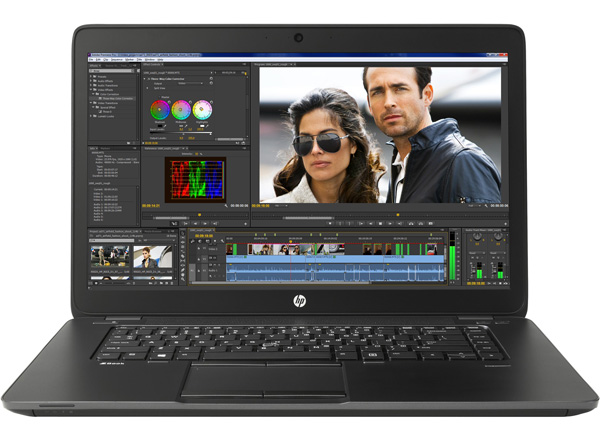 While the higher performance 15 G2 and 17 G2 ZBooks, updates of the G1 versions, have their attractions of NVIDIA Quadro graphics cards and OpenGL support, more memory and greater storage options, the new 15u that Digital Media World reviewed not only has competitive graphics and storage performance but also a very lightweight, thin construction that increases its value for people working outside of an office much of the time.
G2 Workstations
HP ZBook G2 Mobile Workstations were released in April 2015 and are based on the HP Z Workstation and original ZBook Mobile Workstation family. The 'Z' refers to HP's optimization of the computer processor, memory, graphics, OS and software components and the way they work together. The computers' combination of design, engineering and tools support visualization and, especially in the case of the mobile workstations, visual collaboration.
TheHP ZBook 15u G2is just under38cm, or 15in, wide and just over25cmor 10in deep, measures21mm thickat the front – less than 1 inch - and weighs1.9kg. Thicker at the back edge, the wedge-shaped design shifts the weight to the stronger back of the unit and allows the necessary thermal support, convenient I/O locations and better ergonomics. The unit's tool-free serviceability means you can get inside and remove most parts such as hard drives, optical drives and graphics cards without tools.
The customisable 15u is configured with 3D graphics, storage and performance to suit professional applications and software. Though missing out on OpenGL support, its specifications come very close to the ZBook 15 G2 and 17 G2, while it weighs just over half as much and are about 10mm thinner.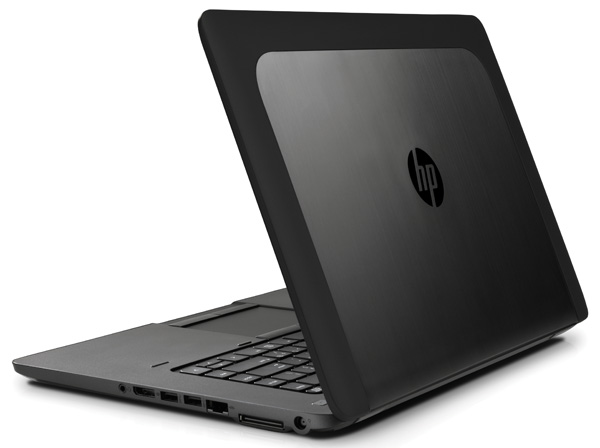 Operating Systems
The 15u comes loaded withMicrosoft Windows 8.1. Ubuntu Linuxv 14.04 is available, and alsoRed Hat Enterprise Linuxas a 1 year paper license, but dual preloading of operating systems isn't offered due to licensing restrictions. With 5th-generation Intel Core processors and AMD FirePro 3D graphics, the workstation supportscertified workstation applicationsfrom Adobe, Autodesk, Avid, Dassault, ESRI, SolidWorks, Siemens and other developers producing software for video editing, graphic design and CAD. Performance specs include up to DDR3L 16 GB of memory and up to 1.25 TB of storage, including PCIe-connected HP Z Turbo Drive solid-state storage.
Performance - Graphics, Storage & Processors
The primary differences between the larger, heavier ZBook 15 G2 and 17 G2 workstations and the 15u G2, lie in the processors, graphics cards and connectivity. The 15u contains theAMD FirePro M4170graphics card and is configured with Intel Core i7 or i5 processors with Intel HD Graphics 5500, which have up to 2.6 GHz, 4 MB cache and two cores. Dual-core processors were chosen because the very thin, light form factor doesn't allow enough space for the thermal requirements of quad-core CPUs in the larger ZBooks.


The AMD FirePro 3D graphics includeAMD Enduro, a switchable graphics mode that optimizes the notebook to instantly increase graphics performance when required, otherwise consuming almost no power. The ULT processors on the 15u will work with the discrete graphics to supply mid-level workstation-class performance. For heavily threaded applications or users that want high CPU performance, the HP ZBook 15 G2 and 17 G2, which are built with a quad core processor option and NVIDIA Quadro graphics, will probably be a better option.
Internal storage is up to1TB at 7200rpm, and it can accommodate up to two internal storage devices – one 2.5 drive and one HP Z Turbo drive – adding up to atotal of 1.25 TB. The computer comes with a 256GB solid-state drive, connected via PCIe. Options include a choice of tool-free capable, user-removable hard drives up to 1 TB with HP 3D DriveGuard protection.
HP 3D DriveGuardsoftware parks the head indefinitely so you can safely transport the notebook when you are not in standby mode. HP 3D DriveGuard keeps the hard drive head parked while you are moving without sending continuous park commands that can damage the drives.HP Performance Advisor, also pre-installed software, gives a quick overview of the entire system in one interface to help with troubleshooting.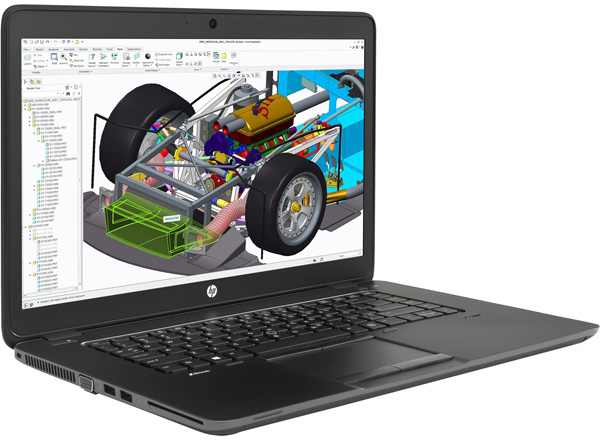 Some other SATA and SSD options are available for extra storage performance. TheHP Z Turbo Drive G2 PCIe SSD, an M.2 PCIe connected SSD powered by Samsung's NVMe specification, can output up to four times the performance of a conventional SATA SSD for a similar cost. It was developed with the new NVMe protocol, designed for flash memory to achieve higher bandwidth and shorter latency in SSDs. The result is faster sequential performance, and more than twice the random read performance of the original G1 drive, plus faster I/O response to process large data sets.
Display
The 15u has anLED-backlit 15.6-inch diagonal full-HDscreen, with an option for an ultra wide viewing angle IPS screen. Undocked, you can run a total of three displays, including one 4K monitor, from the workstation which uses aside docking system, also due to its thin design. There is a DisplayPort 1.2 connection for external monitors, and three USB 3.0 inputs plus one USB 3.0 charging port, Ethernet and a combined headphone/microphone port. SATA III SSD drives are also supported up to 512 GB. Built for highly mobile applications without heavy throughput requirements, it does not have Thunderbolt connections.
Supplied with the 15u,HP Remote Graphics Softwarehas been updated to version 7.1, with a 60 per cent increase in performance according to HP. The update will support media and entertainment workstations with higher resolution displays, used for very accurate image playback, and fast remote editing.
RGS 7.1 also allows nativeWacom tablet redirection to Linux– very useful, for example, at animation and VFX companies that collaborate between studios and remote offices to speed up content creation. Users can share Windows or Linux workstation screens with several users simultaneously, granting view-only or full interactive access. In effect, this consigns workstation power to the server and allows artists to connect from remote computers and access the full power of their workstations.www.hp.com