Blackmagic Delivers Micro Camera Updates, 8K Capture Card at InterBEE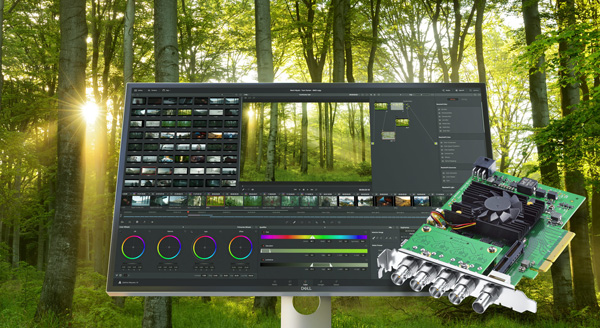 At InterBEE in Tokyo, Blackmagic showed their new quad link 12G-SDI capture and playback card designed for HDR 8K workflows, their updates package for the Micro cameras and new 6G‑SDI mini converters.
Blackmagic Design's new DeckLink 8K Pro, a high performance capture and playback card featuring quad link 12G‑SDI, allows real time high resolution 8K workflows. It supports all film and video formats from SD up to 8K DCI, 12‑bit RGB 4:4:4, and handles new colour spaces such as Rec. 2020 for deeper colour and higher dynamic range. DeckLink 8K also handles 64 channels of audio, stereoscopic 3D, high frame rates and other functionality.
As a digital cinema capture and playback card with four quad link multi rate 12G‑SDI connections, DeckLink 8K Pro can work in all SD, HD, Ultra HD, 4K, 8K and 8K DCI formats and is compatible with all existing professional SDI equipment. The 12G‑SDI connections are also bi-directional so they can be used to either capture or playback quad link 8K, or for the simultaneous capture and playback of single or dual link SDI sources.
Regarding image quality, the 8K images have 16 times more pixels than a regular 1080 HD image, which lets you reframe or scale shots with fidelity and precision. DeckLink 8K Pro also works in 12‑bit RGB 4:4:4 as well as the Rec. 2020 colour space designed for high dynamic range Ultra HD and digital cinema work in 4K and 8K.
DeckLink 8K Pro's combination of higher resolution, a larger colour space and wide dynamic range results in sharp, vivid images for editing, color and high end visual effects work.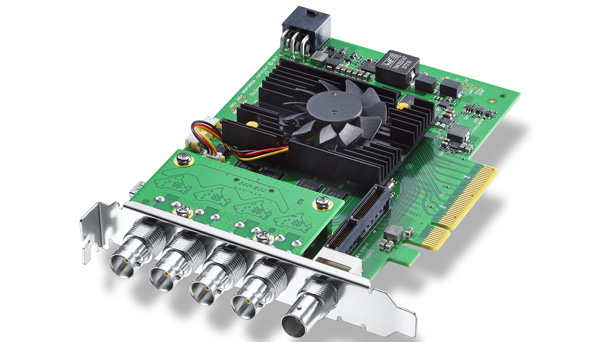 DeckLink 8K Pro supports capture and playback of 8 or 10-bit YUV 4:2:2 video and 10 or 12‑bit RGB 4:4:4. Video can be captured as uncompressed or to industry standard broadcast quality ProRes and DNx files. DeckLink 8K Pro lets customers work at up to 60 fps in 8K and supports stereoscopic 3D for all modes up to 4K DCI at 60 fps in 12‑bit RGB.
DeckLink 8K Pro is built into an 8 lane generation 3 PCI Express for Mac, Windows, and Linux workstations. Customers are supported for all legacy SD and HD formats, as well as Ultra HD, DCI 4K, 8K and DCI 8K, with Rec 601, 709 and 2020 colour.
DeckLink 8K Pro is designed to work directly with the upcoming DaVinci Resolve 14.2 Studio for a straightforward editing, colour and audio post production workflow suitable for mastering full resolution high dynamic range projects in 8K resolution. The card also works with other professional software such as Final Cut Pro X, Media Composer, Premiere Pro, After Effects, ProTools, Nuke and others. A free software development kit helps users and OEMs build their own custom solutions.
DeckLink 8K Pro will be available for AU$935 in early January. DeckLink 4K Extreme 12G is available now for AU$1239.
6G-SDI Mini Converters
Blackmagic Design's new 6G‑SDI mini converters for converting SDI to HDMI and HDMI to SDI, demonstrated at InterBEE, have more functionality and lower prices than the previous 3G‑SDI and 4K models they replace.
The Mini Converter SDI to HDMI 6G and Mini Converter HDMI to SDI 6G models make it possible to convert SDI to HDMI or HDMI to SDI in all formats up to 2160p30. Both models feature professional multi rate 6G‑SDI and are compatible with existing SDI broadcast equipment. They also have HDMI alongside analogue and AES/EBU audio inputs or outputs, depending on the model.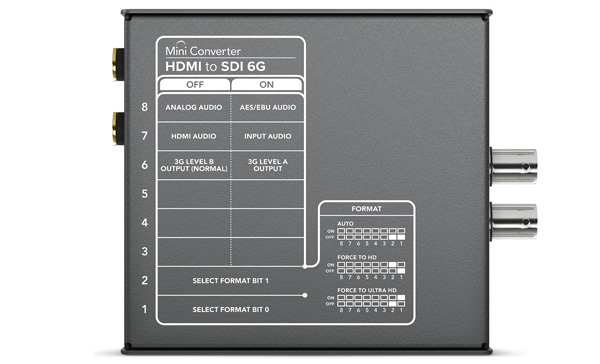 The SDI to HDMI 6G model includes HDMI instant lock and 33 point 3D LUT support. HDMI televisions and projectors can cause delays when locking onto a signal when a new source is connected. To solve this problem, Mini Converter SDI to HDMI 6G features HDMI Instant Lock which continuously sends an active HDMI signal to the display. That means customers get glitch free clean switching when changing to sources that are the same format and frame rate as the previous signal.
For example, a user can connect Mini Converter SDI to HDMI 6G to the output of a video router and monitor signals on a big screen HDMI television. When the router output changes, the HDMI television will instantly lock to the new signal without having to resynchronize.
Mini Converter SDI to HDMI 6G also includes a full 33 point 3D lookup table for high precision, feature film quality colour conversions, and can be used as a 3D LUT processor. LUTs can be applied to create custom looks, colour and gamma changes in realtime while monitoring on set. 3D LUTs are also compatible with DaVinci Resolve, so customers can use the same LUTs can be used on set and in post for consistent colour.
For audio, the Mini Converter SDI to HDMI 6G model can de‑embed audio from SDI to HDMI, AES/EBU or balanced audio out. It can also embed incoming audio signals into the SDI output from the HDMI, balanced analog or digital AES/EBU audio inputs.
Mini Converter HDMI to SDI 6G is available now from Blackmagic Design resellers worldwide for AU$205, and Mini Converter SDI to HDMI 6G is available for AU$259.
Camera 4.7 Update for Micro Studio and Micro Cinema Cameras
The Blackmagic Camera 4.7 Update for the Micro Studio Camera 4K and Micro Cinema Camera adds new video formats, gain settings and control options for operating the cameras remotely. It improves sensor performance and supports RAW output via SDI.
The new formats include 720p format support at 50, 59.94 and 60 fps, which means broadcasters working in 720p, the HD standard for Europe and some American broadcasters, can send video directly to air. The higher frame rates also allow users to capture cleaner slow motion shots during fast action events such as sports.
Blackmagic Camera 4.7 Update also improves image processing on the Blackmagic Micro Studio Camera 4K. The update enables better exposure performance from the camera's sensor, resulting in an extra 2 stops of brightness added to the camera's base sensitivity and better performance when shooting in low light.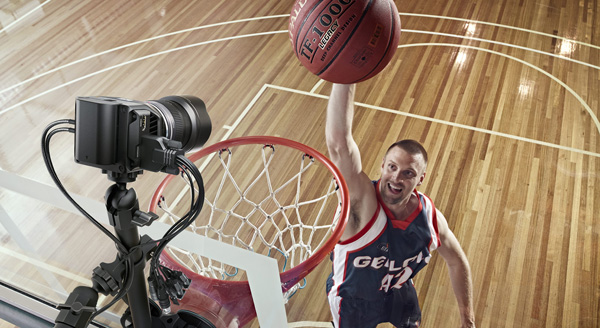 Supporting new workflows that need high quality 12-bit camera sensor data for use in post, the 4.7 Update adds full RAW image output via SDI. The combination of new format support, improved sensor performance and RAW output make the Blackmagic Micro Studio Camera 4K one of the world's highest quality miniature camera systems.
Camera 4.7 Update also adds support for new remote control commands and options. On the Micro Studio Camera 4K, PTZ communication is now supported through VISCA from the camera's expansion port as well, so that users can adjust the camera head position from a custom remote control.
New S-BUS remote camera protocol commands to both the Micro Studio Camera 4K and the Micro Cinema Camera include frame rate setting, auto focus on/off and recording. The Micro Studio Camera 4K also passes remote record commands through as SDI and HDMI record triggers so that photographers can use external recorders without having to press start and stop on multiple devices.
Customers using the Blackmagic Micro Cinema Camera also have timecode output support via HDMI, with record start and stop triggers on HDMI output, making it possible to record RAW in the camera while simultaneously recording another proxy format with matching timecode on an external recorder such as a Blackmagic Video Assist.
These updates make Blackmagic micro cameras more customizable and remote controllable so they can follow action and record from nearly any location - hidden in a corner on set, or mounted high above the field in a football stadium.
Camera 4.7 Update is available free of charge for download now from the Blackmagic Design website for existing Micro Studio Camera 4K and Micro Cinema Camera customers. www.blackmagicdesign.com